Find out what are the different types of pants available to give you maximum comfort and style. You really shouldn't give these tips for casual style pants a miss!
The way a man dresses says a lot about him. But it's not just the shirt or the shoes that describe the identity. The pants you wear are also equally contributing to your style. You will always meet people who will try to convince you that denims are the safest way for a man to play around with fashion. Although, the truth is amongst the flickering fads there are some trends that sustain and are worth investing in. The history of men's trousers goes long back to the time when the pants came in the shades of brown, grey and navy blue. The casual pants were differentiated from the formal ones by its silhouette style. The formal pants had a regular fit straight trousers pattern while the casuals came in variations with flares.
Men's casual style outfit ideas.
Youth like to express their thoughts and lifestyle through the bold choices of their clothes they wear. The different pant styles, vibrant colors and sassy designs help the youth to experiment with fashion in their own way, whilst being comfortable.
A lot of times you start shopping and find yourself confused by the various options of bottoms available. Also, it becomes a hassle to pair with the right kind of shirt or a t-shirt and know the right kind of fitting it needs. With so many different occasions and seasons, there is always a question of what to be worn rightly at a particular place. Well, it is no more a rocket science. We are here to break the mysteries of styling the men's bottom wear with this blog, where you will get every minute information about the major bottom wear styles, their fir, design and pairing options.
Types of pants for men for a regular day out.
Here is a list of different types of casual pants you need to know before you shop for your closet.
Oxford Pants vs Chinos Style – Regular fit trousers for casual look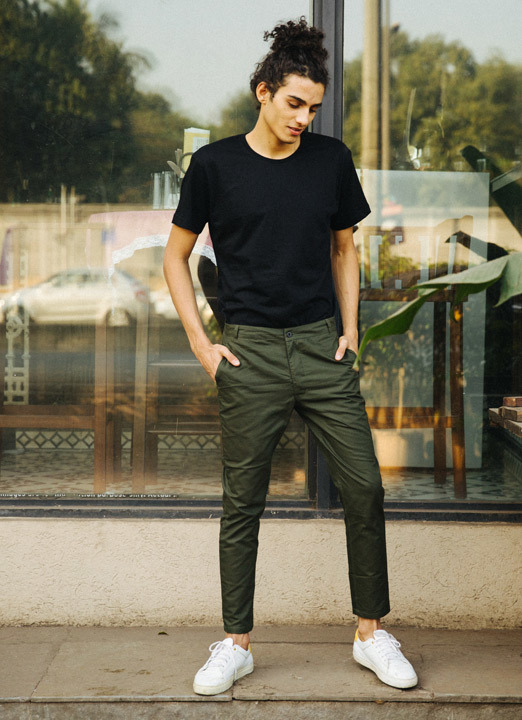 Starting off with the most dapper pattern in the men's casual collection of pants, oxford pants create an ultimate classic look. Oxford is a lightweight fabric, which makes it a great choice for all the seasons. Oxford pants come with regular fir and tapering at the ankles. This lends it a sophisticated subtle casual look. If you are planning for after office party or a Friday dressing, a pair of oxford pants can amp the usual men's dressing style for casual ensembles.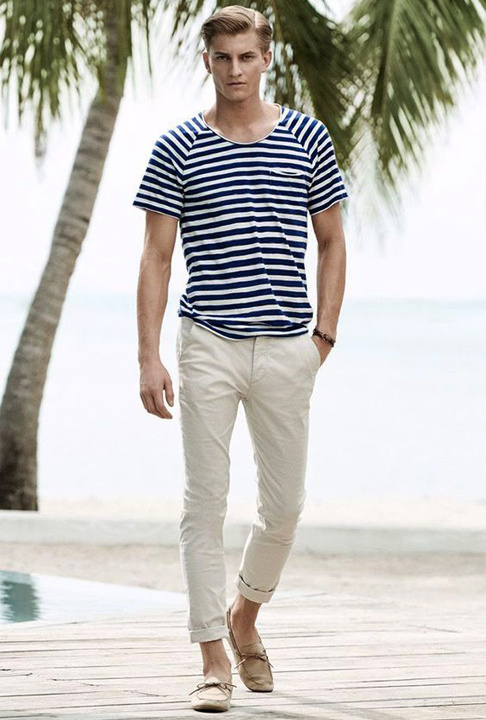 Chinos is one trend that you will find appreciated by all the generations. It looks very similar to the khaki pants except for the difference that it comes with a narrow cut and tapering bottoms. It comes with a comfortable fit that is not too loose and not too tight making it a wardrobe must-have. The pattern of Chinos is inclined more towards the formal style. Although, it comes in vibrant colored options, which makes it a great choice to flaunt as Friday dressing as well as the casual wear. Pair with a neutral shaded formal shirt to complete your semi-formal dressing. For a casual look pair it with your favourite t-shirt.
Cargos shorts & 3/4ths – Comfortable pants for making a style statement.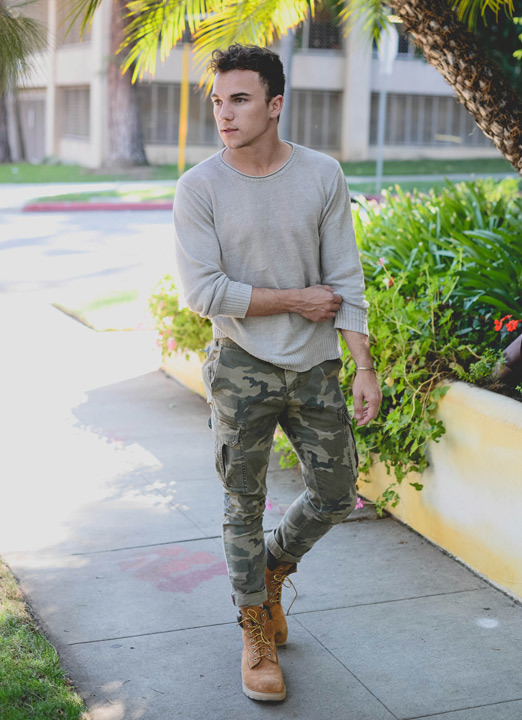 Cargo pants came into the world of back in 90's. Since then this style has been widely appreciated pertaining to its easy-go style and comfort. Cargo pants usually come with flaps or Velcro pockets, which is considered to be its major highlight. It has a loose fit that makes it an absolute pleasure to wear all day long. Cargo pants are now considered to be the epitome of subtle casual wear style. Although, one can be experimental by opting for printed or camouflaged cargos. Pair it with a plain t-shirt for a laid back casual ensemble or with a shirt to complete your chic casual wear.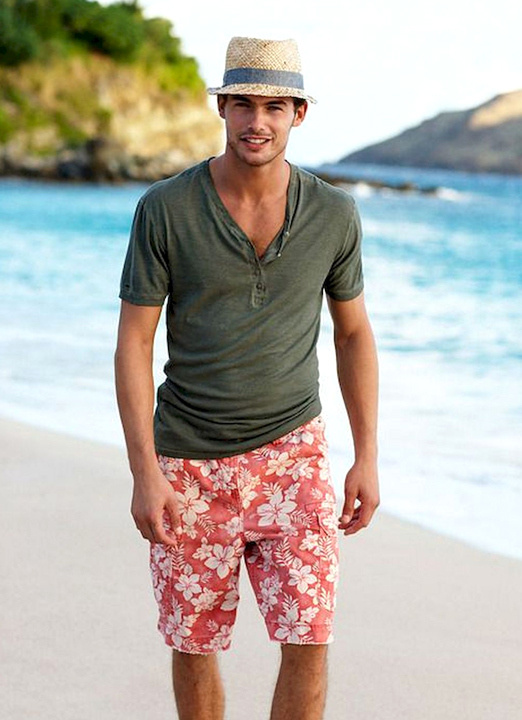 Call it a summer fashion or a weekend comfort outfit, 3/4ths are the go-to option to flaunt your buoyant style. Earlier 3/4ths were preferred in plain hues. Nowadays the different types of vibrant and tropical prints have added to the zest of 3/4th pants. It comes with a loose fit that lends it an airy summer vibe. The buttoned and the zipper fly opening enhance its comfort
Ways to wear Pajama Outfits in summer: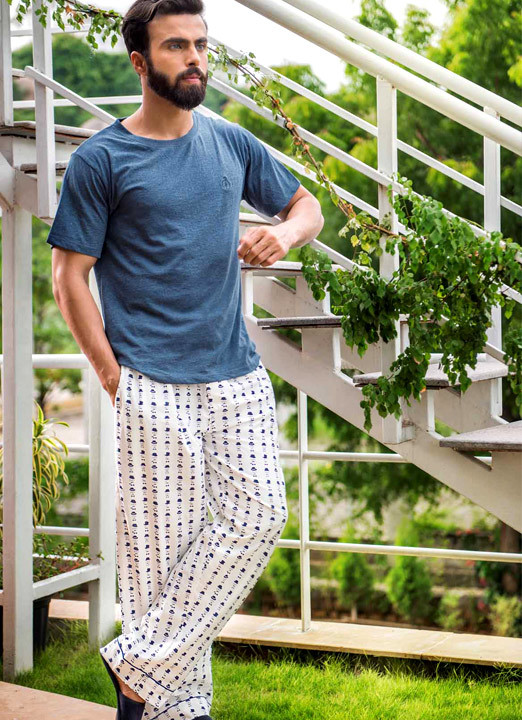 Just when you thought there is no way to flaunt your quirky fashion taste with comfort, the Pyjamas sporting attractive prints on it came to the rescue. For men who prioritize comfort over everything else and know how to carry their style flawlessly, a pair of cozy Pyjamas is a really good option. The light fabric and loose fit keep the comfort quotient high. Whereas the various types of print patterns let flatter for style quotient. Pair it with a plain hue t-shirt or a neutral shaded regular shirt and complete your eloquent summer style.
Jogger pants outfit – uber-comfortable casual styles for men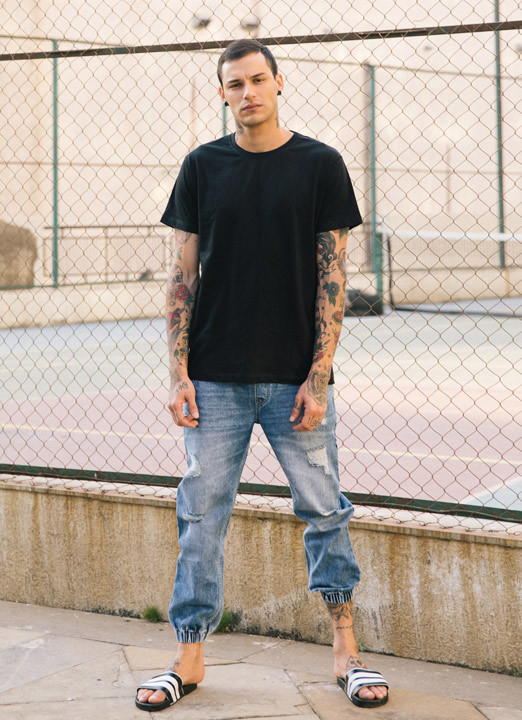 Joggers are a type of pants which are uber-comfortable and carry a trendy look. A pair of joggers comes with easy fit, elasticized waistband with drawstrings and narrowed bottom. This easy-to-wear factor and comfortable fit structure make it a favorite amongst youths. It comes in different fabrics, patterns and prints. The plain denim joggers carry an undertone casual vibe while the ripped denim joggers carry a funky casual look. Joggers available in camouflaged prints are usually preferred to get a youthful casual look. Pair your joggers with a trendy t-shirt or layer the same with a shirt to complete your casual dapper ensemble.
Denims for the perfect jeans shirt combination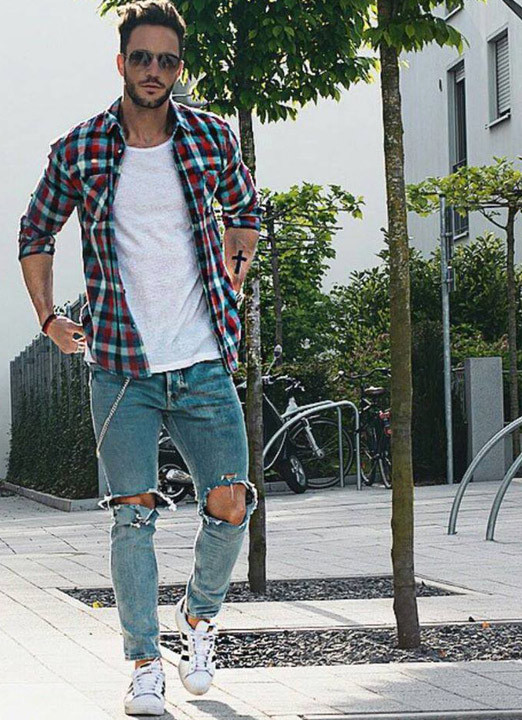 As they say "you can never own too much denim". The best part about denim is its versatility. It is available in a wide array of styles making it a must-have in men's casual pants collection, which allows experimenting with it. Talking about experimenting we just can't miss out on the latest trend of denim joggers that makes a perfect combination of jeans and joggers. One can pair jeans with a t-shirt and get an uber cool look in no time. Whereas the jeans and shirt combination remains to be an all-time classic look. Be it ripped pattern or plain-washed pattern, denim your ultimate suggestion for men's casual wear tips.
So next time you shop for yourself, be wise and choose the best option and fearlessly experiment with different styles. To shop the latest trouser style visit our bottom wear collection.
Image credits: The copyrights of the images used in this post belong to their respective owners. The credits where known are specified under the image - if you're the owner of an image and want it removed, please contact us.