When it comes to Indian weddings, every celebration is a party! Right from the major functions like Sangeet, Mehendi, etc. to the smaller, more traditional events like Poojas, you've got to be your best-dressed self. While grooms aren't exempt from this, it's really the brides who always manage to steal the show with their dreamy outfits and jovial jewellery.
One piece of clothing that is synonymous with culture and nuptials is a bridal lehenga choli! It is the one thing that almost every bride wishes to nail, whether it's designer or custom-made. Age-old designs are all well and good, but in the current day, brides demand more! They want lehenga choli designs that aren't typical but make a statement without a doubt. Here, we let you in on 12 stellar styles that you can choose from for your own special day.
What are the latest Lehenga choli designs?
If you've just been proposed to and are already thinking of what you want to wear for your wedding, this list comprising trendy types of lehenga choli is all you need. So make sure you bookmark the article and come back to it when you need inspiration! 
1) Off-Shoulder Chaniya Choli Design
Infused with modern sensibilities, an off-shoulder blouse is extremely common among brides of today! It's not just sensual in a way, but also in line with changing times. Besides, it can be paired with other separates too, should you ever need it beyond the wedding ceremonies. If you're going to go with this one, there are a few things you need to make sure of when it comes to styling or preventing wardrobe malfunctions. Lucky for you, we know exactly what they are! 
Tips:
Choker necklaces work wonders with off-shoulder styles! That, layered with a statement piece or a mala is sure to leave everyone amazed. 

When it comes to your hairstyle, avoid letting your hair down so that the off-shoulder detail can be visible in all its glory!

A strapless bra is your one true best friend for off-shoulder lehenga choli designs, so be sure to pick the right one and the right size, check out some cool women's bra collections. 
2) One-Shoulder Choli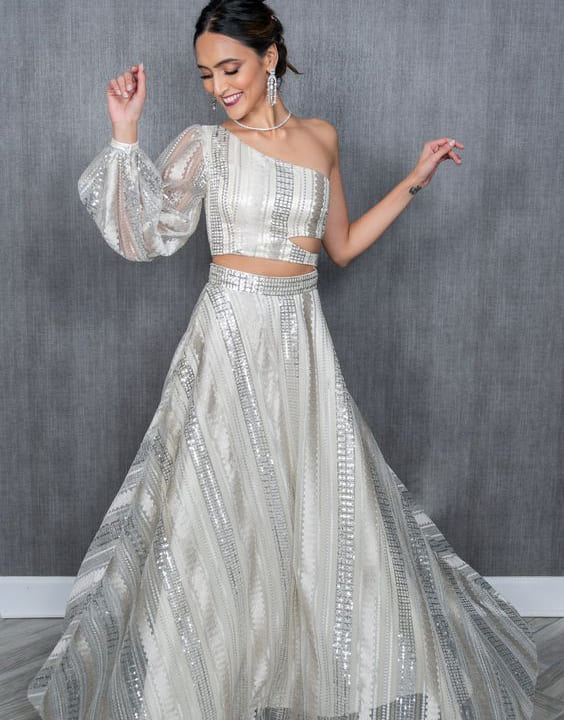 Know what are the trendy ghagra blouse designs for your engagement function or cocktail? A one-shoulder choli! Equal parts glamorous and cultural, it's the one thing definitely missing from your wedding wardrobe. Currently, one-shoulder styles adorned with sequins are very famous among urban brides, so you should definitely hop on to the bandwagon as it won't disappoint. Not just the guests but your fiance too will fall short of words after looking at you in this outfit, and you can take our word for it.
Tips:
Much like off-shoulder styles, one-shoulder styles also ought to be seen. For this, bun hairstyles are definitely something you should consider. Side-swept styles can also be an option. 

If there is a lot of sequin work on your lehenga choli, then it's best to keep the jewellery minimal and classy to avoid the clashing of elements.

Once again, pick a strapless bra with such lehenga choli designs so that it doesn't interfere with the one-shoulder detailing! 
3) Lehenga Saree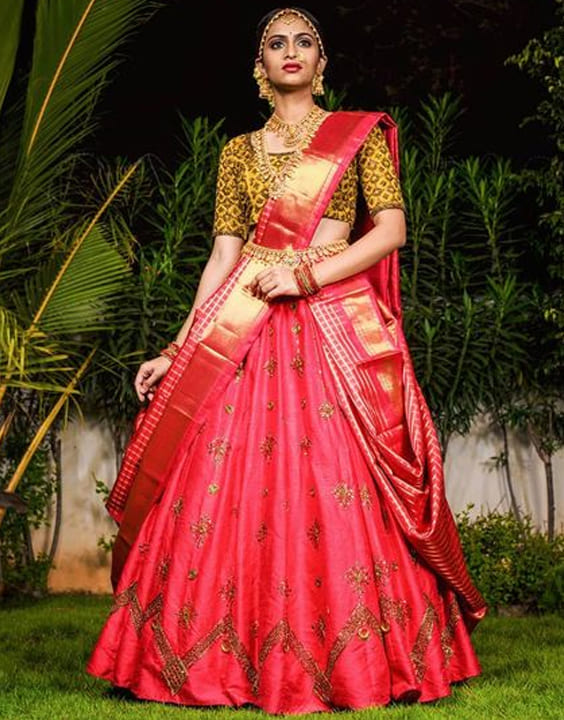 When two classics come together, you know the resulting outfit will be a total hit! Timeless, trend-defying and traditional, the lehenga and saree both are investment pieces. If you can't decide which one to go with, then a lehenga saree is the perfect idea for you. Initially seen on elite runways, this trendy lehenga choli hybrid has a reputation for being extremely trendsetting! It wasn't a common sight before but now with more and more women looking towards atypical pieces, it's a total winner. 
Tips:
It's not as easy to drape a lehenga saree, but fortunately, there are pre-draped ones too. You can easily find them on any online shopping app that caters to designer wear. 

Refrain from choosing really heavy designs. Fabrics such as silk, brocade, etc. may be exactly what you need, and you can skip the all-over embellishments.

Secure your lehenga saree properly! If you don't know how to drape it right, make sure you have enough help from someone who knows how to wear a lehenga saree. 
4) Dramatic Bishop Sleeves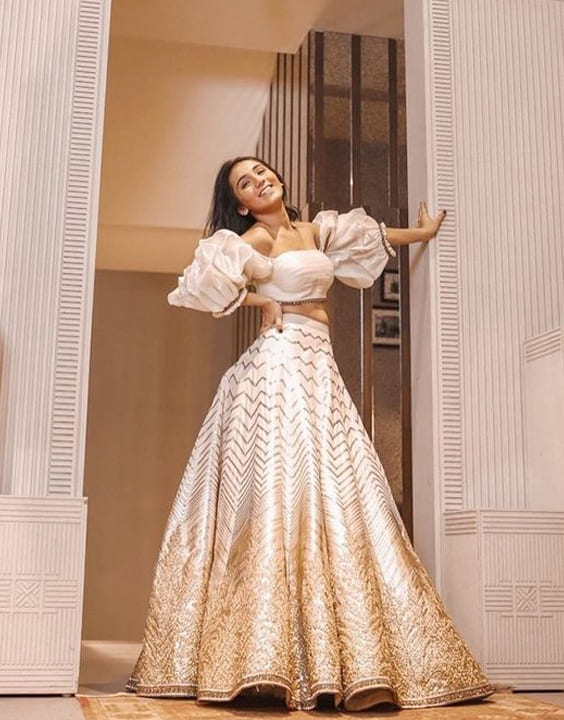 The number one way to nail that dramatic entry is in an outfit that is equally dramatic! Make sure your guests remember every detail of your look in a bishop sleeve blouse that is as voluminous as it gets. This will also showcase your love for all things out-of-the-box and larger-than-life. Besides, commanding attention at your own wedding should definitely be on the agenda and this ghagra blouse design will help you achieve just that! 
Tips:
Balance the drama of the bishop sleeves with an understated lehenga if you are not one for excess! But if you are, then a flouncy lehenga will be a great bet.

Skip the earrings and the necklace altogether, or add sleek, understated pieces so that they don't look 'too much'.

You can also skip the dupatta for these lehenga choli designs, as the sleeves will be adding enough volume already. 
5) Peplum Lehenga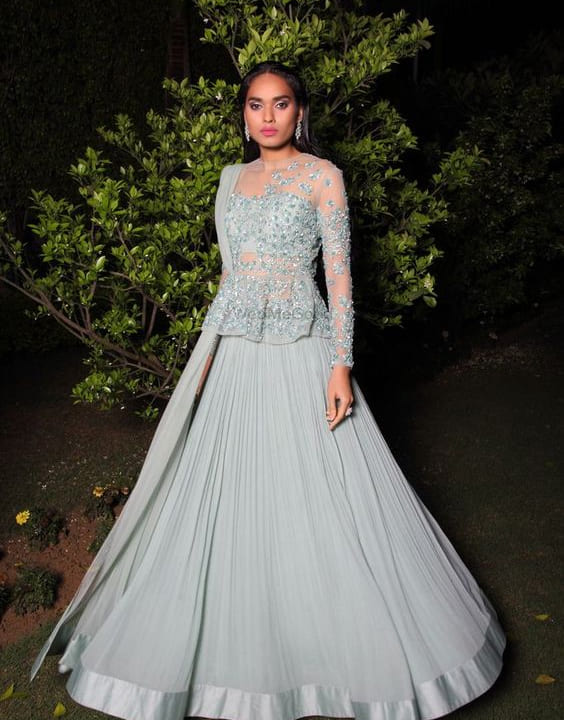 Want to add definition to your look and also keep it playful? Peplum chaniya choli would be perfect for you! Fitted at the bust, cinched at the waist and flared from the torso, a peplum blouse is a cultural yet contemporary choice for the celebrations. It is also extremely versatile, so you can flaunt it for pre-wedding festivities like Mehendi, Sangeet, Cocktail, etc., or your wedding day with an embellished dupatta. Even after the big day has gone by, you can still put your peplum choli to use by pairing it with a sharara or gharara! Sounds convincing, right?
Tips:
For extra measure, add an embellished or solid fabric belt where the cinched waistline of the top is. 

Peplum blouses and collar necklaces go together so well, you might as well wanna give it a try yourself and see the proof.

If the neckline you choose is plunging, then ditch the collar necklace and go for a sautoir which you can easily find while

online shopping in India

.
6) Jacket Lehenga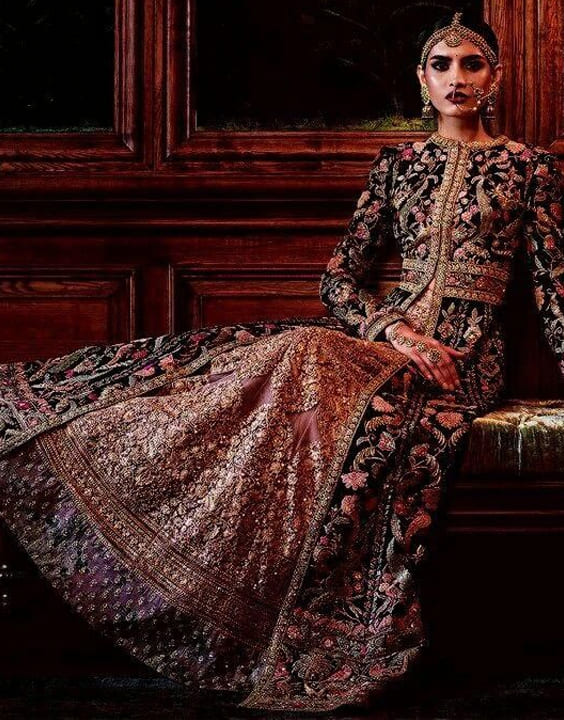 Having a winter wedding? There's nothing better than layering on the colder days, but it doesn't have to mismatch. Now, brides have the option of choosing a jacket lehenga choli designs for their wedding, which typically comprises a blouse, a ghagra, and a long tailored jacket. This is a polished and new-age alternative to the regular lehenga choli and is quite a hit among women today. Sometimes, there is a trail attached to the hem to add more drama, or customised as per the bride-to-be's request. Jacket lehengas usually don't require a dupatta, so that's optional!  
Tips:
This type of lehenga is better suited for receptions or cocktails, rather than for the wedding ceremony itself. 

An updo or a sleek hairstyle looks wonderful with a jacket lehenga! It exudes poise and grace, two very important attributes when it comes to a bridal ghagra choli.

Finish your look with a pair of chandbalis or a belt! The right accessories are key to acing it. 
7) Lehenga Kurta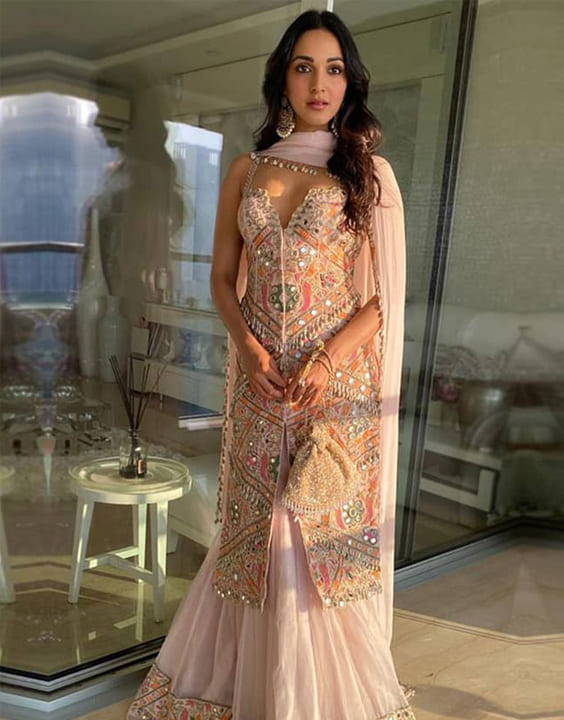 We've already established that when two classics are put together, you can trust them to steal hearts and turn heads no matter the occasion! The same applies to a lehenga kurta, whose name is self-explanatory. A trend that typically originates from Pakistani tradition, lehenga kurta is a popular sight at Indian weddings too. Its fame can be credited to Bollywood celebrities, who have been spotted sporting it at various weddings. A lehenga kurta is a versatile wedding staple, so it's no doubt that for us, it definitely makes the cut to the big-day wishlist. 
Tips:
Pick a lehenga choli designs with an organza or tulle dupatta! If it has little specks of shimmer or sequins, even better. Trust us, this is the most feminine and fairytale-esque choice.

If you can, pair heritage or heirloom jewels with this look. Raid your grandmother's or mom's closet and you'll find some priceless pieces!

Choose a makeup look that complements the colours of your clothing. This will add extra appeal to an already gorgeous outfit! 
8) Cape Lehenga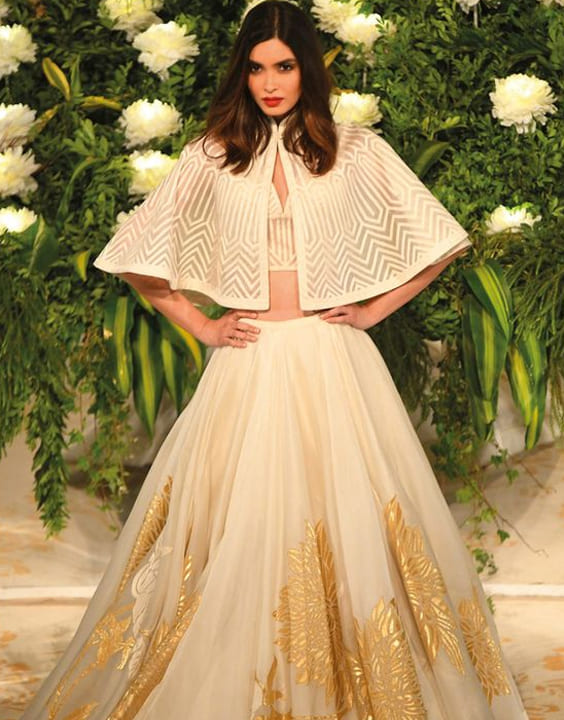 Millennials; this one is for you! A cape lehenga is a huge trend in the wedding fashion scene right now, and it has been a hit on & off the runways for the past couple of years. It is a major update from the typical blouse to a cape blouse, but it can also be in the form of an overlay jacket that you just throw on before you hit the stage or the dance floor. The cape itself can be short or long, and sometimes even full-length. A lot of times, it's also just the sleeves that are cascading but all of these renditions are equally statement-making. Here's how to wear lehenga that includes a cape blouse! 
Tips:
Carry a wristlet or a clutch with your cape outfit! Make sure it's embellished with embroidery, beads, stones or sequins.

Choose your palette and fabric carefully! You may also want to skip heavier styles for summer weddings.

Ditch the dupatta! 
9) Ruffled Lehenga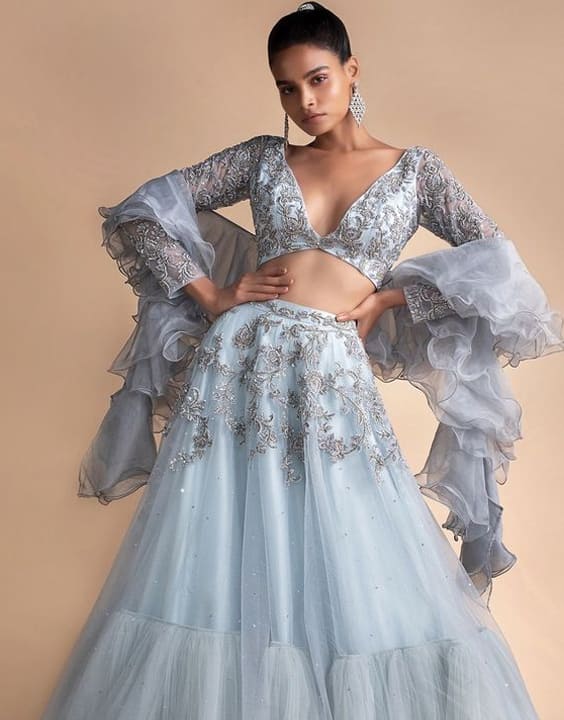 Let your eclectic side come out and play in ruffled lehenga choli designs that are all about the 'flounce'! The perfect pick for a dramatic slow-motion twirl, ruffled lehenga (which is also known as frill lehenga) will add that extra oomph to the occasion. Twirl around to your heart's content in one of the most fun lehengas to exist! Our suggestion? Look towards pastel tones for the complete experience! 
Tips:
Use your dupatta as a prop for the

bridal lehenga poses

! You won't regret it. This will also help channel your inner Bollywood diva.

Let go of excess accessories when you're wearing a flouncy lehenga. Trust us – you don't need them.

If you DO plan on including heavy jewellery, make sure it's somewhat fuss-free and won't get caught in the frills. 
10) Printed Lehenga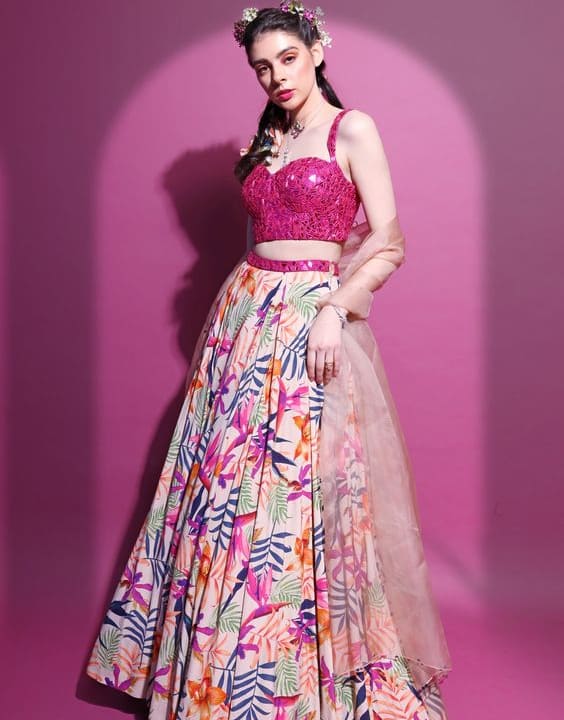 If there's one thing that the COVID-19 pandemic has taught us, it's that weddings are just as beautiful even if they're low-key. It has changed the entire narrative around The Big Fat Indian Wedding. This also means that you don't exactly NEED a heavy, over-the-top lehenga (which will also be super expensive, by the way) for your special day. You don't even need to compromise on style. All you gotta do is strike the right balance between effortless and elegant, which can be easily achieved with a fully or semi-printed lehenga. It fits the intimate wedding dress code and also won't burn a hole in your wallet since a lot of designers are now making it on the regular. Here's a guide on simple lehenga!
Tips:
Since your lehenga is going to be low-key, you can accessorise as much as you please, with whatever you wish. 
Heavy jewellery is not off-limits for this one!

Pick your prints well. We suggest vibrant colours like reds, yellows, greens instead of pastels if you are going for a printed lehenga. 
11) Mermaid Lehenga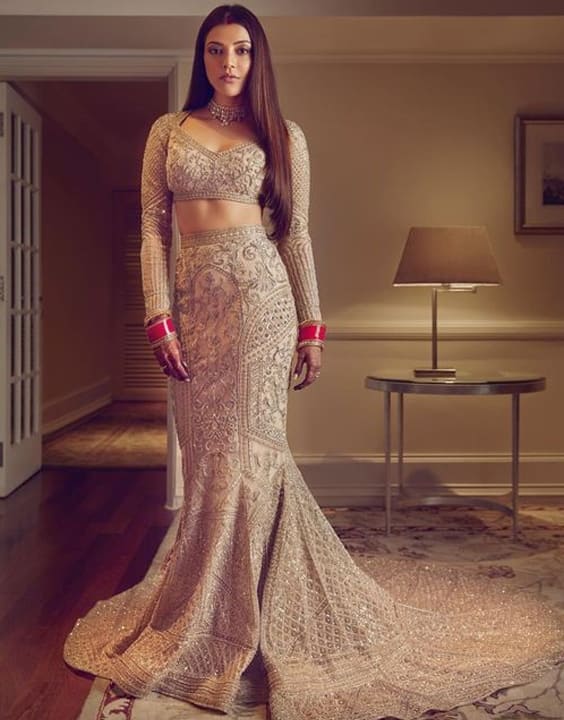 Ever wished you could be a mermaid? Well, if you can't BE one, you can most definitely dress like one, and what better than your wedding day to make this fantasy come alive? Mermaid lehenga choli designs are fitted in just the right places, and showcase your curves in all their stunning glory. The tail at the end is just the cherry on top, as it is supremely feminine and elegant. We're pretty sure you don't need any more convincing for this! 
Tips:
If possible, wear a shaper or sculpting lingerie underneath the mermaid lehenga to define your body, even more, thus making it a lot more flattering than it already is.

Skip this option if tight-fitting clothing seems fussy or uncomfortable to you.

Don't wear it for celebrations that include tons of dancing! 
12) Corset Lehenga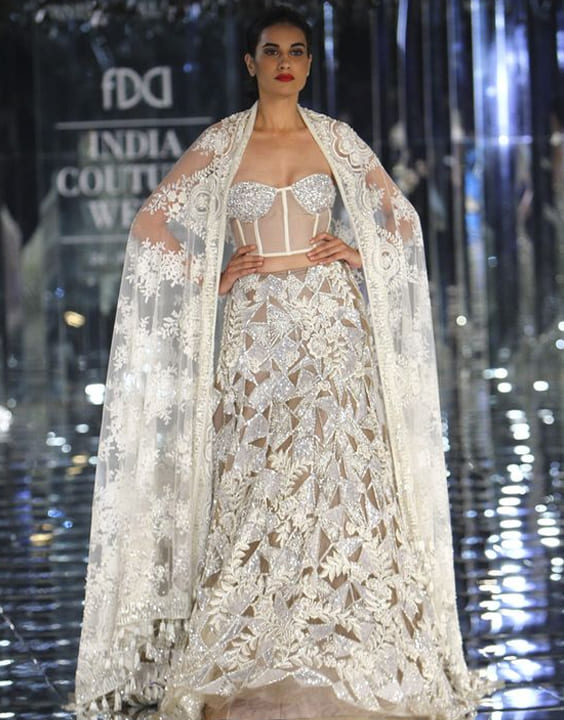 Last but not the least, we have the corset lehenga, which is nothing short of sensual and stunning. The corset blouse hugs you in all the right places and is sexy as hell! It's also edgy, which makes it the perfect choice for the rebellious ones. It is every bit trendsetting and great for when you want to own a lehenga that is versatile too. The style has taken over the western wear scene too and once can see corset tops all over social media! Deriving inspiration from the Victorian era, these are something you should definitely watch out for. 
Tips:
Instead of getting the blouse off the rack, choose to get it custom-tailored, thus ensuring the perfect fit.

You can layer with a light jacket or dupatta for extra effect!

Details like fringes, stones, etc. can take your corset blouse up a notch, so actively seek those if they align with your personal style. 
Your wedding wardrobe is one of the most important decisions you'll make if you're tying the knot soon, so be sure to plan it out perfectly. We hope these lehenga choli designs will be your greatest style companions. 
Similar Articles: 
1. 20 Best Sleeve Design 2021 | Kurti Sleeves Design for Women
2. How To Wear Saree: Trendy Saree Wearing Styles
3. Latest Saree Blouse Types You Should Totally Checkout
4. 5 Different Ways of Draping a saree this Festive Season
Image credits: The copyrights of the images used in this post belong to their respective owners. The credits where known are specified under the image - if you're the owner of an image and want it removed, please contact us.