The fall season is incoming! This time of the year is a haven for comfort-seekers and lovers of all things warm and cosy! This is the time to stock up on your fall essentials as summer rolls around to an end, with a bunch of discounts and offers for smart shoppers. When it comes to fall-fashion essentials, socks are the most affordable and functional of them all! Do not miss out on the newest drops and get some socks online for cosying up this Autumn/Winter season with this versatile and stylish essential.
Fall trends this season are super exciting and feature a ton of colour and nostalgia! Socks are a sort of snapshot of these trendsetting forecasts and always reflect the best styles of the Autumn/Winter season. So, grabbing the right pair at the right time is paramount to on-point accessorizing for fall 2021!
Buying socks online is easy, but curating a cool, unique and memorable collection that complements your fall and winter wardrobes is another story altogether! There are many quirky and classic socks brands online for purchasing socks in India, and we're here to give you a low-down on the best ten of the bunch! 
Excited? Cosy up with a warm beverage of your choosing and read on!
10 Best Socks Brands in India 
1) Gettin' Cute With Mint & Oak
Want to add some lemon zest or penguin snuggles to your fall closet? Mint & Oak is the brand for you! Give your snuggle-time a fun uplift with Mint & Oak's stylish and cute printed socks. A fusion of fun, comfort and classic style, this brand's collection of different types of socks are sure to put a smile on your face. With a wide range that spans from timeless to quirky, this is one of the best sock brands in India for those who like to add an element of interest to their style. 
Pro-Shopper Tip: Intrigued by this versatile brand? You can find their socks online in fun combo boxes that help you save big in style! Just click here to shop and wear these babies with your comfiest loungewear!
2) Stylin' It Up With Brown Mocha
Brown Mocha is a brand for socks that does colour extremely well! Cue in an amalgamation of classic colours and funky hues with these socks. While you can certainly opt for basics like white, black & nude, Brown Mocha also features some bold & striking colours that will add a dash of vibrancy to your fall and winter looks. A subtle way to add interest to any outfit, you can also pair these with your neutral open-toe footwear for a quirky style! You can find the best loafers for men or women online and wear them with these colourful ankle-length beauties.
Pro-Shopper Tip: Get these socks online in colourful pairs and unbeatable prices here as you upgrade your closet for the fall season! Style it up with a preppy dress, shirt or jacket and take your fashion quotient up a notch!
3) Takin' You Back With Thela Gaadi
Need some pop-culture nostalgia in your life this fall? Give in to the vintage vibes with Thela Gaadi! Taking you back to your cartoon-network faves, like The Flintstones, Dexter's Laboratory and Power Puff Girls, these quirky socks will evoke your childhood! Get a pair for yourself and your bestie and snuggle up for a cool Autumn Sunday with the cereal you loved most as a kid and the cartoon series you miss the most!
Pro-Shopper Tip: Put your nostalgia on your feet and shop Thela Gaadi socks online on their website for the most number of options and the widest range of styles. We recommend their cartoon bundles for the largest burst of fun! Don these cute cozies to give your outfit a cool and quirky detail.
4) Paintin' The Town With Dynamocks
Want art for your feet without spending a bomb on expensive footwear? Dynamocks is the brand for you! One of the brands that make the best socks in India, Dynamocks features a riot of colourful patterns, artistic designs and cool prints. These are the kinds of socks for women and for men that add a creative and aesthetic spirit to any fall wardrobe.
Pro-Shopper Tip: Shop on Dynamocks website for socks online! These stunners are sure to give your winter and fall wardrobe a dose of radiance and uniqueness. Wear these with your neutral or monotone outfits for a balanced look.
5) Doin' The Dance With The Moja Club
Get tippy-toeing and dancing the blues away with The Moja Club! These ultra-cool socks come in a wide variety of geometric and repeat-motif prints that are just perfect for mixing and matching! These stylish babies are so chic, you might be able to pull a Dobby (Potterhead reference – you're welcome) and wear a different sock on each foot for a quirky style.
Give your fall and winter looks a touch of interest, colour and fascination with The Moja Club's cute, curated collections for socks online!
Pro-Shopper Tip: You can get The Moja Club socks here for the best price and well-thought-out combos. Up-style your feet with these socks online in India and strut with confidence this season! Pair these with trench coats, tortoiseshell frames and quirky printed shirts! These socks suit a wide variety of outfits and styles, so they can also make for an excellent gifting option.
6) Revvin' Up With Mustang Socks
Mustang socks is a cool brand to go to for quirky printed socks and woolen socks online India! Cute and classic, Mustang is another versatile brand where you can find everything from neutrals to colour. Give your wardrobe a majorly cool uplift with Mustang's stylish range! These babies will take you from AM to PM, and suit a wide variety of outfits from your fall curation. Get cosy in style by getting yourself a pair of Mustang socks online!
Pro-Shopper Tip: Check out Mustang's online sock store to browse through their striking collections and designs. Revv-up your style quotient with this uber-chic and quirky brand! Pair these beauties with everything from your business casuals, loungewear, athleisure and formal outfits.
7) Keepin' It Real With Soxytoes
Soxytoes is hands-down the best sock brand in India, especially for those who love the funky style, cool prints and relatable pop-culture references! Hustle-hard or Netflix-and-chill – this is a brand that is sure to cover every mood and have something in their collection for every personality! 
Chic and modern, this is the ultimate sock brand for Gen-Z and Millennials who are looking for a cool addition to their fall wardrobe. 
Pro-Shopper Tip: Buy these socks online here for exciting bundles and curated boxes. These are just what you need to add a pop of fun and culture to your A/W wardrobe. Also – how cool is it to Netflix and chill with a cup of hot chocolate as it gets colder and colder outside, in a pair of socks that say Netflix and chill? Mind officially blown.
8) Spendin' Time With St Barths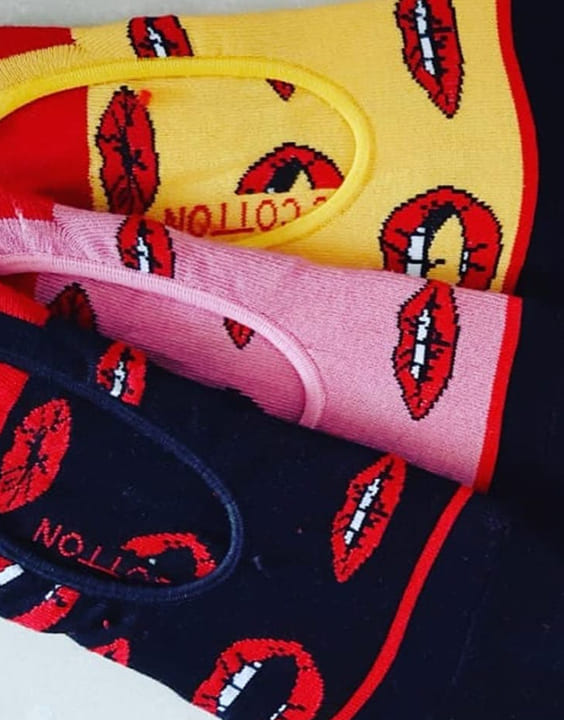 St Barths is cute, fun, stylish and just what your Autumn closet needs! Give your outfits a quirky and chic addition with socks from St Barths. This brand stocks socks online that feature everything, from post-modern pop-art prints to colour-blocked patterns, to uber-chic basic hues for daily wear. 
Whatever your style or personality may be, these beauties are sure to give you the elevation you need to take your looks to the next level! One of the coolest and most reasonably priced sock brands in India, St Barths is gunning for the win this fall.
Pro-Shopper Tip: Check out St Barths on LBB for cool socks online India, and style them up with your fall outfits. You can pair the more neutral ones with safe prints with your workwear and your business casuals. You can take your athleisure and casual wear up a notch with their more colourful and quirky patterns. These creative designs are the perfect addition to your A/W wardrobe.
9) Steppin' It Up With Balenzia
Balenzia is a stylish and premium brand. This brand features high-quality socks for men and women, and has been featured in magazines like Maxim and GQ! Balenzia's collabs with franchises like tokidoki and Harry Potter give it a leg-up over the others who sell socks online. 
This is a brand that takes socks seriously, but with a touch of fun, culture and nostalgia. Want to invoke your childhood without losing your adulting card? Balenzia is the brand for you!
Pro-Shopper Tip: If you are looking to shop from one of the best brands for socks in India, you can log on to a fashion app or simply visit Balenzia's website. Their wide range will give you an amazing match for your fall outfits and winter wardrobe. Cosy up in these stylish, affordable and cleverly designed socks this season and watch your friends and family ask you where you got 'em from!
10) Gettin' To Basics With Bombay Sock Co.
Bombay Sock Co. gets the basics right. If you are looking for cool, affordable and chic socks online that add something cute to your wardrobe, Bombay Sock Co. is your online shopping destination! Featuring a wide collection of versatile designs, you are sure to find a pair for every occasion on this brand's website. 
You are sure to find colourful and classic socks that complete your capsule closet in a fun as well as functional manner. Give your style a boost without giving your bank account a shock with their easy-to-love options!
Pro-Shopper Tip:  Log on to Bombay Sock Company's website to browse their stylish editions! This uber-chic brand is a no-brainer for fall essentials like socks. So, what are you waiting for? Take a cue from our list and check out their socks online if you haven't already! Wear these with your everyday casuals, streetwear and athleisure looks for a chic update.
The main trends for the upcoming fall season are nostalgia, retro, jewel-toned hues and getting back to basics. These trends are fashionably captured in one fall essential – socks! From quirky patterns to bright solid hues, ankle-length beauties to knee-length fashion statements, socks are the perfect Autumn/Winter accessory!
You can pair these with your Birkenstocks, your crocs, your sneakers, your sandals and your floaters – or you can just wear them around the house! Up-style with a pair of your choice and add a dollop of coziness to your fall and winter clothing by opting for funky and classic socks online!
Psst… did you know that you can buy half these brands and more on just one platform? Go for the best online shopping in India with Bewakoof.com and save yourself some time and some moolah. You're welcome!
Similar Articles:
Image credits: The copyrights of the images used in this post belong to their respective owners. The credits where known are specified under the image - if you're the owner of an image and want it removed, please contact us.