What are Chokers and why are they in such rage now!
Chokers have been quite the rage since 2014, even though they have been around for way longer than that. Everywhere you go, every online shopping site you see, you'll see them being stocked everywhere. So it doesn't come as a surprise that they have become monotonous because there's no experimentation with this trend whatsoever. Even the fashion people would agree to this – they make one heck of an accessory! Why let that go to waste? We play around with different types of necklaces, but why not do the same with a choker?
How to wear a choker and tip on outfit ideas to match your Choker
Here we have decoded the one question that must be circling around your head right now – how to wear a choker, if not in the same way we always have been?
Grunge outfit ideas with 90s grunge choker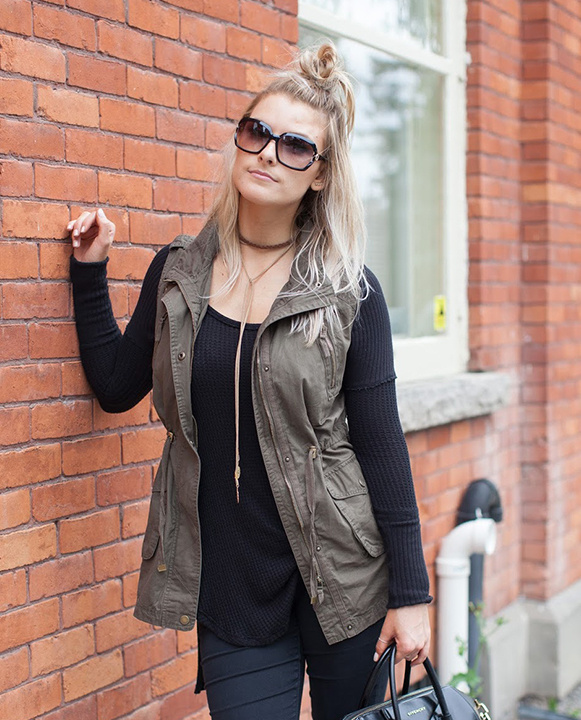 Chokers have always been synonymous to grunge fashion, and how couldn't they be? This simple piece of accessory denotes rebellion in several subcultures. It doesn't have to stop you from donning one though. On the days you're feeling extra grungy, or just want to experiment with all new genres for yourself, you can pair a tie up choker with a plaid shirt. When we think of the word grunge, 'badass' is the very next word that comes to mind. If that is not just a word, but also the look you're aiming to achieve, try wearing a studded black choker with a plaid shirt and ripped denims. Grunge outfit ideas range from badass to sensual; there's a lot to explore. The latter is risky business, but to master it, we like pairing a tie up choker with a green or red plaid shirt, a black or metallic slip dress and a pair of boots. Stockings add another element to your outfit if layering is not your thing.
Hope on the Athleisure trend with a thick black choker
Athleisure came in like a breath of fresh air into the world of fashion, a world that never imagined comfort dressing could be so trendy. From runways to the streets, the athleisure trend has been at the peak of the fashion cycle since the time it stepped foot. We have seen end number of bloggers and designers experiment with and around it. Incorporating a choker into your comfort clothes is super easy; all you need is a simple choker or a thick black choker and you're good to go! It isn't rocket science at all, so anybody can ace this. Pair it up with a quirky t-shirt dress and white sneakers, or better yet – bandeau top and skinny jeans! Wearing a choker with a choker neck top is a chance you should be willing to take, just tweak the position a little bit and aim for monochrome. Now you have two chokers which look basic, add style, and make you stand out.
Bohemian style rocked with a string choker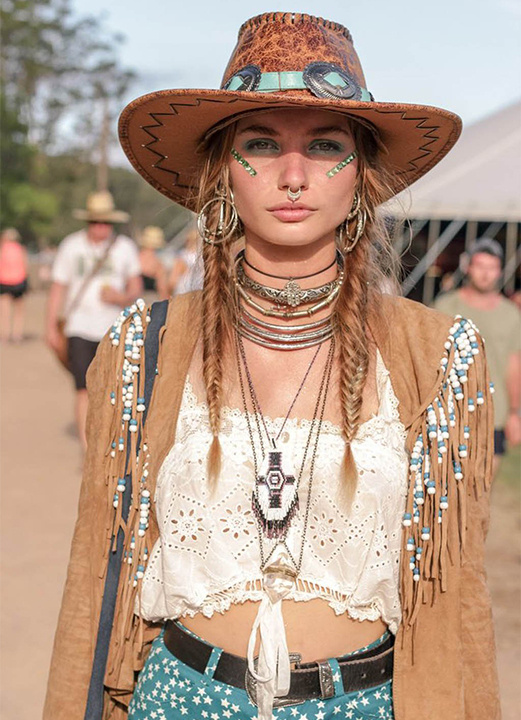 Bohemian style fashion trend dates back to the 1960s and 1970s and can be classified into a number of subgenres. One of our favorites though, is boho-chic. People who follow a Bohemian lifestyle are known to be connected to nature, and at harmony with themselves. So it was only fair that their outfits depicted the same. This is why gypsies are known to layer their outfits, and they are filled with accessories that act as souvenirs from each place they go to. If you're going for boho-chic look, layering is essential. The essence of Bohemian fashion is free flowing and light fabrics. So if you're wondering how to wear a choker to achieve a boho vibe, then allow us to crack the key. Gather some charms that mean something to you, necklaces or chains that you may have bought from a place you visited. Combine all of this into one single necklace, along with a basic white or white lace choker or a string choker.
Experiment around chokers with beads and stones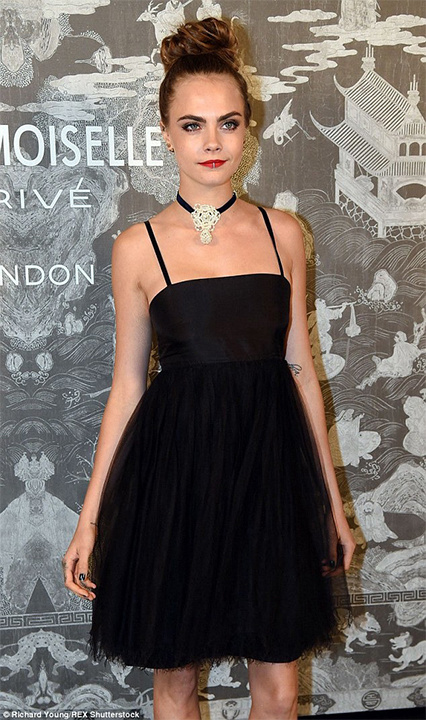 Another way to go Lady Gaga over your choice of neckpiece is wearing something that screams, "You can't look away!" So if you're someone who loves to be at the center of the crowd, going all out with your neck piece is a slay-worthy choice. Experiment around chokers that have a lot of beads, asymmetric patterns, or just simply stack them up. Create good color contrasts that go with your choker outfit and elements that complement your ensemble.
Rock a rocker-chic look with a black choker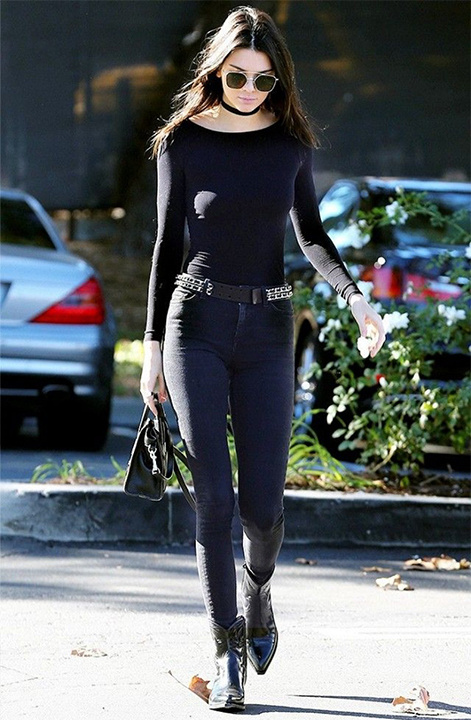 One more favorite of ours is rocker-chic. It is fierce, bold, and represents individuality. It also has an entirely different vibe to it. There's no doubt there, because if you want to rock a rocker-chic look, black is the only color you can and should go for. No other color is as individualistic as black. You can be dressed from top to bottom in this color and no one would bat an eye. Your accessories though, can include metallic as well as darker hues. A black choker with chunky chains, knee-high boots, and a black skater dress is how we go about attaining the desired look. Another example of a really great choker outfit is a black leather skirt, some metallic hoops and a plain black choker with a black crop top.
Try the vintage gothic fashion with a broad lace choker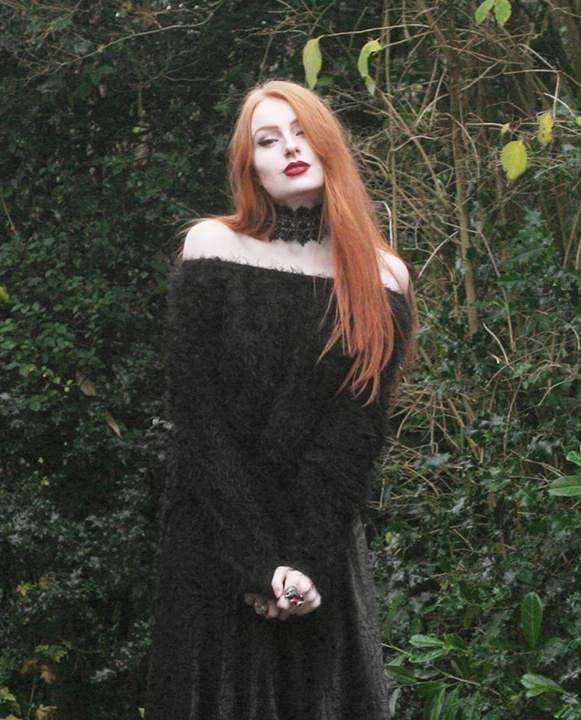 You might confuse gothic fashion for dark and depressing, but it really isn't about that at all. Instead, it is one of the most elegant fashion genres of all time. It's well coordinated, and even though vintage Goth has been known to be OTT, modern Goth is pretty cool. You can go a long way with a black or maroon georgette or velvet dress, with a broad lace choker with some beads on it. You can also make one yourself by DIY-ing it with crosses and archaic charms. Beaded lace is another extremely good looking option.
Accessorizing can be quite intimidating when you don't know how to go about it the right way in order to avoid clashing of too many colors, prints, etc. A choker is the perfect, single most versatile accessory that is never too much or too little. It's like the comfort zone that you don't need to exit if you don't want to; it's still going to work out for you. It made its mark in the 90s and now that it's back again, we think it's here to stay.
Image credits: The copyrights of the images used in this post belong to their respective owners. The credits where known are specified under the image - if you're the owner of an image and want it removed, please contact us.