We've always been told that jewellery is a woman's best friend, without which, her outfit is incomplete! But we never talk enough about how it can also take a man's style game up a notch! Women's jewellery is great but today, we're talking about a simple but gentlemanly addition to any man's wardrobe – and that is a pair of cufflinks! Fashion-forward or old school men will already be familiar with the term but for those of you wondering "what are cufflinks?", allow us to guide the way. 
The use of cufflinks is exactly what their name suggests; secure the cuffs of your dress shirt in a stylish & suave manner. They're a replacement for buttons, and one that we absolutely love. Unlike buttons though, cufflinks can be removed and interchanged as often as you please. This piece of jewellery is an essential that often goes ignored until men grow older and start dressing sharp. 
We say – start early. You ought to get used to the sheer brilliance these understated and underestimated accessories bring to your overall look. They're available in a variety of motifs, materials and sizes, each one just as carefully crafted. 
Who are cufflinks for?
There are men who wake up every morning, all geared up for their 9-5 jobs, and decide on which shirt & trousers to wear for the day. There are others who pick whatever they can get their hands on first, dress up in a rush and begin the hustle. Very few though, consider fashion as a medium to express themselves, and show the world who they are. These are the ones who pick every detail carefully, curate their closet with utmost consideration and don't pave the way for laziness to creep in. Cufflinks are for these exact men, who showcase their most gentlemanly side for the world to see, every day, or at least on important occasions. 
What do cufflinks say about a man?
So what are cufflinks saying about you? A man in cufflinks exudes confidence. They make a sartorial statement wherever you go! Cufflinks also denote a taste for all the finer things in life, and can be extremely transformatory for your style. Depending on the design you choose, they also display the kind of things & aesthetic that interests you. This will work in your favour on first dates, or when you're being interviewed! Who knew such a small accessory had so much to offer?
History Of Cufflinks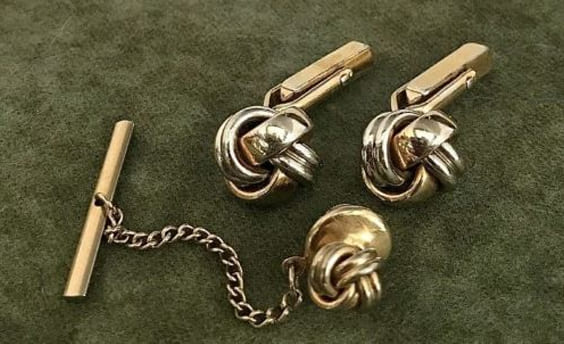 The 17th Century saw a shift in the way men dressed. Cufflinks were born out of the need for something more appealing and exquisite to keep the cuffs of a man's shirt secured, in place of the good ol' button. Metal chains were the first types of cufflinks, which later evolved into the ones we now know. The chains were traded in for rods and fasteners were replaced with clips that were easy to close. Shirts were made to accommodate cufflinks of all kinds, and this is where their journey to becoming a mens' wardrobe staple began and making more people aware of what are cufflinks. 
Evolution Of Cufflinks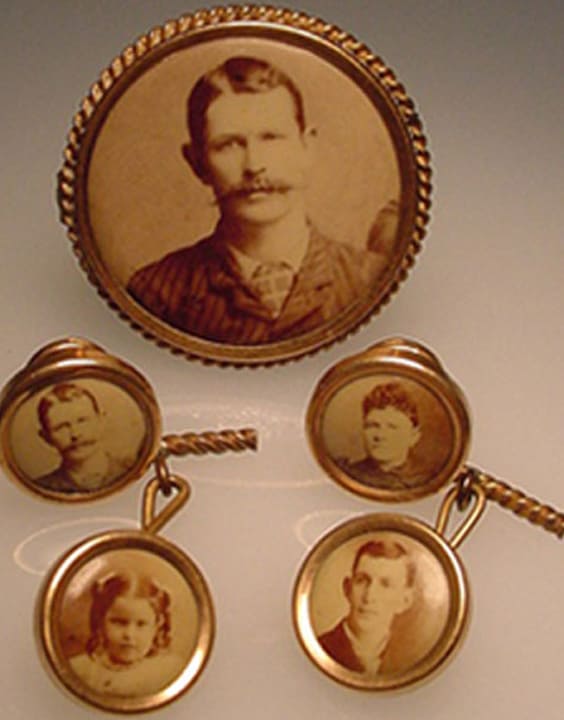 It's interesting to note their subtle yet surefire evolution. Once considered only a part of the evening or formal wear, the nineteenth century saw them extend beyond that. Now, businessmen took pleasure in wearing them in more casual settings, and they were also made in materials that didn't burn the pocket of a typical middle-class man. 
Cufflinks were for every man what a good pair of earrings were to a woman; elevating, elegant and mildly effervescent. Even the big jewellery brands started designing and manufacturing cufflinks, which remain a huge fashion statement even today. 
How do I choose cufflinks?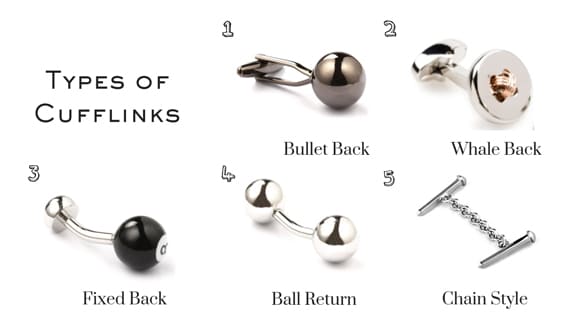 This is a question that must have haunted every modern man at any given time, right after knowing what are cufflinks! That's because for Gen-Z & Millennials, and maybe even Baby Boomers, cufflinks are an alien concept. They just haven't been a part of the trendy dress code, right? We're much happier in our jeans and t-shirts, and on important occasions, a crisp shirt but that's as far as we're willing to go. Well, that needs to change, and the way to change it is through our tips and tricks for choosing cufflinks! 
Here's

how to wear cufflinks on a regular shirt

. Invest in a dress shirt with buttonholes on the cuff. Seems basic, but it really is a detail a lot of people miss out on until much later.

 

Carefully match your cufflinks to the buttons on your jacket, if you're wearing one. You wouldn't want them to stick out like an eyesore. 

We recommend buying cufflinks at an offline store, but if you don't have that kind of time, then just log in to your favourite multi-brand

fashion app

.

Here, you're sure to find a plethora of options available. 

Keep the occasion in mind while shopping for cufflinks. Don't give in to ones that are too quirky for boardroom meetings and conferences. Save them for semi-formal settings when you'd like to be the highlight.

That said, they're not just for white or black tie events. Don't shy away from clipping on a pair if you're wearing a classic shirt and heading out to the bar or on a date to a fine dining restaurant.

What are cufflinks

made with gemstones? Well, they are for the men who like to be in the spotlight, while metal ones are for men with an edge. There are wooden ones too, which exude an aura of simplicity and old-world charm. You'll also be able to find chain link cufflinks which reinstate that you're not afraid of going the extra mile, in fashion or in life! While taking your pick, it's important to keep in mind what suits your personality best and will be aligned with the occasion too. 
Deciding Based On Types Of Cuffs
There are three types of cuffs and cufflinks are made suited to each. They're barrel cuffs, french cuffs and single cuffs. 
Barrel cuffs are one of the most common types of cuffs seen on dress shirts. They usually come with only 1 or two buttons on the sleeves, or in some cases, none. 
Single cuffs are the most formal of them all, with double cuffs comprising folds and, fastened together by means of cufflinks. Use your finest pair of cufflinks for these, and such cuffs are only suitable for black & white tie events. The type of cuff is very important in determining what are cufflinks you should be wearing.
French cuffs are a bit more on the formal side and feature extra length which needs to be folded back and is typically secured with cufflinks. Save this for formal events that involve tuxedos or a fine suit cufflinks! 
How To Wear Cufflinks
You're already up to speed with why cufflinks are used, and their significance in every man's closet. You now also know what they mean, and the vibe they give off. Once you've chosen and updated your wardrobe with these jewels after going through our tips and tricks carefully, all that is now left to do is actually wear them – and wear them right. Fret not; we've got you covered. Below, you're going to find the best ways to wear cufflinks and it won't seem like a daunting task anymore! All you need? An eye for detail. Just knowing what are cufflinks is not enough.
Match Your Metals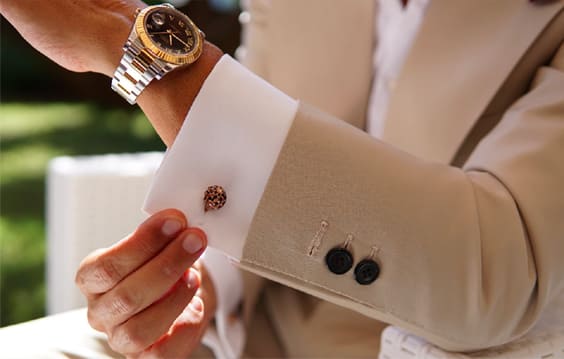 The minute you pair gold with silver or silver with copper or well, any other metal, your look instantly becomes cluttered. A lot of us have made this common mistake more than once in our lives. Mixing metals in your outfit is not ideal, and if you really want to do this, then you need to have a very refined sense of style which comes with time. 
Till then, stick with the same metal. You can do this by matching cufflinks shirts with buttons, or any other detail like an embellishment. If you're wearing a white shirt with white buttons though, you can treat your sleeves as a blank canvas! No metal is off limits then. Our personal favourite is a rose gold finish!
Another way to go about this is to match the cufflinks to your tie clip, your watch or any other piece of jewellery or accessory you may be wearing. This ensures a clean, polished look. What are cufflinks if not the stuff of modern fairytales?
How To Wear Cufflinks With A Suit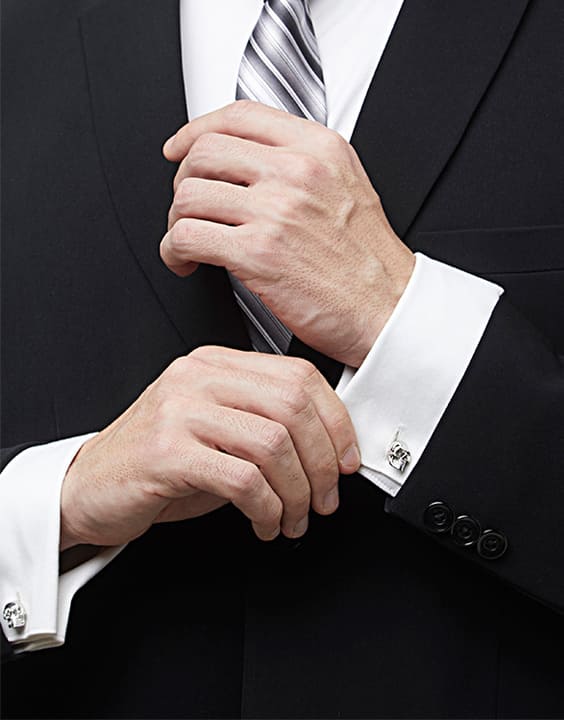 When a dinner jacket and matching trousers comes into play, you know you can't mess around. This is the time to showcase your stellar taste to other guests through plain, high-quality cufflinks paired with French cuffs. Bring shirt studs or lapel pins into this equation and you have got yourself a winning outfit for the evening. It's best to keep it understated and not overdone, as black ties are important social events. 
Weddings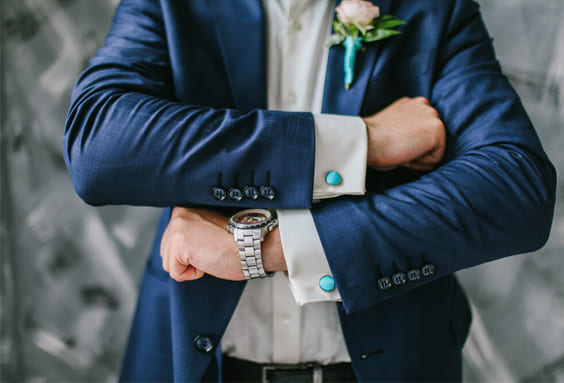 As opposed to the serious and extremely formal nature of black tie events, weddings are a time to experiment with your gentlemanly style. Once you're all suited up, in a typical black or white suit or maybe even a pastel one, it's time to get quirky with your choice of cufflinks. Introduce fun motifs, colours, materials, etc. Your cuffs are quite literally a playground here for your cufflinks. Whatever you do though, just make sure it's tasteful. Weddings don't give you a free pass to dress tacky! For Indian weddings, you can also wear your cufflinks with a men's kurta. 
Invest In Neutrals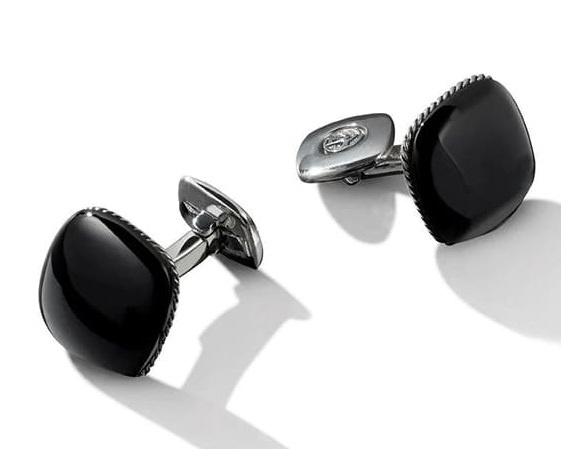 The prime focus of any item in your closet should be wearability. Something that is worn just once and then forgotten, discarded and replaced by something new is just not what this time & age demands. Versatility is key to acing your style now, and so, cufflinks that will never be worn again and will never see the light of day just don't belong in your wardrobe. Your best bet to get more wear out of them is to choose neutral hues and designs. 
Anything that is too over-the-top, too colourful or too unique will not go with most shirts for men, and you can determine this simple fact easily right while you're shopping. There are a lot of geometric shapes and styles with minimal carvings, etc. that can prove to be great plus ones for most outfits. Give them a shot! 
Cufflink Care
If you take care of something, it is bound to stand the test of time. Brass/copper/steel cufflinks are meant to be cleaned with a metal cleaner, while precious metal finishes need to be kept AWAY from water and also sweat. Silver also doesn't fare with water or humidity. Prevent it from oxidising by preserving it carefully. With a simple google search about your cufflink material, and getting the required solution recommendation from best online shopping in India sites, you will have cracked the code to prevent it from getting tarnished!
We hope we've finally let you in on what are cufflinks and what they can really do for your look! Go ahead and make that lasting impression now. 
Latest Articles- 
Image credits: The copyrights of the images used in this post belong to their respective owners. The credits where known are specified under the image - if you're the owner of an image and want it removed, please contact us.