Have you had enough of sleeping in the same old thing? Is it time for a change in your nightwear? Try a pair of women's boxing shorts! Nowadays, women may benefit from the comfort and style that men's boxers provide by adding them to their assortment of pajamas. What do you pair these loose shorts with, though? These are some of the best ways to wear women's boxers, so you don't have to worry. Time to level up your PJ wear!
Women's Boxers
Ladies, it's time to make room for women's boxers by retiring those stifling nightgowns. The boys have been wearing these comfy shorts for years, but it's high time we took them for ourselves. Women's boxers are ideal for lounging about the home or sleeping in because of their roomy cut and elastic waistband. In addition, you can show off your sense of style even as you sleep, as they come in a wide variety of fashionable patterns and designs. Prepare to learn why women's boxers are the pinnacle of underwear luxury. Well, so let's begin! Here are the best styling tips for women's boxers –
What to wear with women's boxers
Adding a pair of women's boxers to your assortment of pajamas is a great way to up the coziness factor. How do you put them together so that they seem chic? Don't worry, we've got you covered with all you need to know to make even your women's boxers seem fabulous. Learn the best options for pairing with women's boxers so you can rock your sleepwear like a pro.
Topwear:
1. Shirts
Add a touch of class to your pajamas by wearing a button-down shirt over women's boxers. Women's Shirts can be worn tucked in for a more formal appearance or out for a more relaxed one. The shirt can be worn cropped by tying it at the waist. To finish off your outfit, add a set of dramatic earrings and a necklace. 
2. Sweaters
Try teaming your women's boxers with a plush sweater for a relaxed and at-home feel. Choose an oversized sweater for a laid-back look or a cropped sweater to highlight your trim waist. For a more preppy vibe, try wearing the sweater over a button-down shirt. Add a pair of beautiful slippers or socks to complete the look. 
3. Jacket:
Women's boxers can be taken to the next level with the addition of a stylish blazer or women's jacket. This results in an elegant and fashionable style, great for a social gathering or a casual date. Wear it with a plain tee or tank top and jazz it up with a clutch and some statement earrings. 
4. Sweatshirt:
Women's boxers as well as a sweater make for a relaxed and stylish outfit. Choose a cropped sweater to highlight your curves or an oversized one to exude laid-back cool. Tying the sweater around your waist is a great way to seem on-trend. Add a pair of sneakers or sandals to the ensemble, and you'll be ready to go. 
5. Hoodie:
Putting on a pair of women's boxers and a soft sweatshirt together is the ultimate in relaxation attire. Choose an oversized hoodie for a laid-back look, or a cropped one to highlight your trim midsection. You may dress up the hoodie by layering it over a shirt or tank top. Add a pair of warm socks or slippers, and you're set for an evening in.
Bottomwear
Ladies, it's time to make the move to women's boxers from that dull and uncomfortable underwear. Women's boxers satisfy the need for both comfort and style with their roomy and accommodating cut. But the dilemma of what to pair them with persists. Don't worry, we've got you covered with our comprehensive advice on how to pair women's boxers with any outfit. 
1. Jeans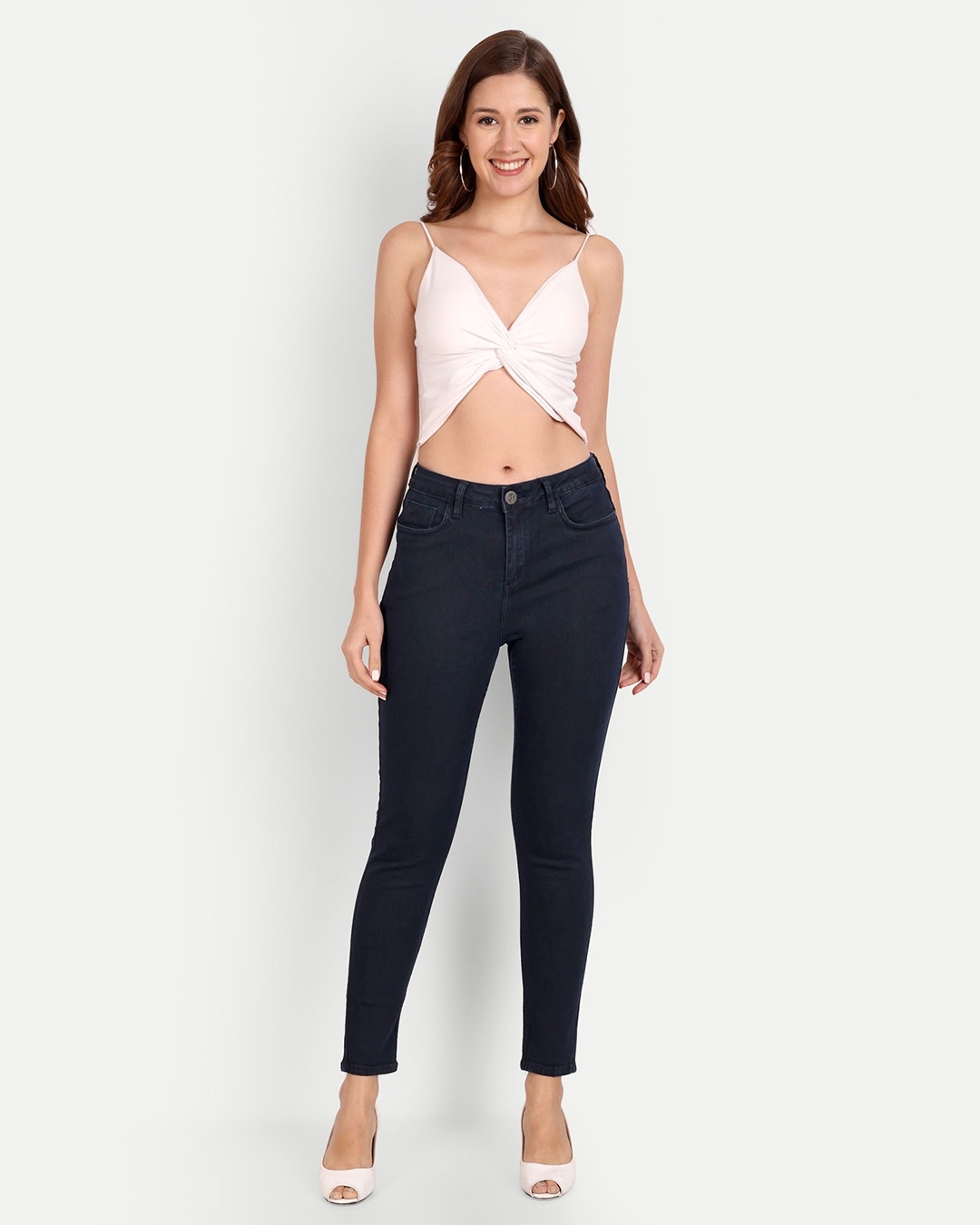 Women's boxers look great when they pop out from under a pair of pants. Put on some high-rise women's jeans and tuck in a blouse or shirt. Then, for a cool and laid-back vibe, fold the boxer briefs' waistband over the jeans'. 
2. Pajamas:
No one said looking good in your pajamas was impossible. Women's boxers go great with a loose-fitting pajama top or an oversized tee. Put on a cute sleep mask and some comfy slippers, and you're all set for a night in. 
3. Shorts:
Women's boxers with denim shorts make for a flirty and fun summer outfit. Consider wearing a patterned or brightly colored boxer under your shorts. Add some sandals and a crop top, and you're set. 
4. Pants:
Get a pair of palazzo pants or loose-fitting women's trousers if you want to show off your women's boxers. Fold the waistband of the boxers over the waistband of your pants, and tuck your shirt in if it's a more form-fitting style. This is the end outcome. An attire that looks great and is easy to move around in. 
5. Joggers:
Athleisure devotees should pair women's boxers with women's joggers. Choose out a pair of dark joggers and a plain white tee to be on the safe side. Finally, for a cool and contemporary style, fold the boxer brief's waistband over the jogger's. 
In conclusion, women's boxers can be worn with many different tops and bottoms to make many different fashionable and comfortable combinations. These soft and convenient boxers are a closet staple for any man, whether he's at home or out and about.
Accessories
Accessories are a fantastic way to make any outfit, including women's boxers, more interesting and expressive. The correct accessories may transform a simple outfit into a well-put-together one, or a casual one into a stylish one. Women's boxers can be dressed up or down with the help of a number of accessories ranging from belts and jewelry to hats and bags.
You can express yourself without speaking a word by putting together an outfit and accessories that are distinctively you. In this article, we will discuss some of the most complementary items that may be worn with women's boxers, and we will provide some styling advice to help you pull off the look. We've got you covered with the greatest fashion advice for women's boxers and accessories, whether you're going out for a day of errands or to a dinner party.
Shoes
There are a wide variety of shoe styles that go well with women's boxers. The correct pair of shoes can elevate your style, whether you're trying for a casual or formal vibe. Women's Sneakers are great for achieving a laid-back and relaxed vibe. You can choose timeless, universally flattering white sneakers, or you can spice up your look with a pair in a bold hue or on-trend print.
Sandals are a fantastic alternative for footwear in warm climates. You can go for a casual vibe with a pair of flat sandals, or amp things up with a pair of heeled shoes. Boots are a terrific alternative for the colder months, and they may give your outfit that extra edge you've been looking for. Depending on your preference, you can pick between ankle boots, combat boots, or knee-high boots. In addition to sandals, women's boxers also look excellent with slip-on shoes like loafers or mules for a low-maintenance yet stylish ensemble.
A pair of shoes, whether solid in color or printed with a vivid pattern, can spice up even the most boring ensemble. Last but not least, whether spending the day at the beach or pool, nothing beats a pair of flip-flops. Women's boxers with flip-flops are a casual and comfortable combination. Shoes that go with women's boxers should be chosen with the event and your own sense of style in mind. You can feel more put together and fashionable with the help of the proper pair of shoes.
Image credits: The copyrights of the images used in this post belong to their respective owners. The credits where known are specified under the image - if you're the owner of an image and want it removed, please contact us.