Summer is undoubtedly the right season to bring out your style and flaunt your love for fashion. Simply because – no layering is necessary! The rising temperature brings many wonderful things. Barbecues, chilled beer afternoons, and tanned skin. The best part – you can finally wear breathable cotton and your favorite pastels. It gives you many opportunities to dress up, and show up as your absolute best self!
With limited wardrobe options, it can become tricky to crack the code for perfect summer outfits for men. Your priority should be to stay cool without compromising your flair and appearance. To your luck, we are here to rescue you and give you some cool summer dressing ideas. 
What are the Essentials of Men's Summer Fashion and How Should You Choose Your Outfits?
Oh, the two most burning questions when it comes to men's summer fashion! Alright gentlemen, let's break down the essentials for your summer looks for men. 
Men can be picky about the details and don't we know that! Let's begin.
1. Polo Shirt: It's one of the most versatile polo shirt styles. It goes well with your work wardrobe and your casual looks when you're not working.
2. Button-Down Shirt: Now is the right time to incorporate short-sleeve shirts into your weekly rotation. These button-downs look just as good as your long-sleeve options while keeping you much cooler.
3. Chinos: Chinos are a great option for days when you don't want to wear jeans. They can be dressed up or down depending on the color, and the fit you choose.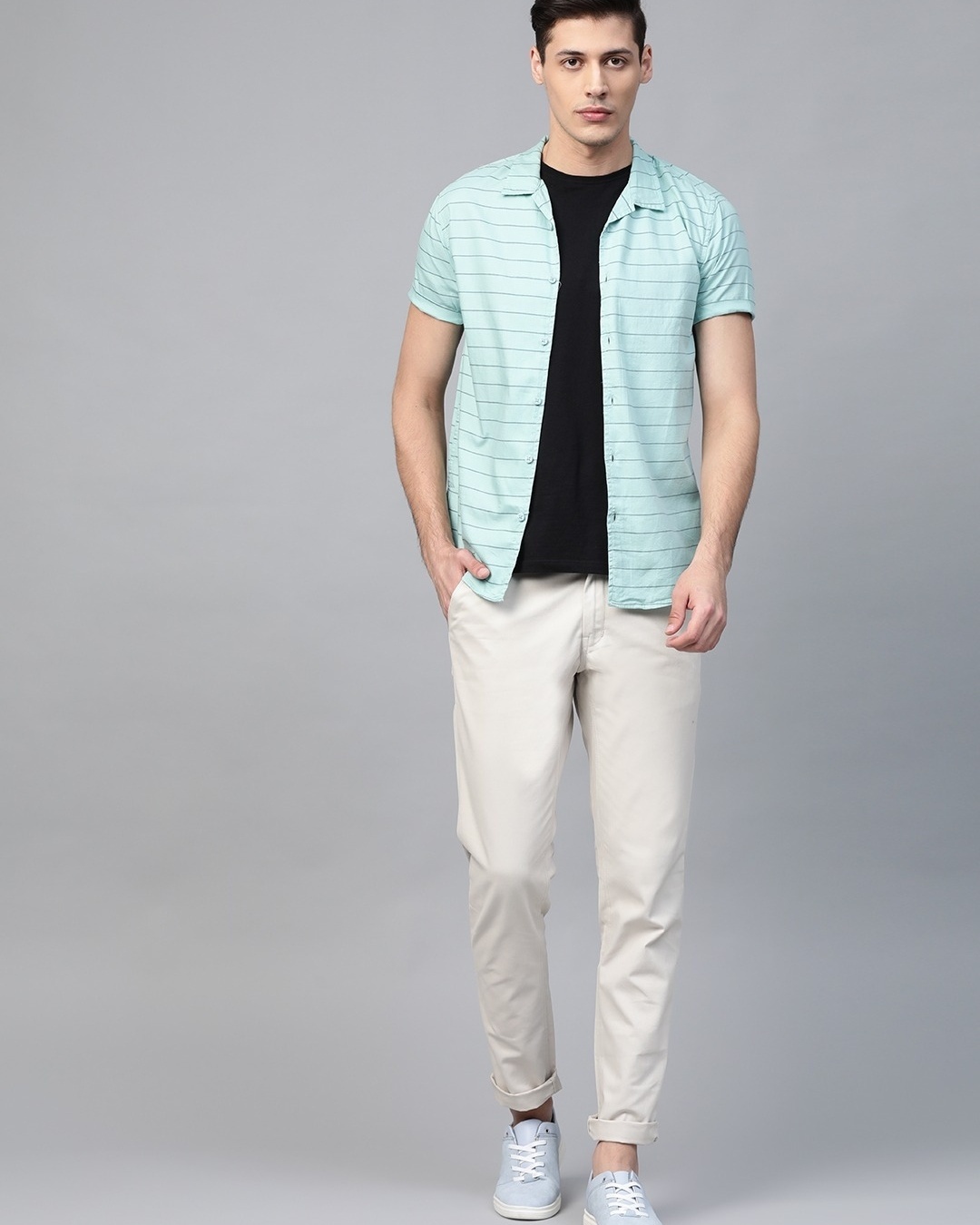 4. Solid Plain T-Shirt: There is no such thing as having too many plain T-shirts. Solid-color V-necks are ideal for summer.
5. Flip-flops: Keep a pair of stylish flip-flops in your summer wardrobe for those casual outings or when you just want to hang out indoors with a chilled beer.
6. Tailored Shorts: Tailored shorts or chinos shorts look dapper in summer. They are slimmer and more flattering. They are extremely versatile pieces of clothing. You can dress them up with oxford shirts and loafers or down with tees and sneakers.
Now that you know the essential items for men's summer fashion, let's see how to choose the best summer outfit for guys.
How to Choose the Best Summer Outfit for Guys:
Invest in quality fabrics: High-quality fabrics are essential for any outfit. They will keep you cool in the summer heat and ensure you will not need to replace your clothing anytime soon. Choose breathable fabrics like cotton, linen, and chambray.
Don't be afraid of color: Bright colors are popular this season and can be very flattering. Colors that complement your skin tone should be chosen, and patterns should be avoided.
Pick the right shoes: The right shoes can make or break an outfit. Choose summer-appropriate footwear such as boat shoes, sandals, or espadrilles. Shoes that are too heavy or bulky will be uncomfortable to wear in hot weather.
Accessories: Accessories can make your outfit pop and help you stand out from the crowd. Sunglasses, hats, and scarves are all excellent summer accessories.
What Types of Men's Clothing Should You Wear this Summer?
Men's summer fashion is focused on comfort, versatility, and style. Whether you're going to the beach, a picnic, or any other summertime activity, it's important to wear clothing that will keep you cool while also making you look good.
Shorts, tees, tank tops, polo shirts, and linen shirts are all essentials to have in your closet. Shorts are ideal for a day out, and depending on the occasion, you can dress them up with a lightweight chino or a pair of tailored shorts. Lightweight and breathable fabrics like linen and cotton are ideal for tops. Short-sleeved tees, tank tops, and polo shirts are excellent choices for a more informal appearance.
When it comes to footwear, nothing beats a pair of canvas sneakers or slip-ons. They're simple to put on and take off, and they're perfect for a laid-back summer look. If you want to look more formal, wear loafers or sandals.
How to Create a Stylish and Comfortable Summer Look for Men?
Choosing the best summer outfit for guys can be a difficult task. With so many styles and trends to choose from, we will help you find your perfect summer look.
Lightweight fabrics are the best: Breathable materials such as linen, cotton, and rayon are ideal for keeping you cool and comfortable during the hot summer months.
Say hello to fitted clothing: Fitted clothing is more flattering. It can be more comfortable than loose-fitting clothing because it does not bunch up and create unnecessary bulk. As a result, you look sharp and get noticed!
Add a dash of bright colors and patterns: Add a pop of color or a fun pattern to your best summer outfit. For men, it's a great way to liven up your summer wardrobe.
Choose comfortable shoes: Invest in a few pairs of comfortable shoes that are both stylish and functional. Wear cotton socks only. If your feet have an odor, always use a foot deodorant spray or roll-on. Don't forget to wear flip-flops when lounging by the pool!
Practical Tips on How to Make Your Outfit Look More Sophisticated
Contrast textures: Combine lightweight, soft fabrics such as cotton or silk with heavier fabrics such as linen or tweed.
Unique color or print: Choose something that will make you stand out, whether it's an eye-catching pattern or a vibrant color.
Add some bling: Accessories will complete your summer look for men. You must wear some bling, such as watches, bracelets, and neck chains, to add a highlight to your look.
Keep the basics: Invest in timeless outfit pieces that will never go out of fashion. Having good quality basics will save you money in the long run and make you look sophisticated.
Tips on What Colors & Patterns to Wear This Summer
No matter what you choose to wear this summer, have fun with fashion, and don't be afraid to experiment. Here are some super cool tips on what makes the best summer outfit for guys:
Bright and bold colors: Don't be afraid to stand out in bright colors like fiery red, sunshine yellow, or hot pink. Stick to a few bright colors. If you are feeling too brave then go for color blocking.
Tropical Prints: Men's summer fashion is incomplete without tropical prints. They add a splash of color and fun to your wardrobe. From palm leaves and floral prints to bold animal prints, tropical prints look cool when worn in the right setting.
Plaids and stripes: Own some plaids and stripes for a classic summer look. They are timeless and will never go out of style and add a touch of sophistication to your look.
Pastels: Soft pastel colors like lavender, baby blue, mint green and lavender are perfect for adding a bit of softness to your outfit. Try pairing a pastel shirt with neutral trousers or shorts or vice-versa.
Neutrals: Neutral colors like navy, charcoal, and tan can give you a classic, timeless look. Stick to just one or two neutrals at a time.
Accessorizing Your Look – The Key to Success
A statement necklace is an excellent way to add personality to an outfit. Simple chain necklaces with a simple pendant or a more elaborate piece with an eye-catching pattern look great. 
Classic watches are ideal for adding a touch of sophistication to a man's wardrobe. Look for one with a classic design that complements the rest of your outfit. You can also choose a watch with a leather band for a touch of casual elegance.
Try a pair of sunglasses for a subtler look. Aviators are always a classic choice, and more modern styles, such as round frames, can add a fun touch to an outfit.
Image credits: The copyrights of the images used in this post belong to their respective owners. The credits where known are specified under the image - if you're the owner of an image and want it removed, please contact us.