The fuzzy feeling with a spreading warmth and the power of making you instantly comfortable – no, we are not talking about your crush but something even better – Socks!
Cramped in a corner of your closet, socks do deserve a lot more attention than they receive. Socks are a fundamental part of your closet imbued with comfort and style. Just as any important item of clothing, even socks come in different sizes, patterns, and fabrics for men and women – each one with its own set of benefits. Brands like Soxytoes do the job very well.
Along with the style, there are a lot of other properties that need to be considered before purchasing a pair of socks. Cushioning, moisture-locking, and many more aspects of socks need to be heeded. Phew, our love for socks just got complicated.
Investing in keeping your feet happy and healthy will have you reaping awards until the cows come home. We all have different skin and bodies – so why are our socks the same? It is time to get responsible with our feet and learn about the different types of socks.
Tweak your shopping list and make space for specialized socks curated to cater to your needs. It is time to show our feet some love.
Settle in, it is time to take some new foot-notes 😉
Why Socks Though?
Before understanding the different types of socks and their benefits, it is essential to know why socks are important. They are not just a fancy accessory to add quirk and character to your outfit but also serve many practical purposes.
Your feet have the burden of carrying you throughout the day (existential much?) and you need to keep them nourished and thriving.
The benefits of wearing socks are perennial and not reserved just for the cold. The cushioning effect of socks provides much-needed support while walking or doing some other strenuous activity.
This layer between the shoe and you are a protective barrier keeping blisters at bay while also creating an ideal environment for your feet.
Conditions like Athlete's foot and ringworms can be easily prevented by wearing clean socks with your shoes. Another important use of socks is to keep your feet from smelling bad (Yikes).
Next time you are scrolling through a fashion app, don't forget to add some nice socks to your cart.
Learn about some types of socks and their names for an extra special shopping spree.
1. Compression socks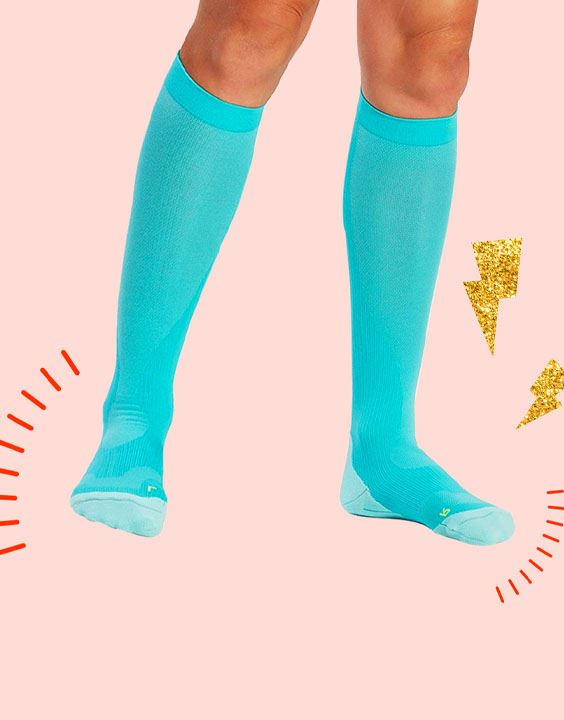 Give yourself a boost of health with these specialized types of socks. With the benefits of compression therapy, these socks for men and women work by applying gentle pressure on your ankles and legs. These types of socks also regulate the blood flow from your legs to the heart maintaining circulation.
The socks also keep your feet protected from painful ulcers, unsteadiness, and pain. People who face swelling after being on their foot for a long time should switch to compression socks for better support.
Pro Tip: You can wear your compression socks like any regular type of socks but with a little caution. Don't fold the top of the compression socks as it will tighten the fit and cause trouble with circulation. You can wear any slippers or shoes over your compression socks.
Note: Please consult a medical health professional for the specific type and duration of the compression socks which fit you.
2. Knee-High Socks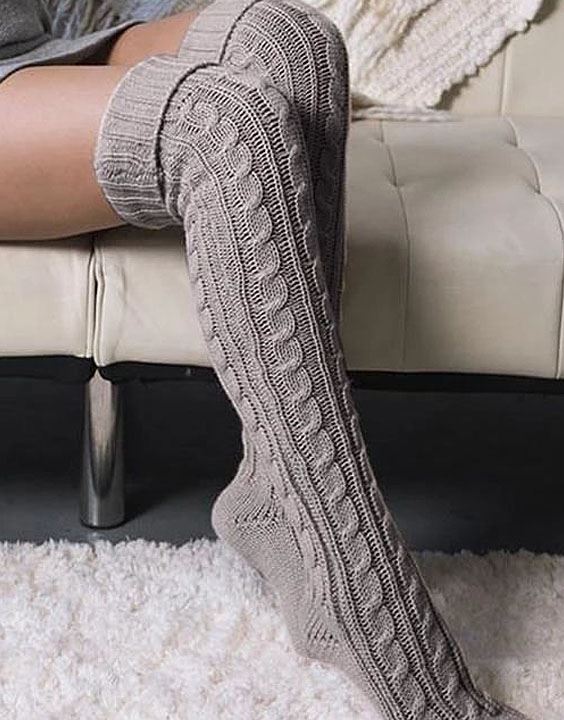 These types of socks are the epitome of functional fashion. Along with looking uber cool, knee-high socks for women pad the soul and provide a layer to keep the feet toasty. These socks also double as leg warmers, keeping you cozy throughout.
These types of socks for women generally give off a very sporty and charming vibe. You should definitely try knee-high socks out for autumn picnics and brunches.
Pro Tip: These types of socks can be styled with sneakers or running shoes. Team them up with a skirt and a t-shirt for a chic look. Fashion a slick back ponytail for your perfect ensemble. You can also pair these socks with long sweaters for a snug winter afternoon.
3. Ankle Socks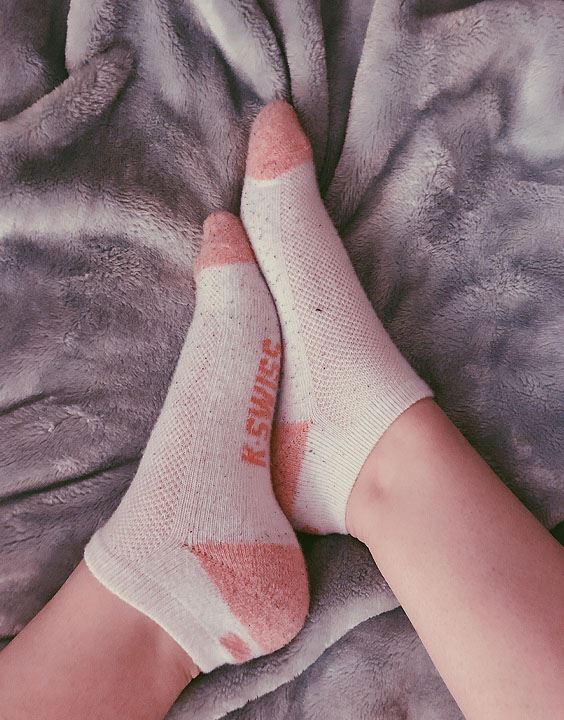 These different types of socks are your go-to everyday staple. These shoe-type socks aren't visible above the rim of your shoe, making them convenient and voguish. You don't have to worry about owning a pair in every color for a well-coordinated outfit. With coverage only to your ankles, these socks can be styled with sneakers and other tough sports shoes.
These types of socks are suited best for casual outings and look super chic and adorable. You can try out funky patterns and colors in these socks to fit your mood and vibe. Your classic muffins and doughnuts make a very comfortable home for your feet.
Pro Tip: Pair these different types of socks with jeans for men or women for a classic look. Ankle socks with frilly tops which peek just above the shoe can be paired with shorts for a cutesy look.
4. Dress Socks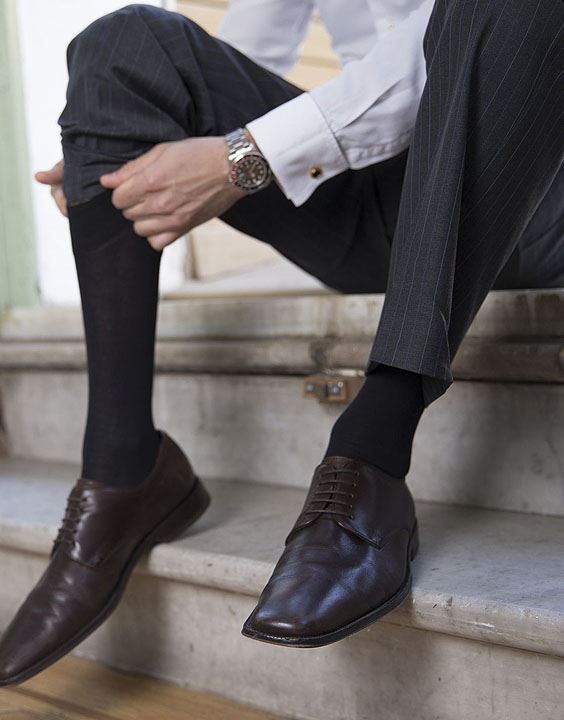 Stitched with sophistication and a breezy knit fabric, these types of socks for men are a must-have. These socks are for all your formal meetings (No, we do not condone wearing minions to your office party… publicly). These socks go up to your calf and give a creaseless look to your suit or tuxedo.
These black-tie equivalents of socks are professional in look and feel and won't let you succumb to cold feet. Also known as hose, you need a couple of pairs of these types of socks for a functional closet.
Pro Tip: Styling these types of socks is very straightforward – you choose somber colors like black, greys, and browns and match them to your suit color for a contemporary and well-dressed look. Pair these socks with formal types of shoes for men for a neat outfit. You can experiment with your socks and go for contrasting colors for a family event.
5. No-Show Socks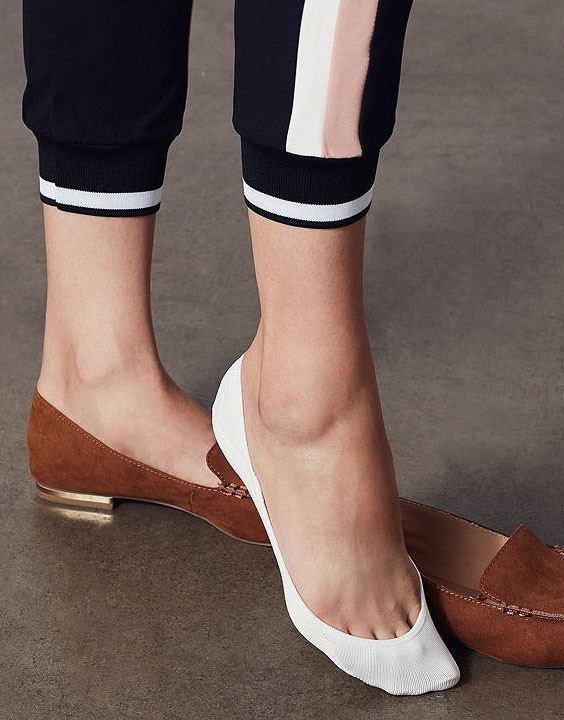 A partner in crime for your loafers and sandals, these types of socks are not visible after putting on footwear. Outfits that are not complemented with socks can be paired with these and your feet don't have to freeze over.
Loafers and bellies can often lead to blisters or shoe bites, wearing a protective layer of socks is an astute way of ensuring comfortable feet.
Pro Tip: You can wear these kinds of socks whenever you are wearing open shoes and these also work for Indian footwear like the Punjabi jutti. These socks are comfortable to wear and style, be it for a casual outing or some celebratory function.
6. Crew Socks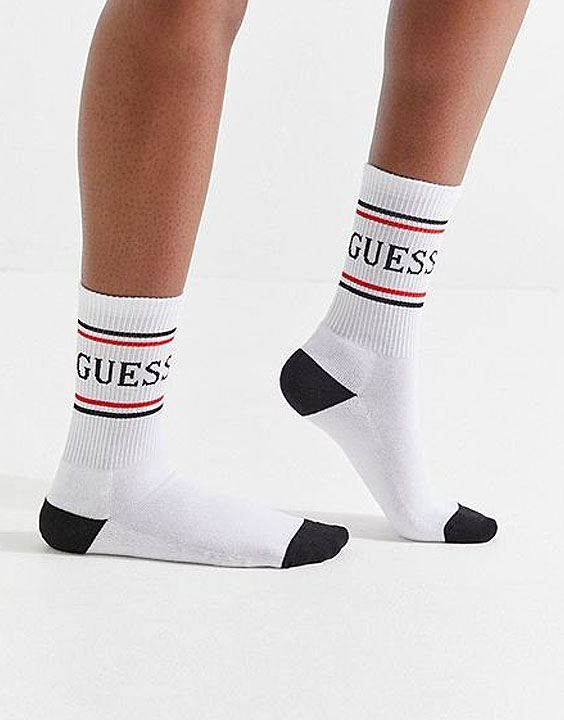 Sporty and suave, these socks are for the great outdoors. People who are very active should definitely get these socks to keep their feet hygienic. Easily hiking up to your calf muscle, these kinds of socks are adept in giving coverage, support and protection.
Usually, these socks are crafted from 100% cotton keeping them lightweight for all your heavyweight workouts!
Pro Tip: These socks are perfect for all your sporty requirements. Add them to your sportswear gear to keep your feet happy and healthy. You can style these up with sneakers and running shoes for your athletic self.
7. Trousers Socks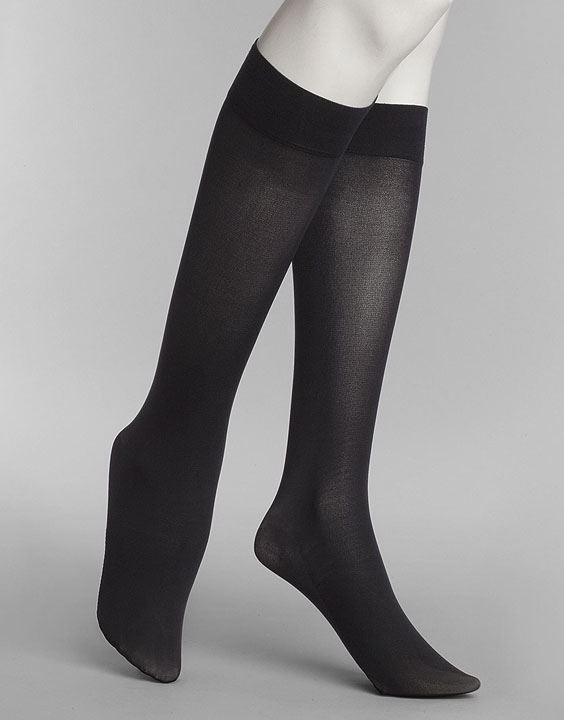 Professional to the eyes and comfortable to the feet, these types of socks for women are high in length and meant for formal events. These are made with an extremely thin material making them very airy and breathable. They can be worn for long durations without any discomfort.
These types of socks are stretchy and don't come in the way of your daily hustles. These socks are a definite buy for women. They look classy, be it an office meeting or a party – you can trust them to amp up your look.
Pro Tip: These socks are paired with trousers and pencil skirts for a put-together look. These are very popular for working women and add an air of sophistication to the outfit. These can be teamed with culottes or loose-fitting pants for a more contemporary look.
8. Winter Socks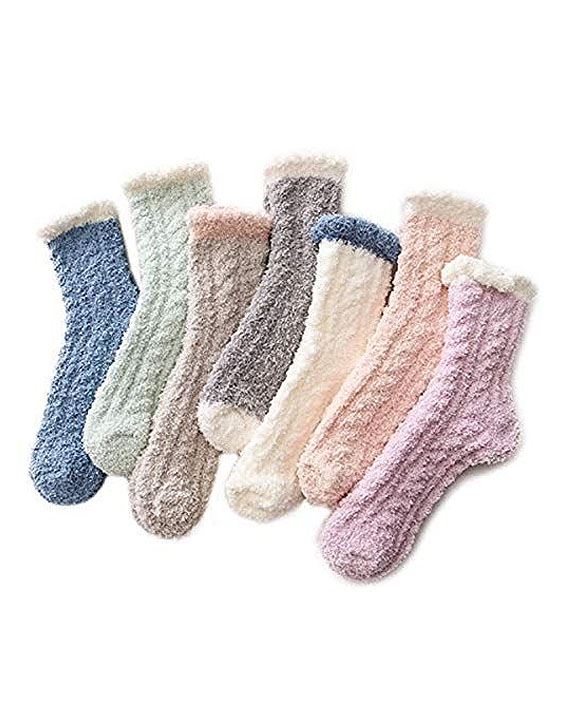 The best part of winter is the fuzzy socks – there, we said it! These socks are just like a hug for your feet. These knitted masterpieces are a winter collectible. Be winter-ready with these snug accessories, that'll help regulate your body temperature.
These smart socks are adept at giving thermal insulation making them perfect for the chill weather.
Made from wool or acrylic fibers, these socks come with extra padding for extra warmth. The material of these socks is absorbent, breathable, and quick-drying – the perfect mix for winters.
Pro Tip: These socks can be worn with uggs and all the different types of shoes for men. These can be worn all day for a comfortable cold season.
9. Tabi Socks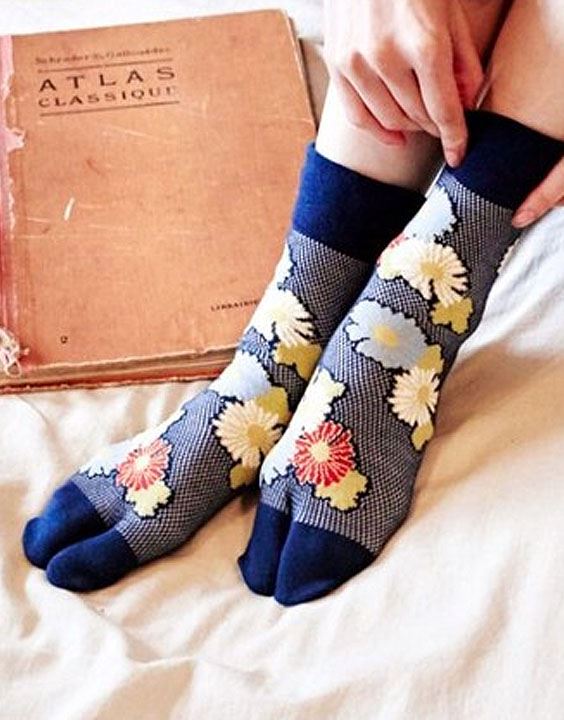 Having to choose between your flip-flops or comfy socks? Well, no more with these split-toe socks. These socks are very comfortable and can be worn with your run-of-the-mill slippers.
These socks serve a very functional purpose and make it convenient to wear them even in summers or spring.
Pro Tip: You can wear these socks with dresses or jeans for women. These socks might take a minute to adjust to your feet but after that, look great with your classic slippers.
10. Casual Socks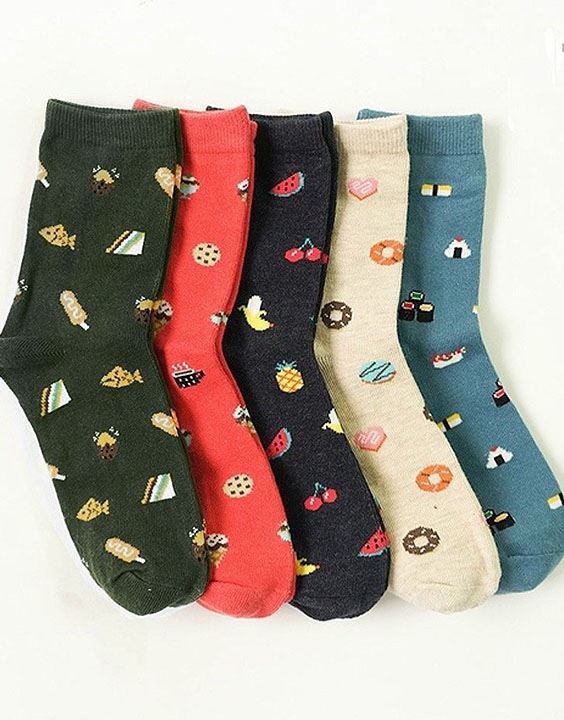 Quirk, style, and fun come together in these kinds of socks. These socks are easy to style and store. These socks are comfortable to wear and add a lot of personality to your outfit. You can mix-match these socks and just enjoy these accessories.
Light and breezy, these socks are a staple for everyone. Your online store scroll will be incomplete without some pairs of quirky socks. Experimenting with funky socks exudes your confidence and definitely adds to your attitude.
Pro TIp: You can style these types of socks with jeans for women or men, with shorts, and with literally anything. They are light and breezy and extremely cool. Chill out with your gang and do some sock twinning with crazy designs. Friends that sock together, stays together!
Buying socks is therapeutic and an expression of self-love. Wear what you love on your feet and walk on cloud nine. Be it a gentle reminder of the geek you are or some cute doggo inspiration – socks will always make you happy. With all these types of socks, don't get confused and just choose the ones that you think will fit not only your feet but your aura.
In the loving memory of all the lost sock pairs, this is an ode to our fashion favorite.
Image credits: The copyrights of the images used in this post belong to their respective owners. The credits where known are specified under the image - if you're the owner of an image and want it removed, please contact us.