Let's face it; us Millennials and Gen-Z have been defying every rule in the conventional rulebook, even redefining a few to fit our idea of 'perfect'. This applies to dating, work-life, relationships, food, cultures and even fashion! From the way clothing is perceived to the freedom of dressing up however one may please – everything has changed for the better and we're all for it.
Spend a few extra minutes on social media stalking random accounts and you'll know exactly what we're talking about. Besides, now that setting trends aren't just limited to the runways, it gives everyone the chance to flaunt something that they think has immense potential and get people to play along if they agree.
We've even brought fashion from the good ol' days back – and all by embracing it in our tiny little ways. One example of this is the resurgence of cargo pants! How many times have you cringed looking at someone wearing those seemingly unflattering, beige trousers with tons of pockets and nothing to put in them? It's best not to count. Thanks to influencers and street style icons though, the best cargo pants for womens came back from the dead and with a revamp too! They're no longer a fashion faux pas but just the opposite. Acing them spells brownie points for you, and who doesn't like those?
Yes, they have been seen in multiple music videos and on multiple fashion gurus over the years, and we may have even loved how they looked, but we've been conditioned to believe that anything even slightly baggy is just not feminine enough – so we never paid heed. Then, as if hit with sudden realisation, the fashionistas of the world saw these humble trousers for what they really are – stylish, comfy and super versatile. In no time, they were storming the fashion world on AND off the runway, taking over collections by almost every top player, and also weren't shunned anymore. What's even better is that they're just getting started.
Before we let you in on some styling tips for the cargo pants you will definitely want to buy now, let's look at how they came into being.
The Trendsetting History Of Cargo Pants
Who knew that what started off as a part of Battle Dress Uniforms for the British Military Personnel in 1938 would be all the rage come 2020? Traditionally, cargo pants were utilitarian pieces but years later, around the 1990s, they were noticed by hip-hop stars. A lot of the icons and budding artists chose cargo pants as a part of their costumes for music videos and concerts too. Naturally, they trickled up on the trend charts and soon enough, everyone was wearing them with cool air and a nonchalant vibe that played the role of perfect finishing touches.
Even in the 2000s though, after being in the mass markets for really long, they were slowly considered to be unattractive and we think that cargo pants owe this reputation to their former anti-fit nature and extra-large pockets. They were never made to be gender-specific though, and we're guessing that was their saving grace in some way.
Now that we've taken you through the technical bits and our interpretations too, it's time to bring you face to face with the several ways you can style these comfortably stylish numbers. Read on and take notes if you spot something you like!
1) Monochrome Love!
There is nothing one cannot love about monochrome, and nothing easier than styling an outfit in the same color! It isn't just about black and white, but its extremely trendy counterpart 'montone' is also made for the new age. The only thing you need to keep in mind? The colors that suit you – and no one better than you YOURSELF knows what works best.
It is also seen inside and outside fashion weeks far too often, so that is another reason to give in to monochrome or monotone. That, combined with cargo pants for girls will set you up for a winning outfit, one that you can flaunt from AM to PM seamlessly. Wanna know how to pair them up? Read below!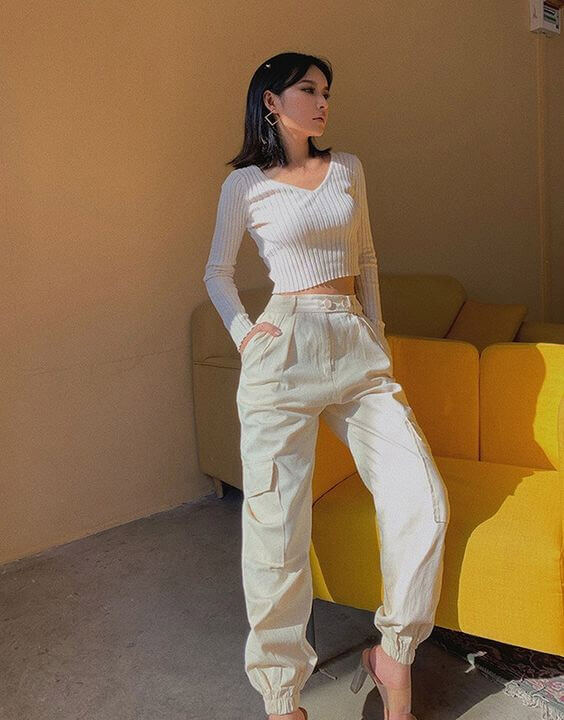 Style Tips
2) Badass Camo!
The famous camouflage print is a streetwear hero, and we're all well aware of this. Labelled as a must-have by some and done & dusted by others, camo will never be everyone's cup of tea – but it sure as hell is ours. It's been an integral part of army uniforms (because let's face it; bright colors aren't an ideal choice in battle) and they're also extremely common in the day-to-day fashion scene.
The ones who have loved and aced street style know the role that camo plays in making a person look badass & a little rough around the edges – two qualities that are really important to carry off every outfit in this genre. If you're dying to know how you too can make military pants for girls work in your favour, then you'll find the answers below.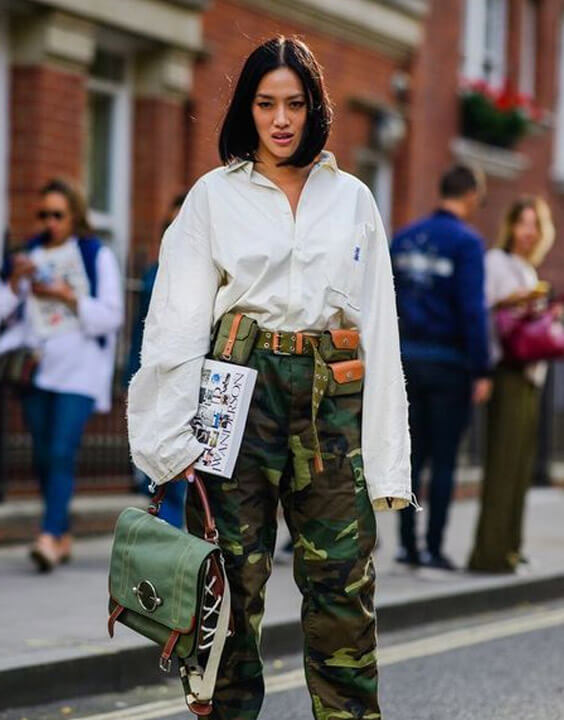 Style Tips
3) Baggy Is Best!
Word around fashion town is that baggy is the new 'cool', owing to not just the pandemic but the hectic urban life. Loose doesn't mean unattractive and it's high time we come to terms with that. All you need to do 'baggy' the right way is to figure out how much of it works for your body. It's not just about how it looks but also about how it feels now, and this applies to almost every niche of fashion and beauty.
Tell your skinny jeans to move away when you have a long day ahead of you, or when you simply want to stay easy from morning to evening. Best cargo pants for womens according to us are the baggiest ones. They're as appropriate for casual outings as they are for grocery runs, and your favorite fashion icons can definitely vouch for it. Let's see how you can make 'baggy' look cool, shall we?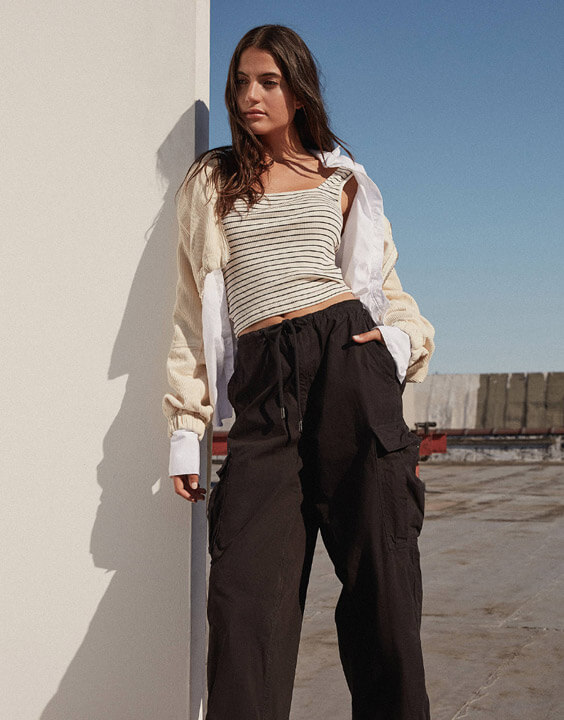 Style Tips
4) Cool Cargo Jeans!
Chic, street, and every bit charming; this is what best describes the big cargo pants revamp! But it gets better – because now we also have cargo jeans in the picture. If bootcut denims and boyfriend jeans have been all that you hold dearly, it's time to also look towards cargo jeans, because they are sure to climb up on your ' favorites' list in no time.
The reasons for the popularity of cargo jeans are many, but let's talk about how these seemingly simple pairs of pants effortlessly blend two classics and make them work rather well. If you ask us, we already own more than a pair of these! It also helps to see your favorite celebrities strutting around in these, as that is an instant nod of 'yes' for their coolness status. We've put together some of the best ways to style cargo jeans for girl and here they are.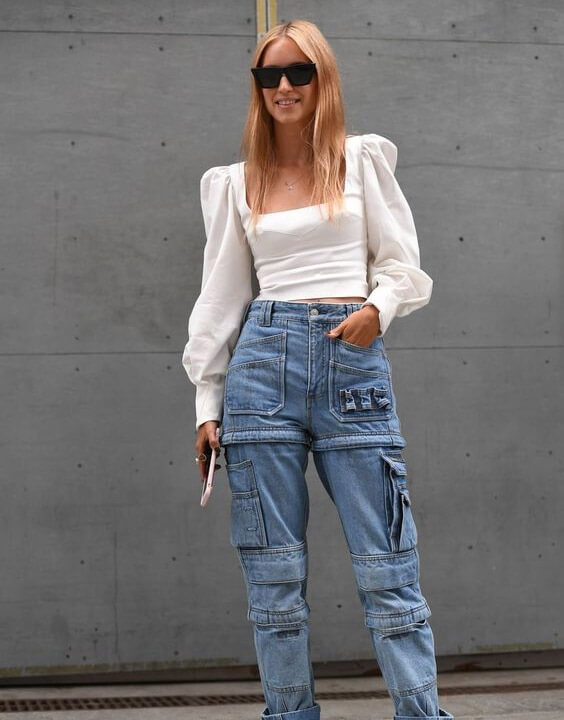 Style Tips
Well, that's it for now, folks! But we'll be back with more trendsetting and groundbreaking fashion items and advice soon – so don't forget to make the best of this one till then.