Marathi cinema has come a long way in recent years. With the industry growing rapidly, it has become a force to be reckoned with. Marathi films are known for their strong storylines, powerful performances, and relatable characters. In 2022, Marathi cinema continued to impress with some of the highest-grossing films of the year.
Here are the top 10 highest-grossing Marathi films of 2022
1. Ved
Ved is a Marathi romantic drama directed by Riteish Deshmukh and released on December 30th, 2022. The film, which stars Riteish and his wife Genelia D'souza, is a remake of the 2019 Telugu film, Majili. Despite being made on a budget of around ₹15 crores, Ved has become the second-highest-grossing marathi films of 2022 after Sairat, earning a total of ₹44.92 crores. Salman Khan also made a special guest appearance in the film. The story mainly revolves around the meet-cute and blossoming young romance between an alcoholic, failed cricketer Satya (Riteish) and Nisha (Jiya Shankar)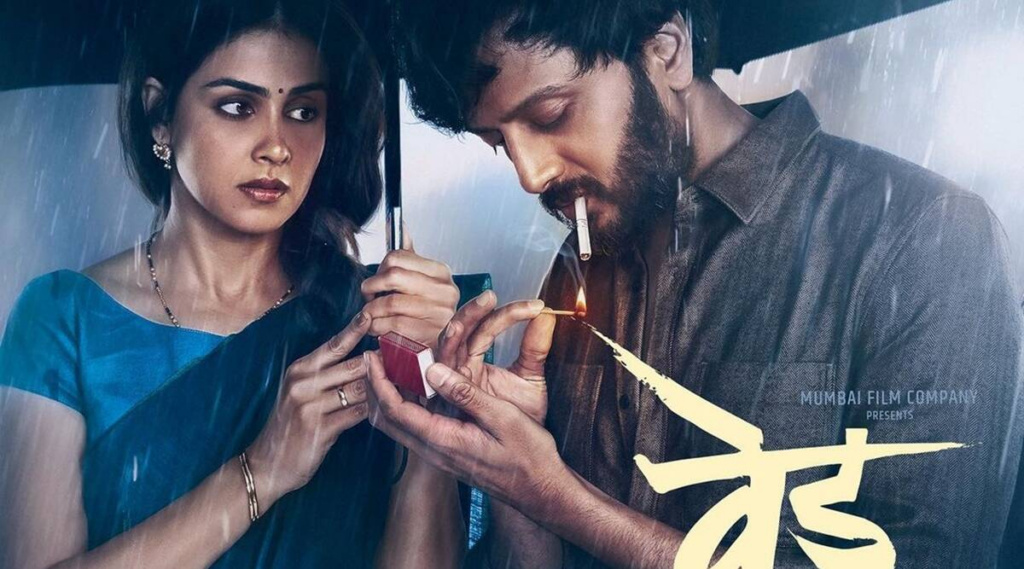 2. Pawankhind
Pawankhind is a Marathi film based on the 1660 Battle of Pavan Khind fought between Maratha warrior Baji Prabhu Deshpande and the Mughal army led by Aurangzeb. The film, directed by Shivaji Lotan Patil, focuses on the bravery and sacrifice of the Maratha warriors and their fight against the Mughals. The movie features an ensemble cast including Ashish Vidyarthi, Vikram Gokhale, and Anna Ador. Pawankhind received positive reviews for its depiction of historical events and strong performances by the cast making it one of the highest-grossing movies in India.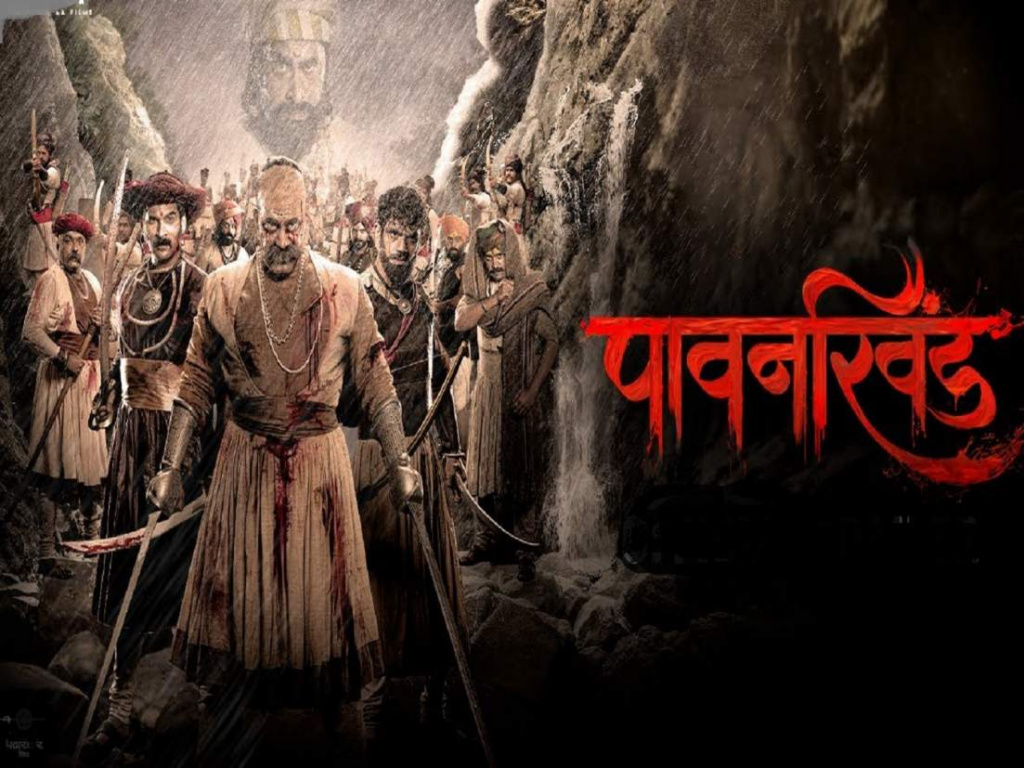 3. Dharmaveer
Biopics can be challenging to navigate as filmmakers attempt to balance presenting a nuanced portrayal of their subject while avoiding backlash from audiences. Failing to offer an unbiased perspective can provoke criticism while sugarcoating the truth can lead to accusations of glorification. In Dharmaveer, the filmmakers chose to take the latter approach, presenting the late Anand Dighe, also known as Dharmaveer, as a heroic figure revered by thousands, particularly those in Thane, his power base. The strong performances made it one of the highest grossing Marathi films.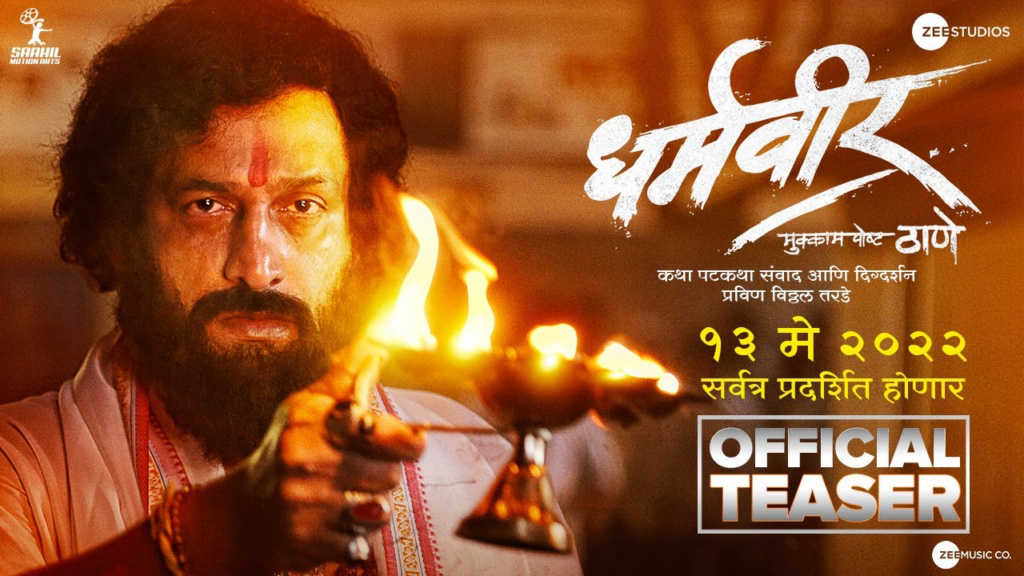 4. Sarsenapati Hambirrao
The movie is set in the mid to late 17th century and introduces us to the ruthless Mughal emperor Aurangzeb (played by Mohan Joshi), who plans to reward Sarja Khan (portrayed by Raqesh Bapat) for assassinating the Maratha Empire's military commander. However, the film then transitions to a flashback, where we are introduced to an unsung hero named Hansaji Mohite, commonly known as Sarsenapati Hambirrao (played by Pravin Tarde), a name bestowed upon him by Chhatrapati Shivaji Maharaj.
Throughout the movie, the audience is exposed to several lesser-known aspects of Hambirrao's life, showcasing his unwavering courage and fearlessness. The movie, storyline, and performances made this movie oneof the highest box office collection.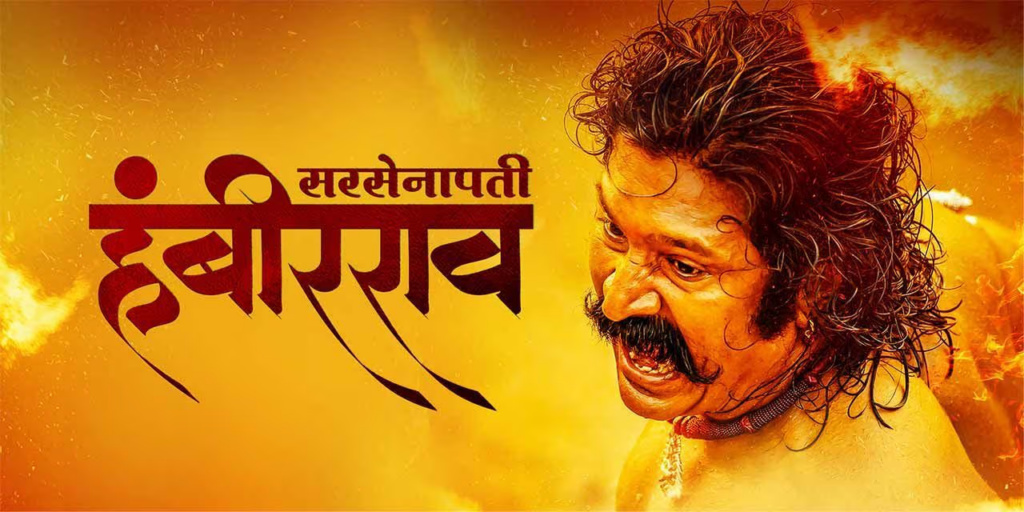 5. Har Har Mahadev
During the historic battle of Pawankhind, Baji Prabhu Deshpande, along with 300 brave Maratha soldiers, fought against a Bijapuri army consisting of thousands of soldiers to secure a safe passage for Chhatrapati Shivaji Maharaj. This movie gets into the inspirational events of the past and captures the essence of what went into fighing the historical battle.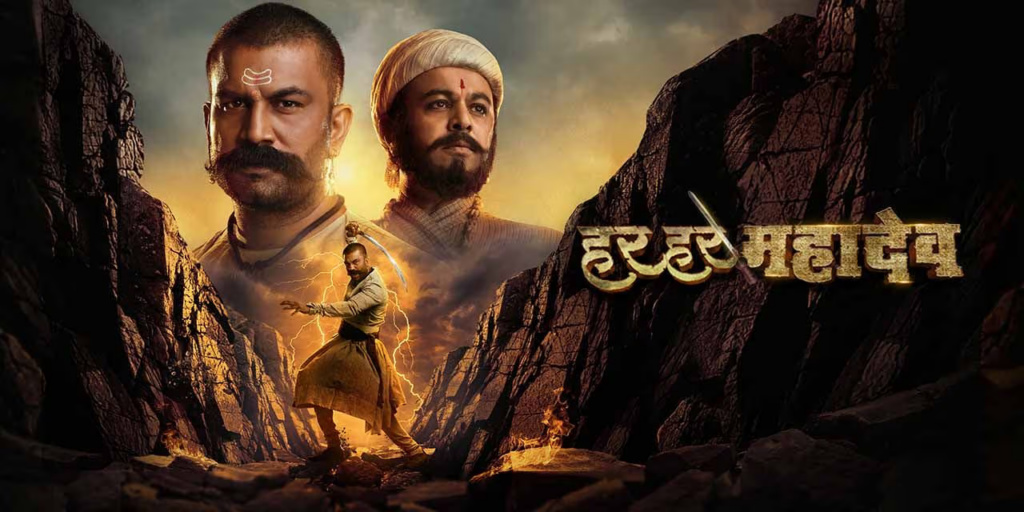 6. Zombivli
Zombivli is a Marathi zombie-comedy film directed by Aditya Sarpotdar. The movie stars Lalit Prabhakar, Vaidehi Parshurami, Amey Wagh, Trupti Khamkar, and others in lead roles. The story revolves around the residents of Janata Nagar, Dombivli, who fight against a zombie epidemic caused by toxic waste from a bottling company owned by a powerful local leader. The film was released in theaters on January 26, 2022, and has been well-received by audiences and made it highest grossing Marathi films of 2022. It is the first zombie film in Marathi cinema and has generated a lot of buzz and interest amongst viewers. The film also features a special appearance by Siddharth Jadhav.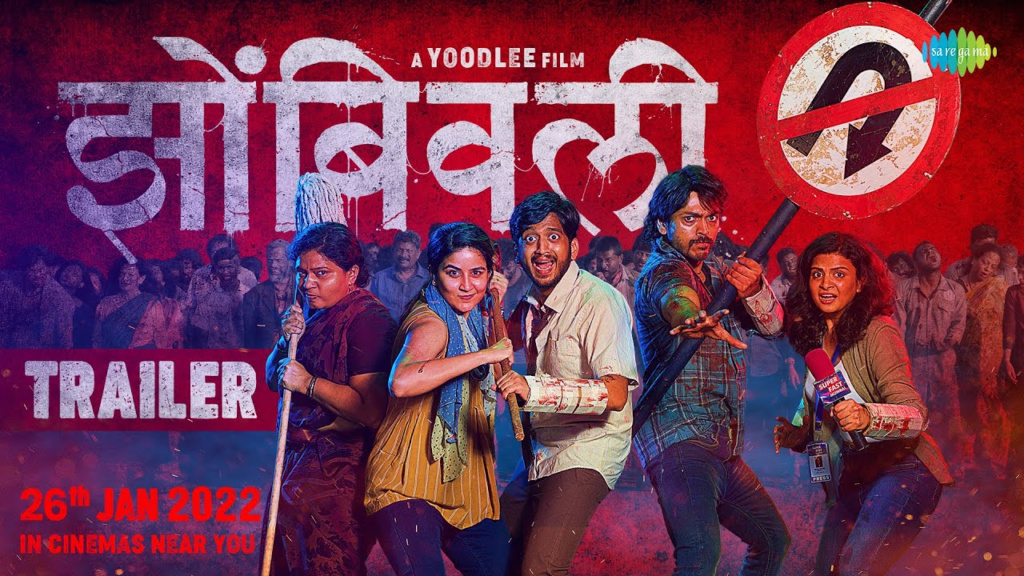 7. Lochya Zaala Re
This uproarious comedy follows the story of a man living on rent in London, who manages to increase his monthly stipend by lying to his uncle back in his native village about his marriage. However, things take an unexpected turn when his uncle decides to pay him a visit, forcing him to ask his friend's wife to act as his own.
To everyone's surprise, the visiting uncle becomes smitten with the "newlywed" wife, causing chaos for the friend whose wife she truly is. As if that wasn't enough, the neighbor's wife becomes infatuated with the uncle, leading to even more mayhem and mishaps. This laugh-a-minute comedy is sure to keep you entertained from start to finish making it one of the highest grossing Marathi films of 2022.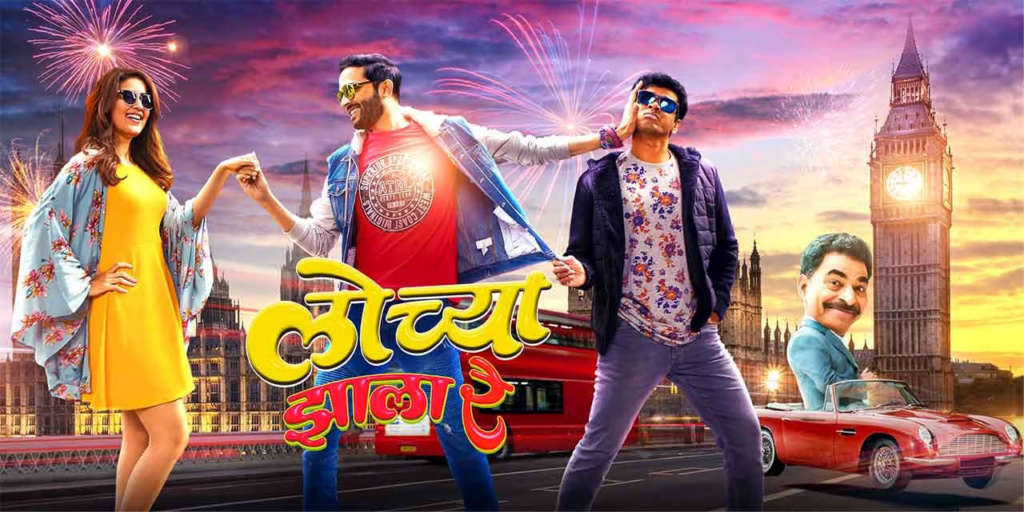 8. Sher Shivraj
Sher Shivraj is a Marathi historical drama film directed by Digpal Lanjekar. The movie stars Chinmay Mandlekar, Mrinal Kulkarni, Mukesh Rishi, and Rohan Mankani in lead roles. The story revolves around the heroic incident of Shivaji Maharaj's escape from Agra Fort along with his trusted aides. The film showcases the bravery and determination of Shivaji Maharaj and his companions in the face of great adversity. Sher Shivraj was released in 2022 and received positive reviews for its direction, acting, and storyline. The film also features a song titled "Yelkot Devacha," which has been well-received by Marathi music fans.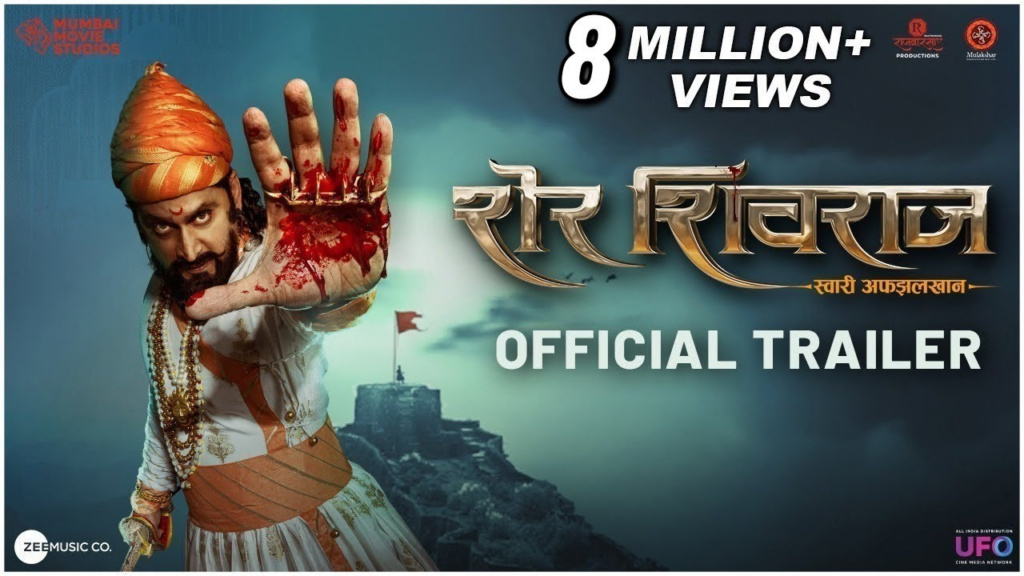 9. Timepass 3
Directed by Ravi Jadhav and produced by Meghana Jadhav, "Timepass 3" is a romantic comedy-drama film released in 2022. This movie is the third installment in the "Timepass" series, starring Prathamesh Parab, Hruta Durgule, and Bhalchandra Kadam in the lead roles, with Sanjay Narvekar and Vaibhav Mangle playing supporting characters.
The story centers around Dagdu Shantaram Parab, who has finally passed his 12th-grade exams and is excited to start fresh by enrolling in Science College. As Dagdu begins to bond with his classmates, particularly Palvi, their relationship begins to blossom.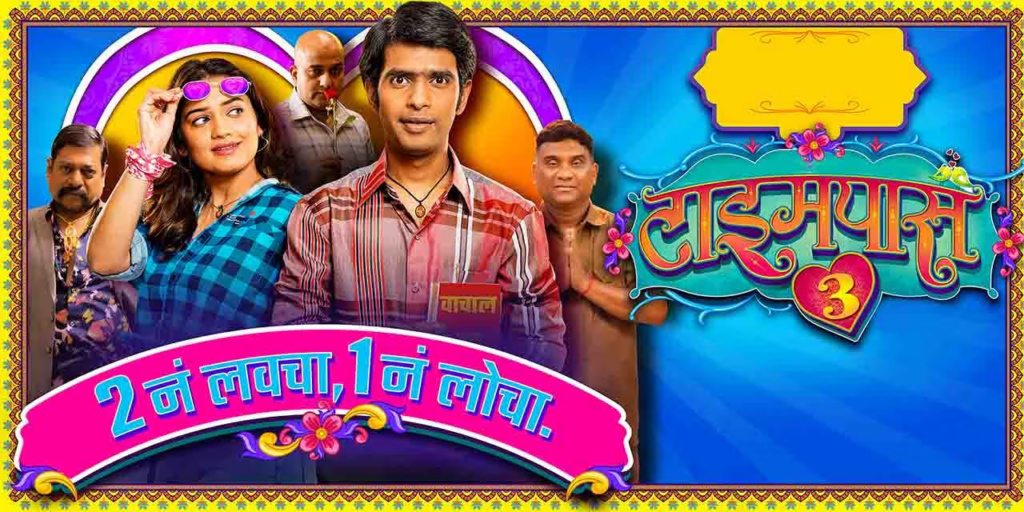 10. Boyz 3
Boyz 3″ is a Marathi-language comedy-drama film released in 2022, directed by Vishal Devrukhkar and produced by Everest Entertainment. The film features Parth Bhalerao, Pratik Lad, Sumant Shinde, and Vidhula Chaughule in the lead roles. It is the third installment of the popular "Boyz" franchise and was released in theaters on September 16, 2022 and has one of the highest box office collection.
The story revolves around Kabir, who agrees to travel to his native village to complete the legal formalities of his mother's properties. Kabir is reluctant to meet his estranged father, but he is persuaded to take a road trip with his friends Dhungya and Dhairya. The film follows their journey and the unexpected adventures they encounter along the way, raising the question of whether their trip will be successful or not.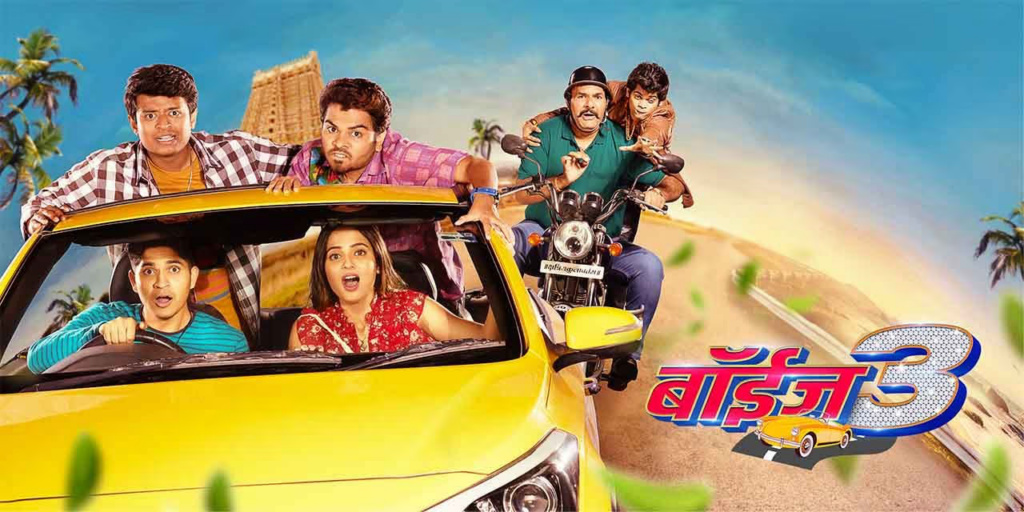 Also Read:
Image credits: The copyrights of the images used in this post belong to their respective owners. The credits where known are specified under the image - if you're the owner of an image and want it removed, please contact us.