When the festival of lights aka Diwali is right around the corner, the preparations for the celebrations are in full swing! Our closets are updated with that perfect festive outfit, and our houses are deep-cleaned and everything in it is reorganised. Every corner speaks of newfound energy and radiates joy, complemented by decor that fits the mood. Amid all of this, rangoli designs are what splash our home with some colour, and they're one of the most significant parts about Diwali! Rangoli is an art form that you don't need to master but can practice even without prior experience. If you need to be pointed in the right direction though, then this blog is for you. Find everything you need to know about how to draw rangoli designs for Diwali to trendy rangoli designs here!
What are rangoli designs?
Simple rangoli involves creating colourful patterns on flat surfaces with coloured sand or powder. The designs can be anything from floral to visuals of various objects, abstract or nature-inspired. It is topped off with flower petals, colourful stones, diyas, etc. and is majorly done on Diwali in most Indian households.
How to make rangoli design?
A lot of us depend on online tutorials, but sometimes they may not be enough. So, here's a list of things you need if you're wondering how to draw rangoli design and ace it. Take note and treat this as a checklist when you head out to buy the apparatus. 
Coloured Rangoli Powder 

Chalk

Flower Petals

Rangoli tools 

Fuller's Earth

Kolam Powder
After your materials are sorted out, here's how to make rangoli designs step by step on the floor!
Choose your rangoli designs by looking for rangoli images online, and shortlist the ones that you think you will be able to achieve. If you're a first-timer, it's a great idea to buy stencils. 
Pick a spot! If you're planning to make an elaborate design, you will need a place that won't disrupt others' movement, in turn ruining your rangoli.

Use chalk to draw an outline of your design on the floor.

Now, using your thumb & forefinger, add Kolam Powder over the outline for the true Rangoli effect.

Begin adding colours in various parts of the rangoli, in line with your design.
Rangoli Design Ideas
For the experts and the rookies, here are 13 of our favourite & latest rangoli designs! You're sure to find yours too for this Diwali. 
1) Peacock Rangoli Design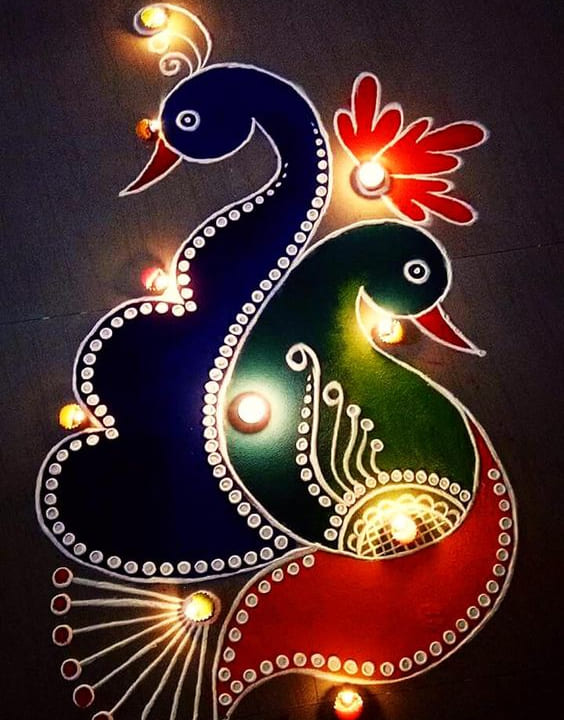 Nature-inspired rangoli designs are quite common, and also the most preferred. Beautiful patterns that are a blend of flora and fauna adorn the floors of several homes when the festival arrives. Out of these, peacock rangoli design is considered to be one of the most beautiful artworks for more reasons than one. 
The national bird of India symbolises regrowth, rejuvenation and royalty. They're equal parts majestic and picturesque, making them an unmissable sight in reality or in visuals. In Hindu culture, peacocks are considered to be sacred, and that's why you should totally try to draw a simpler version of them this time.  
2) Swastik Rangoli Design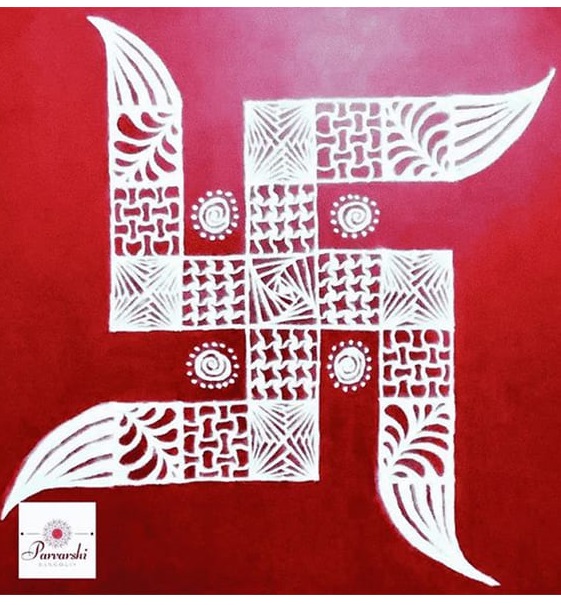 Every Hindu will know what a Swastik is, so it needs no introduction. An important part of almost every Indian festivity but especially Diwali. It is seen only in red and as a symbol of auspiciousness as well as good fortune. That's why, when Hindus buy a car or a new house or property, a Swastik is drawn after worshipping rituals are done. 
Since this symbol holds such a huge and significant spot in our culture, why not use it in your rangoli design? This is one of the easy rangoli designs and is sure to radiate positive vibes while acting as a display of tradition. 
3) Geometric Rangoli Design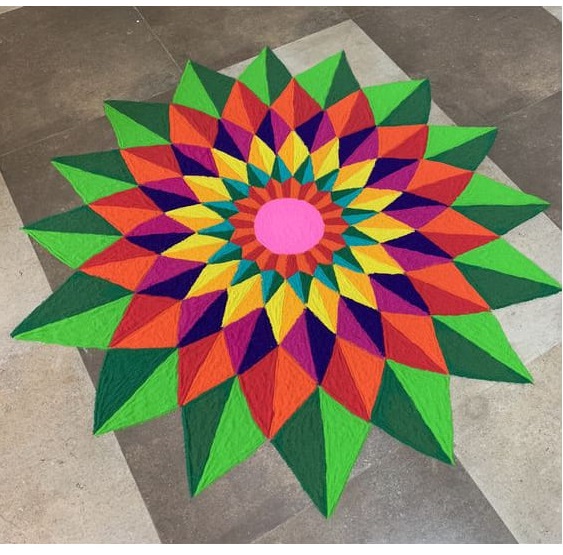 Among simple rangoli designs, this scores the topmost spot! All you have to do is play with simple shapes and through tessellation, create a pattern. Think concentric circles, squares, triangles, rectangles – basically, just picture what you learned in 4th grade in Math class and bring it to fruition but creatively. 
Geometric rangoli designs will instantly pull your guests in, and pave the way to tons of compliments when your loved ones come to visit. There's something about repeated patterns that holds a person's attention at first glance, more so when it's all colourful and cheery. Use this to your advantage and make your rangoli as intricate as possible. 
4) 3D Rangoli Design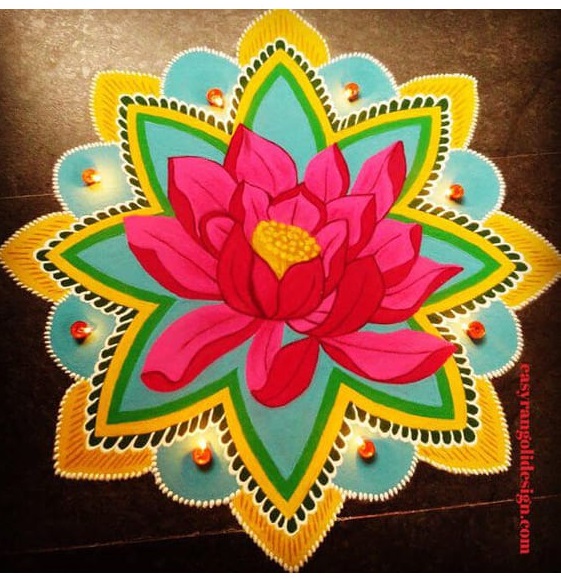 As kids, all of us have definitely made 3D artworks in school or at home. The perfect blending of various shades is absolutely mesmerizing and always used to hold us captive. Bring the same principles to your rangoli and you will see how the entire design becomes ten times more attractive, instantly. 
You can choose contrasting shades or light & dark tones of the same colour for extra effect. Choose which part you want to fill with gradation, and then pick your colours. Make sure you don't mix two shades, as the distinction won't be visible after that. Try modern rangoli designs like this for Diwali 2021. 
5) Traditional Rangoli Designs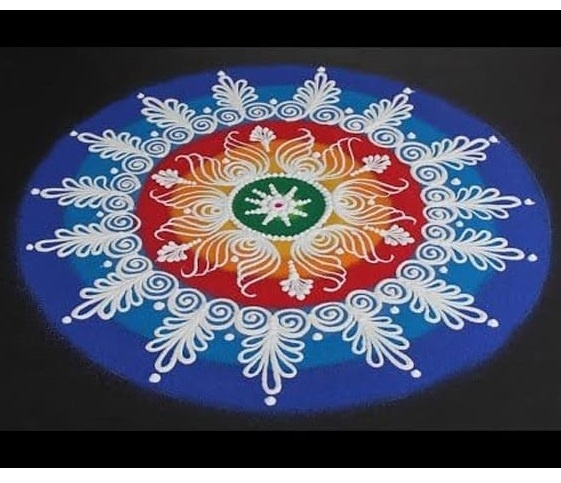 Add another dose of tradition to your living space with rangoli patterns that are rooted in culture! A simple web search on google about how to make Sanskar Bharti rangoli designs step by step will present you with a plethora of renditions of this classic design, as well as ways to do it perfectly. As long as you follow the instructions to a T, you should be good. Bear in mind that for these, patience is key. 
Start small, and don't pick a grand design at once. If you are up for it, you can change your rangoli every day, starting from an easy traditional design on Dhanteras to more elaborate ones on Diwali and Bhai Dooj. 
6) Rangoli With Rice, Pulses And Other Grains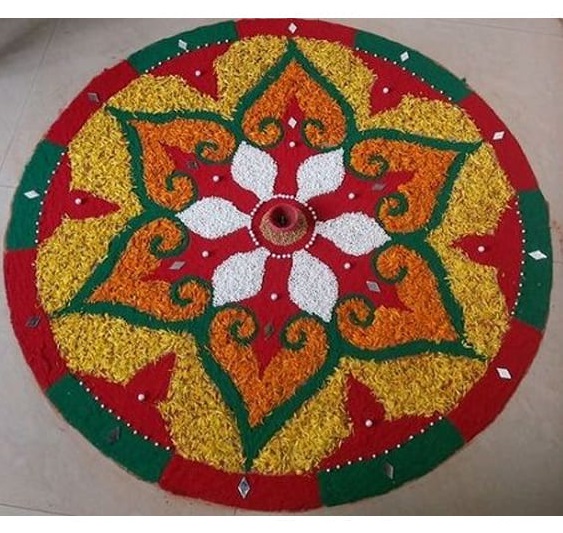 One of the most unique rangoli designs involves the use of unconventional elements like rice, pulses and other grains that are easily available at home. They lend a plethora of colours to your rangoli and are also much easier to use than coloured rangoli powder. This seems like a great idea to make your rangoli totally organic too, although to prevent wastage of a lot of food, you can mix these with powder for an elevated effect. A lot of people who try this design soak grains in coloured water overnight in order to enhance the rangoli even further. After all, there are never too many colours when it comes to this brilliant art form. 
7) Corner Rangoli Designs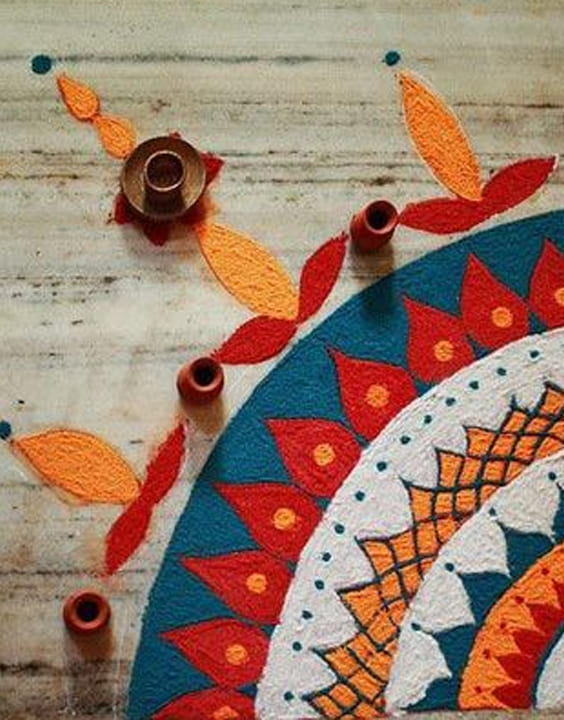 Sometimes, less is more. Owing to this, your rangoli designs can be done only in the corners of your house where you may want to place decor accents. This is for people who have less time on their hands and will not be able to finish a bigger design. 
To expedite the process even further, bring stencils into the picture and keep making your way through each corner with it, along with colours of your choosing. This also works great if your living room or corridor doesn't have a lot of space for larger-than-life designs. 
8) Ganesh Rangoli Art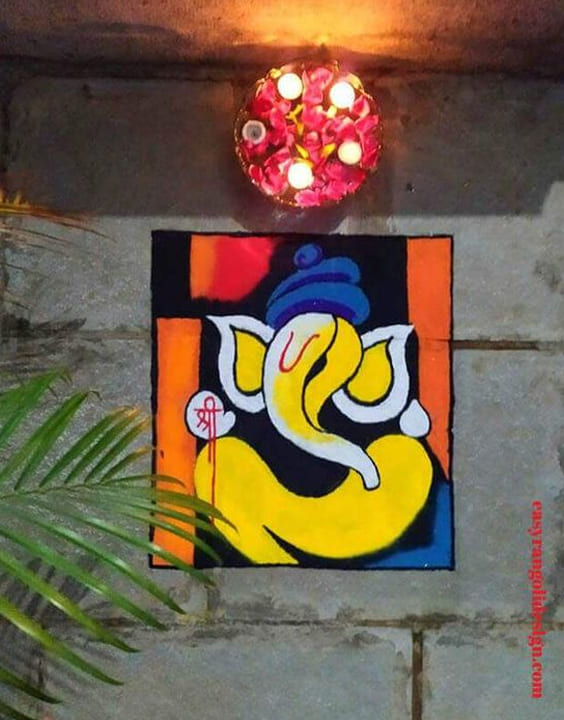 Lord Ganesh is worshipped ardently in most Hindu households, so it's a given to make the almighty a part of your rangoli design. This theme results in some of the best rangoli designs that people of every age indulge in. You will simply love making this, as it is not at all time-consuming but very fruitful. 
Ganesh rangoli art can be accentuated with tea light candles, flower petals, etc. and you can make use of a stencil to perfect it! Add as many colours as you want and don't shy away from a little experimentation, keeping the religious significance of this pattern in mind. 
9) Rangoli Designs With Diyas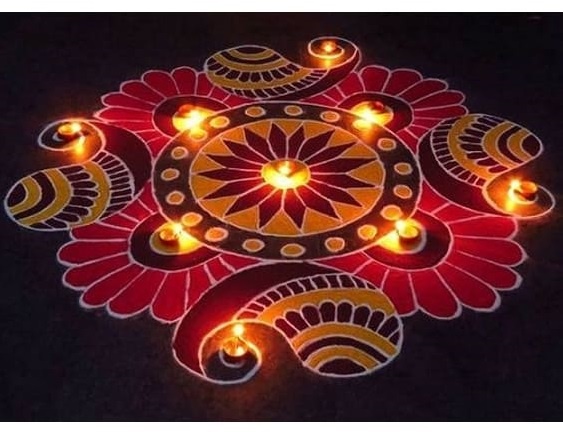 Lit-up diyas outside every Indian household is a reminder of how the festival of lights really brightens up our home, and also others' moods. One look at diyas will amaze you! The sheer beauty of these simple earthen masterpieces is unparalleled. Placing a diya right in the middle of your rangoli, or at regular intervals will take your design to a whole new level. Not only will it bring out the beauty of the colours used more prominently, but also be admired immensely. 
When you go to the market to buy diyas this time, just get some extras for your rangoli! In fact, you can take it one step further by googling how to make a Diya rangoli design for Diwali. Thank us later!
10) Border Rangoli Designs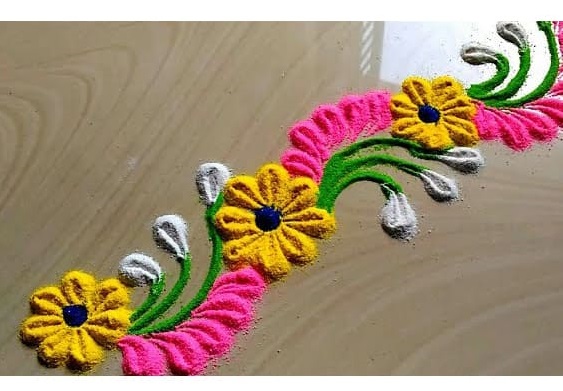 These new rangoli designs are a hit among many people because not only are they easy, but also end up looking more attractive than one huge elaborate design. Going over the top is not always the key to perfection! You can use any adjoining line in your house for this one. Make border rangoli designs at your entrance, inside or outside. Refrain from using diyas or candles in this one, as a person entering the house may kick these off somehow.
11) Round Rangoli Design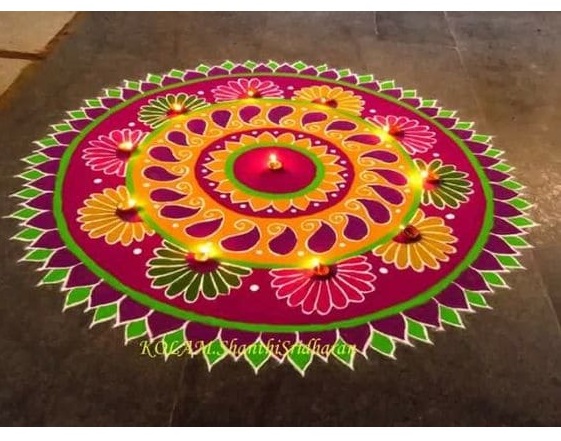 Among the best rangoli designs are round ones, which can take hours to finish! As opposed to a square rangoli or even an abstract one, this design needs perfection. If the circle is crooked or not proper, then the entire rangoli could end up looking odd and off. This is why we suggest getting a stencil or using a big circular plate from your kitchen as a drawing guideline. 
Start with tracing the circle using kolam powder, and very slowly lift the plate/stencil after you're done outlining. Bear in mind not to ruin your circle by acting too quickly! 
12) Rangoli Designs With Themes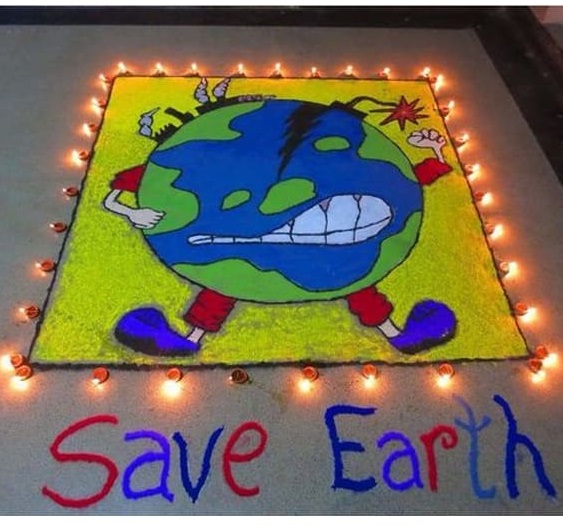 Wouldn't it be great if this festive art could send a positive message too? These days, themed rangoli patterns are not just limited to school competitions but can also be seen outside houses who wish to inspire and encourage. A lot of themes like Save Earth, etc. are used for these rangolis. But you can create your own theme too – we'd love to see it. 
This has to be one of the new rangoli designs and also a really intriguing one at that. Not sure where to start? Look up rangoli designs images on the web, and also type in the cause you're interested in to enlighten people about it. 
13) Lotus Rangoli Design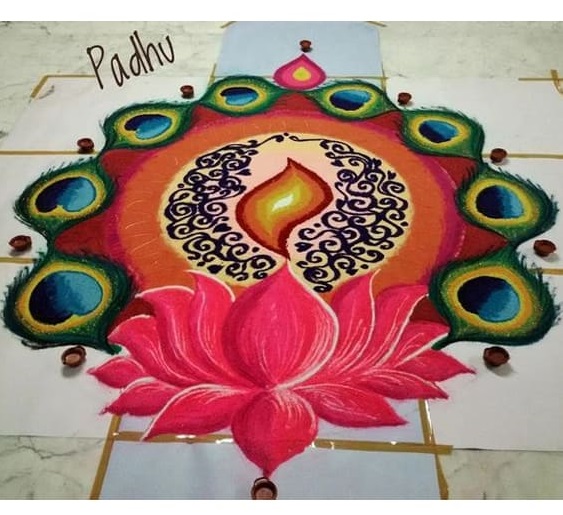 Symbolising not just strength and purity but also self-regeneration and rebirth, the lotus flower carries the message of hope. It is the most commonly seen yet equally fascinating design across rangolis in India during Diwali. What makes it so much more amazing is that it's still extremely beautiful despite its roots being in the dirtiest waters ever. If you have had a particularly tough year, this rangoli could signify that you're still thriving and making beauty after the chaos! Isn't that absolutely beautiful? Also, it is the easiest answer to the question of how to make easy rangoli designs for beginners. Whether you want to combine lotus with other flowers or not is up to you! 
Here's hoping you have an amazing, safe Diwali and our list of rangoli designs is able to serve you well!
Most Viewed Articles-
Image credits: The copyrights of the images used in this post belong to their respective owners. The credits where known are specified under the image - if you're the owner of an image and want it removed, please contact us.