Discover various stylish ways for how to wear dungarees with some easy fashion tips to follow. Did you know you could wear them to work too?
Summer is here and it's time to make your closet resonate the summer season. As you pick florals, bright tones, patterns and shades, do not forget to ditch them dungarees. Reviving the dungaree fashion was a major trip down the memory lane for most of us, as it holds a special place in our childhood wardrobe. Those overalls were a part of your wardrobe at one time or the other, and now they are back to seek their space.
So are you still wondering as to what is  dungaree?
This hint should suffice- strappy belts and the buckles to put the overalls together have undergone some change as pants have been replaced by shorts and skirts, but your love for dungarees must not have faded. Even if it has, we at Bewakoof want to make sure, you still have your eyes out for this fashion piece which is nowadays, a must have in your closet!
How to wear dungarees for different occasions, in different styles!
Various occasions call for various kinds of dungarees. No matter how you style them up, make sure you're dressed for the occasion. Instead of pulling those straps over a plain t-shirt, and wearing your overalls the same, old-school style, here are some ways on how you can wear your dungarees for different occasions in different styles!
Black dungaree outfit for a casual chic look.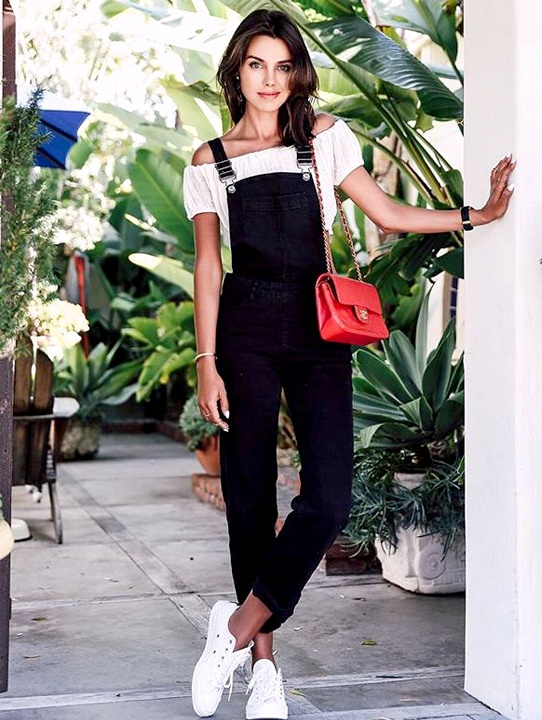 The Summer heat can be a tricky weather to play with if you want to stay out in the heat, all day. The confusion gets to you when you've to decide what to wear which can be comfortable and still look casually attractive. You can throw your confusion out of the closet, and bring out your cotton overalls to the rescue. A black dungaree outfit with a cute off-shoulder crop-top and a pair of white shoes is an easy breezy outfit to rely on, for a day full of running errands. A denim-skirt dungaree with a graphic t-shirt with snug slip-ons are also a great idea to walk around finishing off that task list.
Overalls for a party look.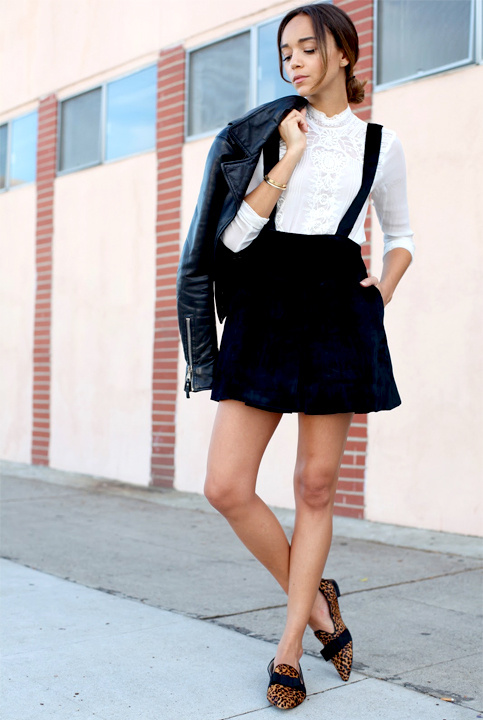 We understand if you do not want to wear that same old sheer dress or a glitterati ensemble to a party. If you still want to sport a dress, and yet not make it OTT, go for dungarees with a twist. Instead of pants for the dungarees, shop for short overalls. While it will give a playsuit kind of sexy feel to the outfit, the suspenders will help you play it easy-going. Pair a sheer white suspender-skirt outfit with an olive green frill top underneath or a beige-pink romper-style outfit with a strappy camisole and couple any of these with the right pair of stilettos and you're good to rock that party!
Dungaree pants for work wear.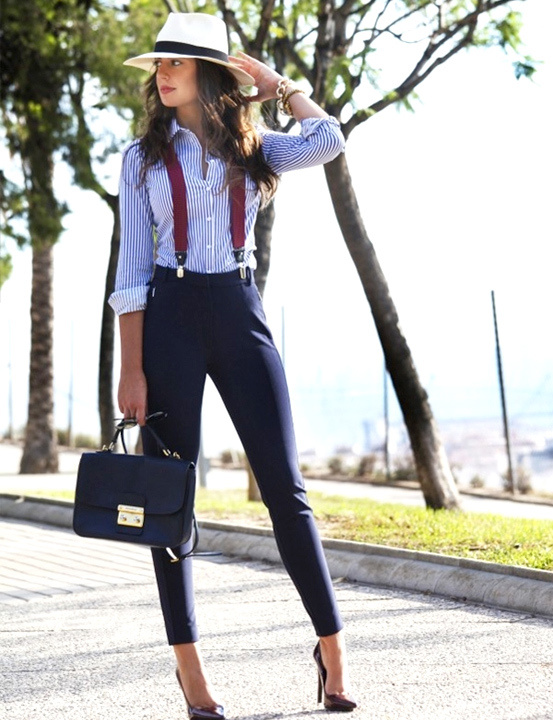 Whoever said you cannot wear it to work, got it all wrong and we could prove it how. Dungarees can be your friendly 'Saturday' wear or you could easily style your dungarees to make them formal. You could shop for the trouser-dungarees with checkered print and pair it with a crisp black-collared women's shirt to keep it uptight for the meetings or you could tuck the suspenders into the pants of one of your cotton dungarees and pair it with a formal blouse and black pumps to make it your trendy desk-look that your colleagues will dig. Adding a blazer on top of your dungaree can also make you look formal and sophisticated.
Dungaree dress for cool college style.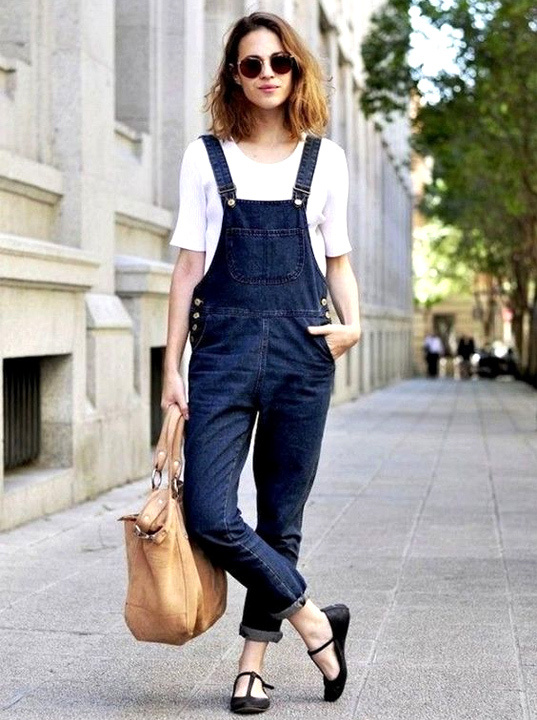 Already tired of wearing those jeans and graphic t-shirts in the old-school style to college. Now you need not because your childhood wardrobe friend, the dungaree can help you stand out in that college crowd. Those denim overalls can be your reach-out to option for your classes, just style it differently each time. Couple your denim dungaree with striped crop top and it can work wonders. Just fold the hem to make it look smart! Bright-coloured tank tops along with rolled up dungaree pants can give a very comfortable feeling to your attire as well. For special days such as college fests, wear suspender-dress overalls with plain white t-shirt or a halter neck top with shoes and a backpack, and you're good to go.
Denim overalls for daywear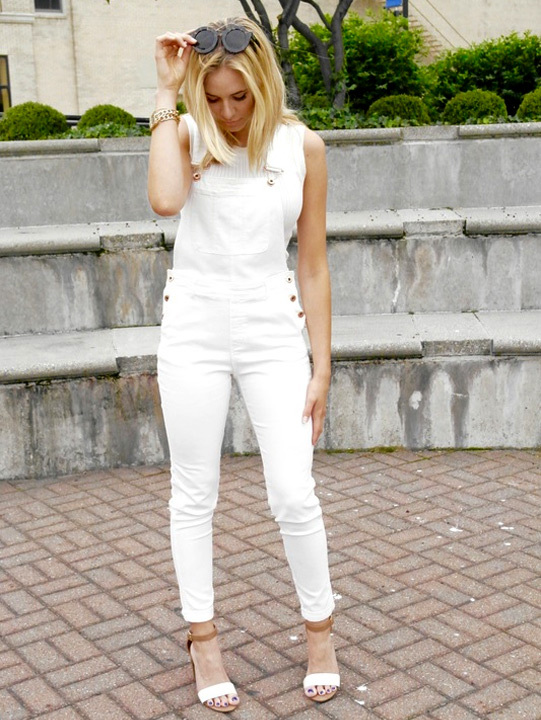 If you thought dungarees were all western, well again you could be wrong. Dungarees are a DIY style statement that you can wear the way you like it, and that's the beauty of the attire. A bright yellow dungaree dress with a white tank top is such a digger for a brunch with friends or for a picnic. If you're looking at going on a date during the day, and sport a kurta, you could do that as well! Choose a short kurta, raid your wardrobe for a lucknowi kurta if you have one, and wear your denim overalls underneath the kurta and tuck the front slap inside, only letting the suspenders hang loose on both sides. Complete this look with beige-coloured heels or kolhapuris to suit your comfort and style.
Dungarees have no more limited themselves to being those buckled straps with straight pants. There's been a metamorphosis with this childhood outfit and the styles that it can be fashioned in, are many. From bodycon to flared pant, tassel-detailed dungaree and culotte pant; there's a lot for you in store to check out with overalls this spring-summer season.
So don't go the conventional style, this summer. There's more to them than you thought. Get fashion nostalgic in the right pair of dungarees with this style guide. They can give you a sense of freedom as you can fashion them the way you want it, with the right pair of accessories. You could pull off any type of footwear and bag and that is the beauty of sporting overalls. Elevate the street fashion style and take it places effortlessly in your overalls without any hesitation as this reviving fashion is about comfort and style, the essence of looking chic and voguish!
Image credits: The copyrights of the images used in this post belong to their respective owners. The credits where known are specified under the image - if you're the owner of an image and want it removed, please contact us.