The beats, the company, the food, the vibes – what's not to love about a concert? Be it a date or a chill time with your friends – we cannot think of a better way to chase away the 2020 blues than a carefully organized concert as things slowly open back up. The beat of the drums and the cheer of your fellow concert-goers are primed to help you forget the anxious roller coaster that we've all been on for the past year.
The perfect occasion for taking some stellar pictures for the gram, concerts are a nexus of coolness. Not to mention they're the most fun place to be! Thus, it becomes that much more important that our concert outfits match the levels of exuberance and coolness that come with being a concert-goer.
Wondering what could be the ideal outfit for your concert experience? Dress up your simple jeans for women who love to have some fun or don a ladies dress that's delicate yet playful for the occasion – the options are endless!
Worry not – we've got a look for every style profile and personality! Read on for an encyclopedic list of our favorite concert-going looks and outfit ideas –
Classy and playful in a romper and ankle shoes: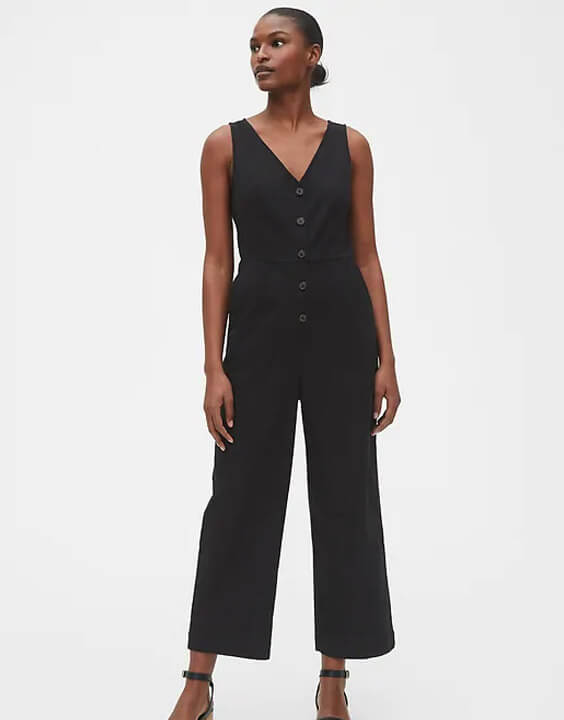 A 'romper' or a playsuit when paired with strappy ankle shoes is not only a suave way to stay casual, but it's got all the necessary ingredients for a thumpin' good time!
Go for a chic short romper with clean lines and strappy ankle sandals for a put-together, yet playful combination. We recommend going all black for this combo – or if you would like to add a touch of color, go for an 'almost black' shade like a deep midnight blue or wine shades.
Stay cozy as well as sleek by going for an ankle-length romper with your strappy ankle sandals and tie your hair in a bun for maximum classiness. Carry a sling bag or a messenger bag & keep jewellery to a minimum to stay playful with this outfit idea!
Painting the town red in a flared jumpsuit: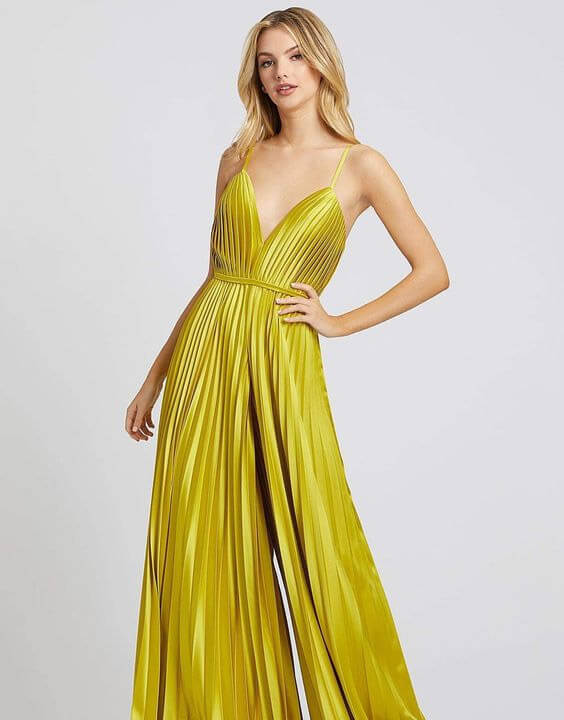 A flared jumpsuit is exuberant, bohemian and spells joy with every swing within its folds. This free-flowing outfit is perfect for dancing to those Bollywood beats and booking as vibrant and joyful as you feel.
Opt for a diaphanous swing in a layered, yet flared jumpsuit that stands out for its light, flirty material. Choose one made in georgette or chiffon-like fabric if you'd like to look ethereal and relaxed at your concert outing. Team it up with a statement pair of earrings or a subtle yet chunky bracelet to complete that classic boho-chic picture.
A metallic flared number can also be worn for an iron-clad impact. Shimmer and shimmy the night away in a metallic jumpsuit. This outfit is so buoyant, that you don't need much else in terms of styling – wear a pair of strappy nude stilettos or sandals and let your hair be as easy and free-flowing as your outfit.
Elevating the denim game: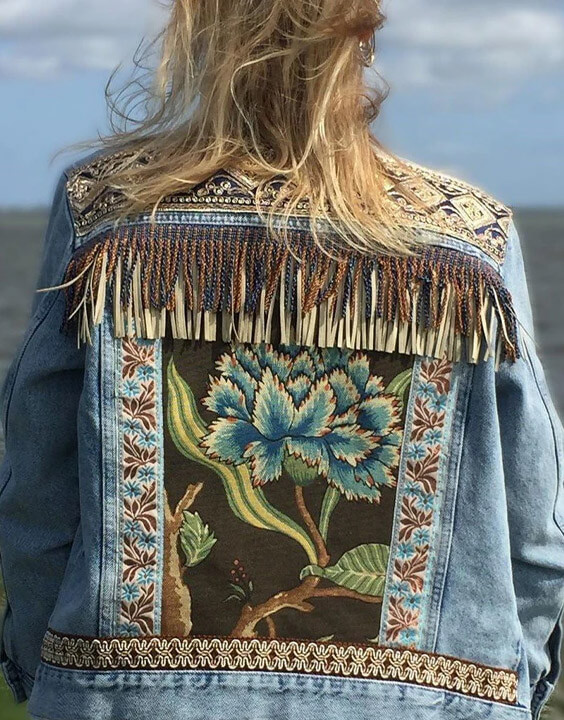 Denim is a very popular material to wear at a concert. However, instead of staying basic, we'd like to give it a rock n roll uplift! Go for embellished or embroidered denim – be it pants or a jacket – to take this outfit idea to the next level!
From Zara to H&M, ladies jackets in embroidered or embellished denim are a popular trend! Combining the rugged appeal of denim along with the bohemian and rustic charm of appliques and multicolor embroideries is the way to go for an unforgettable outfit!
If you'd like to go a little more low-key with this Coachella worthy outfit idea, opt for an embroidered pair of jeans for women. Team this one up with simple ladies t-shirts and sneakers for a snippet of the glamor without losing that casual comfort.
Chill vibes in off the shoulder top and beach pants: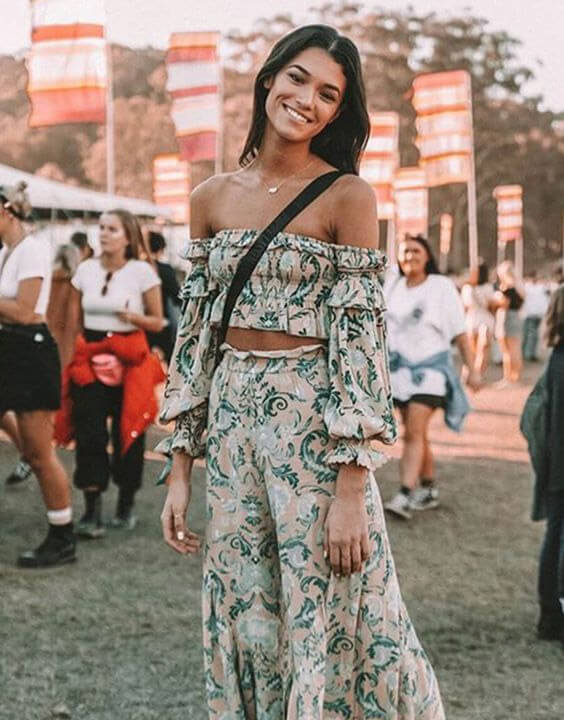 Nothing spells music festival quite like a gram-worthy off-shoulder top and beach pant coordinates! We love this style for its fluid, feminine and relaxed vibe.
Prints are the way to go when wearing this particular outfit idea! A chic floral print with the vibrancy of the motifs juxtaposed against a more neutral background will give you a head-to-toe profile that's sure to turn heads and make statements of their own without much effort on your part. Pair with a crossbody and strappy heels to make the most of this one!
Off-shoulder doesn't necessarily have to mean the typical style – you can go for a tube style top or a one-shoulder as well. Go for a more conventional print such as stripes or polkas if you'd like to go sans floral. This one's an all-day fest winner, ladies!
Light and cozy in a white dress: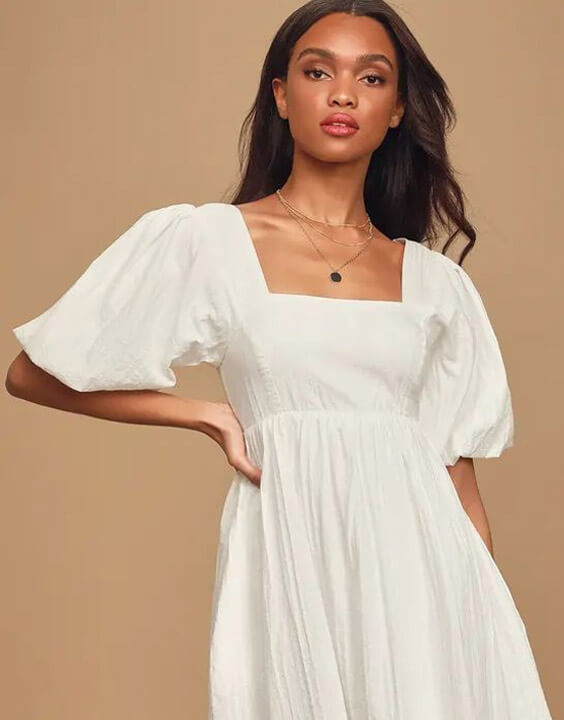 So you're going to a concert, but would like to keep it as cozy and relaxed as possible without losing the boho-chic playfulness that's a must-have for the occasion? Well – a white mini dress in looser, peasant styles are your best friend.
Opt for ones with a blooming puff sleeve and a swinging flare on the skirt pattern. Casual chic, yet ultra-high fashion, keep this look simple with a minimal pendant and a classic watch.
A cinched waist, along with pretty gathers at the waist seam are ideal characteristics for this style of dress. This type of mini ladies dress is perfect for giving off a pure, light, yet uber stylish look. We recommend this one for any Lana Del Rey kind of concert!
Sleek sultriness with a slip dress: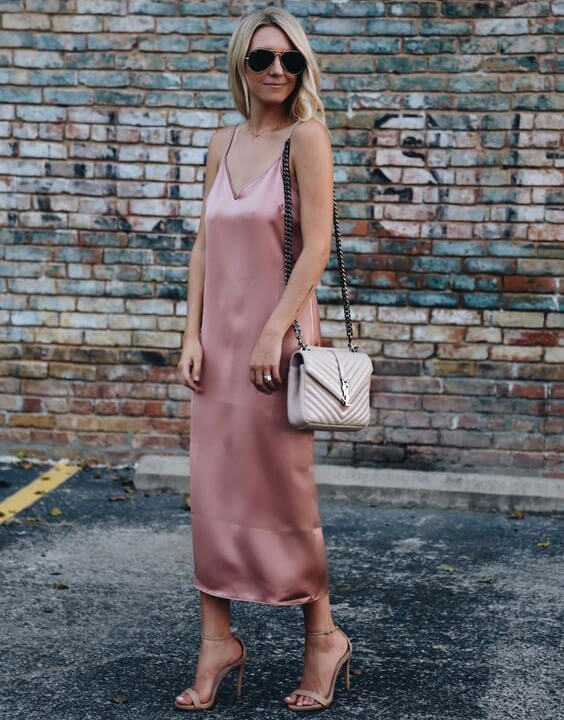 Are you going to a concert for a date & wondering how you can look your best without seeing overdressed or extra? Say hello to the slip dress! This is a ladies dress that is as feminine and classic as it gets – yet has enough of a relaxed charm to work for a concert date.
Stay on-trend for 2020 by going for lush lavender, purple and berry shades in slippery satin-like fabrics when picking your slip dress for the occasion. Belt it up and add strappy sandals for a head-turner moment!
A slight cowl at the neckline and accessories in neutral shades are perfect complements to this satiny-shine moment. Go for an oversized clutch and keep the jewellery stringy & minimal! Make sure your hair is shiny & free-flowing with neutral make-up to make the most of this outfit idea.
Easygoing chic in a tank top and maxi skirt: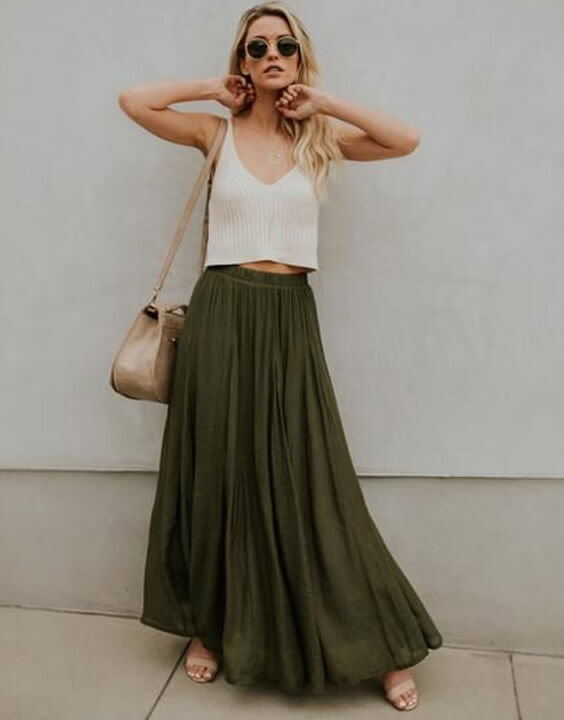 Staying casual yet boho-chic for a concert is easy and effortless as ever in a tank top and a maxi skirt. Relaxed, chill and fluid, this combination is an ideal all-day music festival choice.
Go vacay relaxed with this look in glowy skin makeup and basket bags. Opt for earthy colors like yellowish off-whites and deep olive greens to stay down-top-earth and ready for a good time!
A white tank top is the kind of ladies t shirt anybody can pull off! Amp one up by pairing it with a metallic maxi skirt and take this relaxed outfit idea to the next level.
Nonchalantly cool in leather jackets and leggings: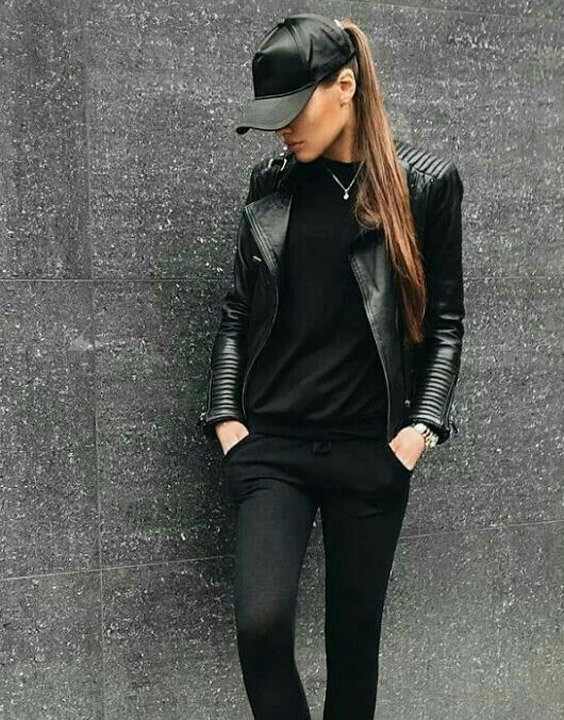 A leather moto jacket is a concert atmosphere expressed in the form of a garment. An obvious and no-brainer choice for a concert, this kind of ladies jacket when paired with leggings and sneakers is the ultimate cool factor.
Stay cool as ever in a black leather jacket and matching PVC leggings. Pair these up with a cozy white shirt and white sneakers for a concert-worthy street style & amp up that rock 'n' roll appeal!
A baseball cap and a pair of classic ray ban sunnies are the perfect companions to your leather ladies jacket for that nonchalant too-cool-for-school vibe! This is an absolute winner for any concert-going experience.
Get casual in a crop top and jeans: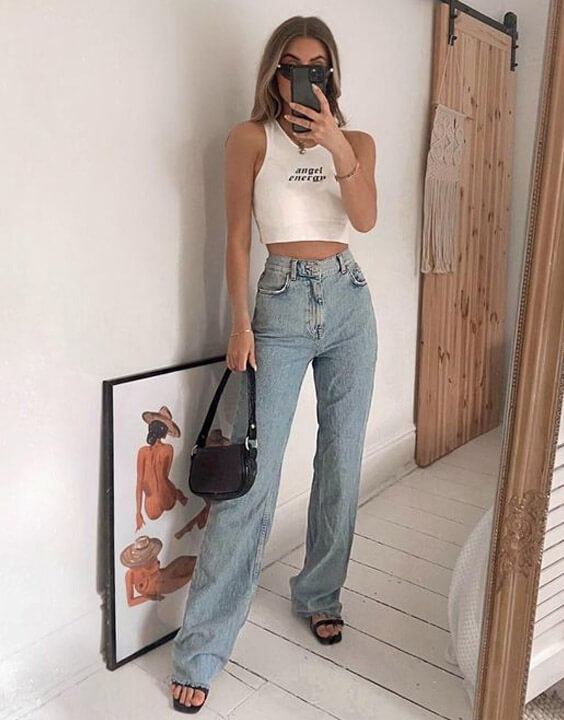 If you would like to stay as casual and comfortable as ever in your denims without resorting to a simple t-shirt and jeans look, this outfit idea is for you! It doesn't get more youthful and easygoing than a simple crop top and jeans combination!
To elevate this simple look for a gram-worthy moment, go for denims in vintage washes for a retro feel to this casual chic outfit. Pair it with a one-liner print crop t-shirt and add a small 90s inspired purse and strappy sandals, for a look that exudes vintage coolness.
You can style full sleeve ladies t-shirts in cropped styles with distressed or vintage wash denims and pair these up with sneakers and clear framed glasses for a nerd-chic styling! This is an outfit idea that's the perfect option for downtime with friends at a concert.
Vibrant in a tie-dye t-shirt and denim shorts: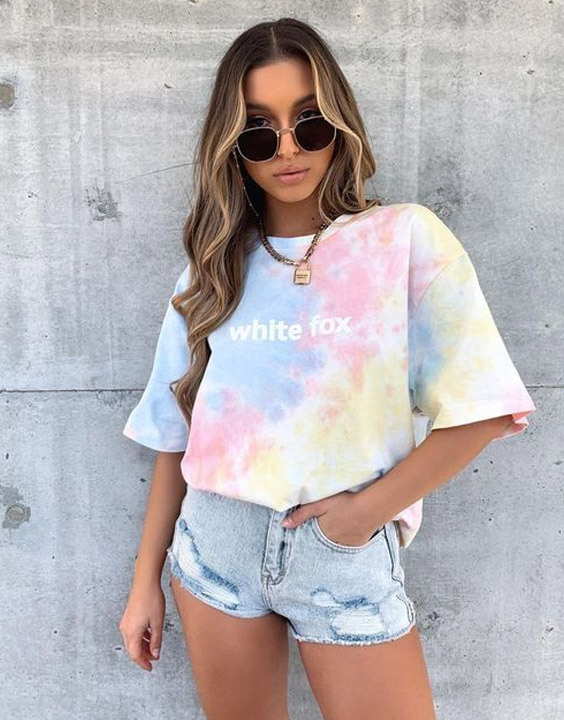 Tie-dye is a super trendy and on-point look for this year. This print is ubiquitously available in ladies t-shirts and casual styles. Pairing one up with a set of your fave denim shorts is a winning combination for any concert outfit!
Youthful and vibrant, go for pastel tie-dye effects with distressed denim shorts. Style these with boho beaded accessories to bring a little bit of the 70s into this retro-inspired mix.
You can also go more monochromatic by opting for white denim shorts and a white + single color tie-dye effect shirt. A more lowkey, yet striking look – pair this up with a hat for those music festivals feels. Brown Mocha, a clothing brand offers a great variety of Tie and Dye Tee for men.
Bohemian feels with a peasant skirt: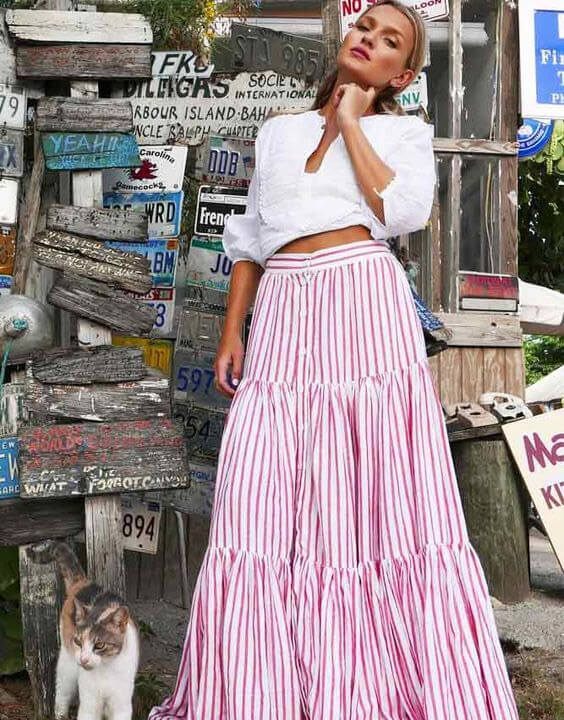 Nothing spells boho-chic like a full peasant skirt. A great alternative to ladies dress or jeans for women – this outfit idea is exuberant and an absolute color riot!
Peasant skirts can however look dated easily. To keep this one current and chic, go for a crisp striped print full skirt and pair it with a white shirt. Fresh and classic – that's how we like it!
You can also opt for a peasant skirt with a high-low length, asymmetric cut, featuring ruffles and innovative silhouettes to make a striking style statement. Dress it down with ladies t-shirts in white or a neutral hue to keep it concert-worthy.
Get knotted up in a playsuit: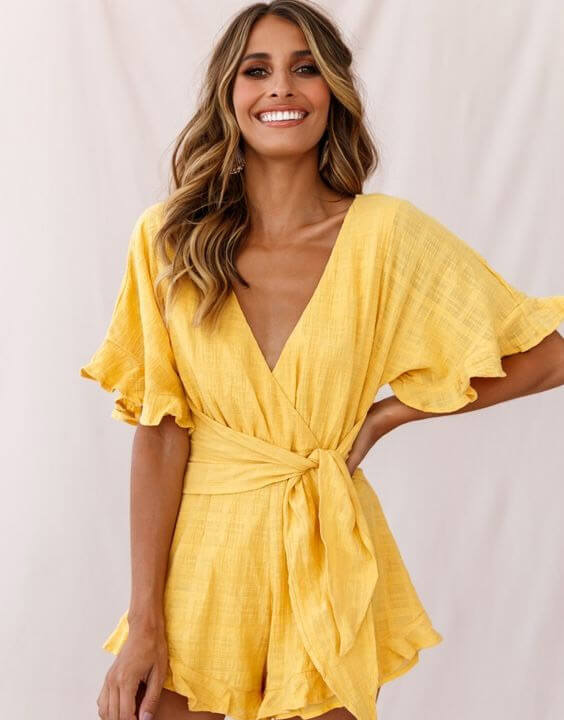 A playsuit is playful as ever as the name suggests. This garment is youthful, light, flowy & perfect for a good time at a concert. We love knotted styles with a tie-up element at the waist for a chic and feminine appeal.
Go for one in an exuberant, warm-toned color like sunshine yellow or burnt orange to maximize those cheerful, happy vibes. Great for a day out at a music festival with your friends or loved ones, a playsuit is your ideal choice.
Boss babe profiles with jeans and blazer: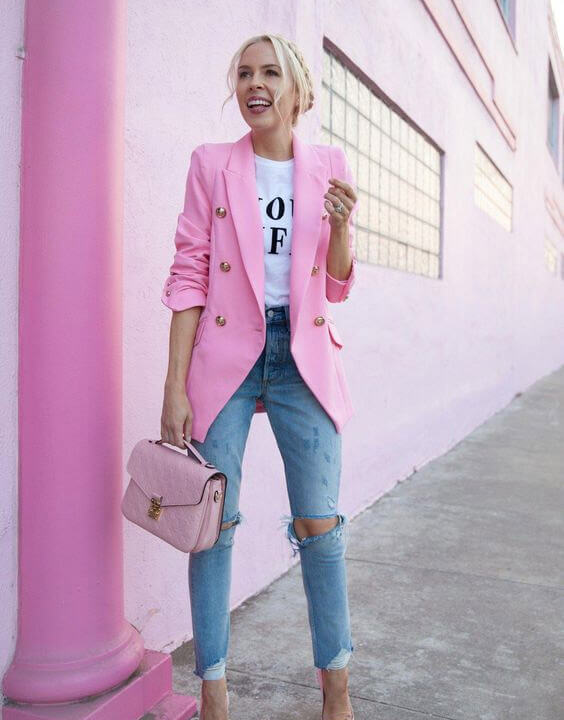 If you'd like a look that says 'work hard, play harder', a blazer and jeans for women combination is the way to go. Pair your jeans with a classic blazer, for that 'just off work, ready to party' vibe when styling yourself for a concert experience.
Choose a blazer in a statement-making, bright hue – like bubble-gum pink or ochre yellow to give this look a more playful echo. Pair this type of fun ladies jackets with a pair of jeans that feature torn and distressed elements. Style with a staple white t-shirt, pointed-toe shoes and you're ready for a fun time while retaining that boss lady glamor.
You can also go for a tan or beige blazer with classic vintage boyfriend jeans and white separates for a more low-key and chill appeal. You simply can't go wrong with this chic and levelled-up outfit.
Basic yet stylish in denim jackets and black jeans: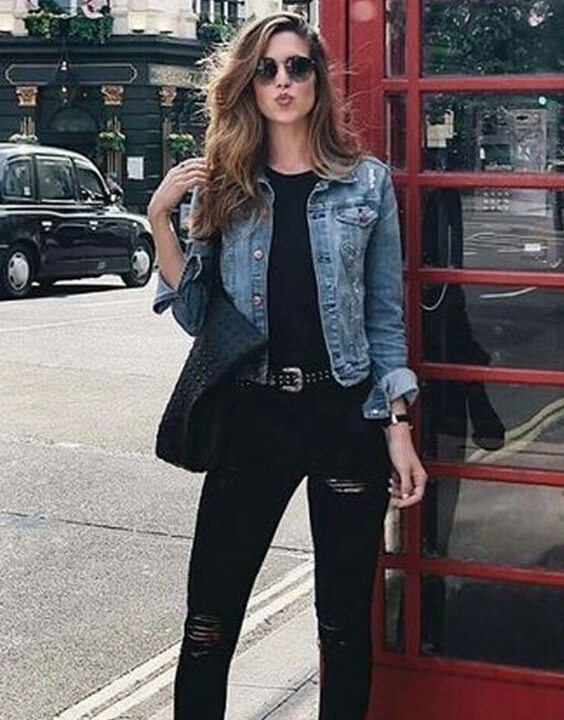 Are you basic as ever, yet want to add that coolness factor to your outfit? Go for a denim jacket layered over all-black separates and black jeans for a subtle casual-chic charm.
If you want a more simple look, that borrows the level of coolness that a moto jacket look exudes, without being as extra as embroidered jeans for women – look no further. Go for a simple black t-shirt and jeans combination, pair it with black sneakers and layer a simple denim jacket on top. Viola! – you have a cool & suave concert outfit option.
Which of these uber-chic outfit ideas are you excited to try for your next concert-going experience? Do you love those slinky bohemian vibes or do you like to keep a tomboy-ish appeal in leather jackets and baseball caps? Well, the world of street and free-flowing styles is your oyster-style away!
Image credits: The copyrights of the images used in this post belong to their respective owners. The credits where known are specified under the image - if you're the owner of an image and want it removed, please contact us.