Blue jeans might be the most classic piece of clothing you own, but black is always in Vogue! The shade goes with everything, and so do denims. Isn't that reason enough to ensure you have at least one pair of skinny black jeans that look AND fit great? Apart from their versatility, they have a lot more to offer. Below are all the places you can flaunt them endlessly, whether they're the distressed kind or the high-waisted. Let's also explore how you can style them for all the events on your social calendar.
1) For Staycation-ing It!
Staycations have gained popularity over the years, thanks to luxurious yet affordable accommodation options right where you live. There's nothing better than exploring your own city or town and the wonders it has to offer. If you've been meaning to visit that local attraction that tourists can't get enough of or a famous amusement park you haven't gotten a chance to say 'Hello' to yet – just go ahead and make it happen. Let black skinny jeans keep you company.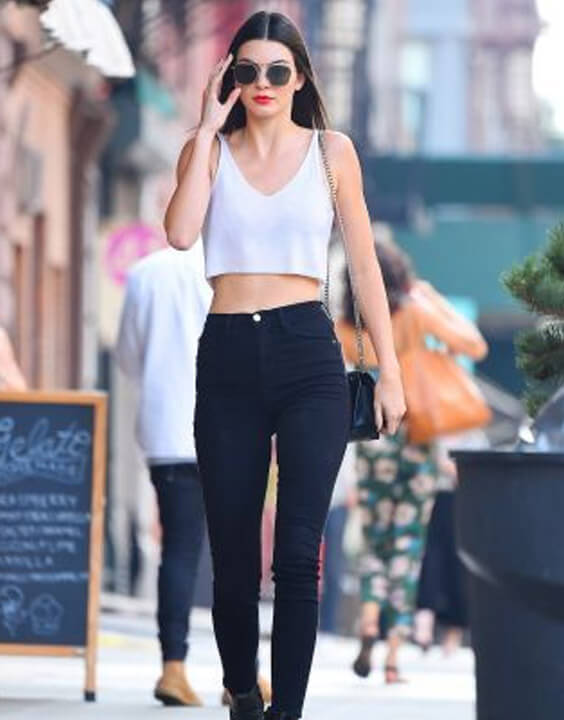 Style them:
With hoodies

Been eyeing a denim hoodie? Add it to your shopping bag, hit the checkout button, and pair it with white sneakers as soon as it arrives in the mail!

With white t shirts

Don't we all know that just like jeans, white tees too are absolute classics? For the 90s inspired #OOTD, finish with a choker and a pair of your most-loved sunnies!

With crop tops

Skinny jeans and crop tops – name a better combination than this. With a pair of ankle boots, there's no stopping you from staying comfy yet stylish throughout the day.

With sweaters

Pair a cute chunky knit sweater with your favorite sling bag + the most comfortable shoes you own and you'll be ready to go!
2) For Making A Style Statement In College!
Ask anyone and they'll tell you that the college days were the best days of their lives! We second that too, and we'll continue to cherish them forever. If you're still among the lucky ones who haven't passed out from college yet, then be sure to make the best of each day. That means making maximum friends, creating lasting bonds with your faculties, occasionally bunking lectures for the thrill of it, and of course – building your personal style. We know that grades are essential, but it's just as important to be the best-dressed in your class so you can leave a lasting impression on your peers. Nothing better than skinny jeans that can have you looking top-notch within minutes!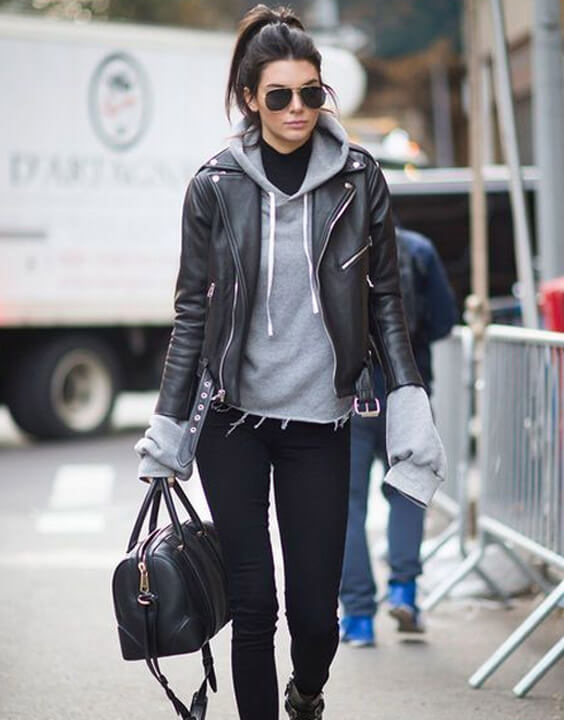 Style them:
With hoodies

Dress like the badass you were meant to be, but keep it cozy. Layer womens hoodies with a leather jacket and finish the look with boots + a backpack.

With sweaters

Beanies with tassels? Yes, please! Wear those cuties with a sweater and jeans!

With shirt

Take the denim-on-denim route, but with two different washes. For the bottoms, go with black skinny jeans of course but on the top, choose a blue denim shirt.

With white t shirts

Baseball caps are in again, and so are tied-up tees so you might want to consider this cool-girl combination for a quick college #OOTD.
3) For Sweeping Him Off His Feet On Date Night!
If love is in the air for you, then it ought to be in your wardrobe too! If you're planning a date night with your significant other or eagerly looking forward to that first meeting with your Tinder match, then your outfit needs to be planned and executed perfectly. You don't have to don something elaborate to take him by awe, that pair of black skinny jeans you love will do just fine! Provided, it is put together perfectly.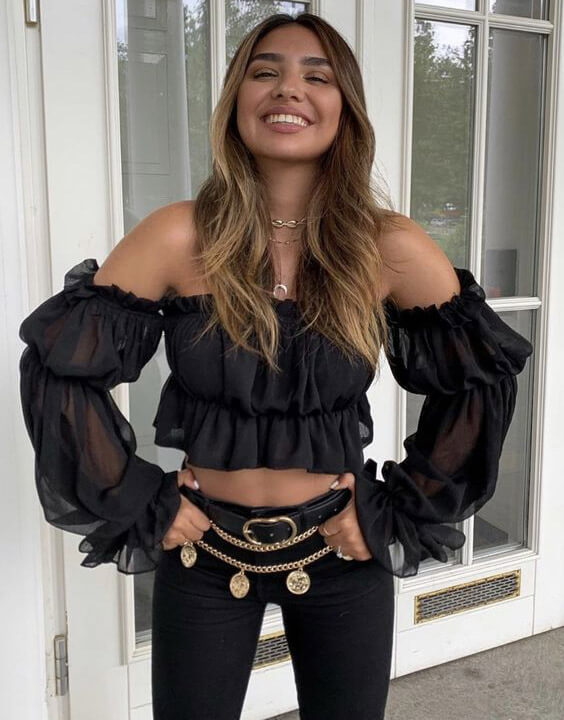 Style them:
With off-shoulder tops

Channel your inner boho-queen in a playful off-shoulder number! Add layered chains to complete the look, and let your hair down too.

With a blouse

He may get you flowers but who's to say you can't wear them too? We're talking about pairing a floral printed blouse with your black jeans.

With cami tops

Sensual and stunning, cami tops are date night favorites! Flaunt them with high-waisted jeans, heels, and a messy bun or another hairdo if you like.

With sweaters

If the days are a bit colder, don't wait for him to give you his jacket. Keep it simple yet snug in a colorful sweater and fun accessories to go with it.
4) For Road-Tripping With The Gang!
Personally, we love road trips! Often, the journey is even more beautiful than the destination, right? All the pitstops, the amazing food from small roadside joints, the playlist that gets you going, and the constant snacking – everything about them is special! But road trips call for outfits that are not just picture-perfect but also really easy since you can't really time the journey. So, we put some ideas together for you, with the common element being black skinny jeans.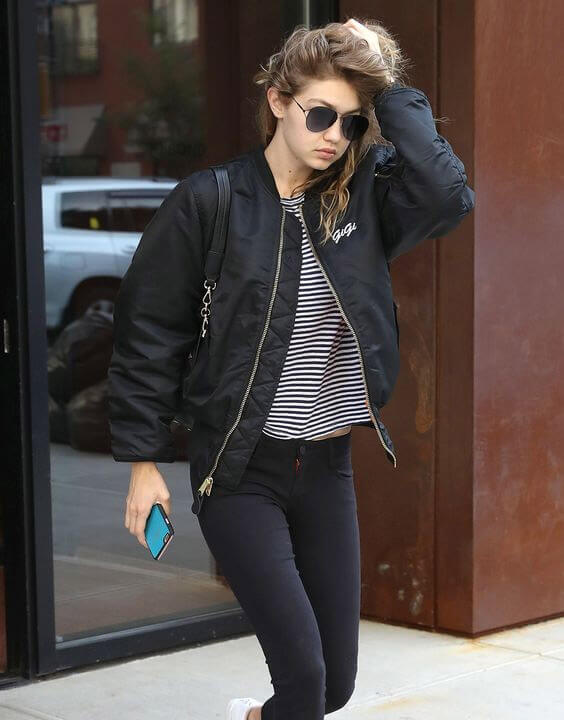 Style them:
With bomber jackets

Bomber jackets for women are undoubtedly a hit in athleisure. They're cool and also really convenient to don. For a road trip, wear a striped tee underneath. Finish with a pair of sneakers to keep you comfy.

With hoodies

The best part about womens hoodies is that nobody will know when you sneak a nap on the ride away from home. Layer it with a denim jacket for added coziness.

With shirt

A plaid shirt always works wonders no matter the nature of your outing. So choose to wear it with your black skinny jeans and ankle boots for a ripped look.

With long-sleeved t-shirts

If you're among the ones who prefer wearing only the most comfortable clothes for road trips, then long-sleeved t-shirts with jeans and sneakers is the right combination for you.
5) For Hanging Out, But Virtually.
Technology might be a boon as well as a curse, but in these unprecedented times, it is what has kept us sane and connected to our near & dear ones. Scheduled video calls are the new 'weekend plans'. A lot of times, they too fall through. But when they don't, it's nice to dress up for your friends, no? You aren't required to be dressed up to the nines, just a simple pair of black skinny jeans from your closet will make you look great as ever. Wondering how to wear it for virtual hangouts?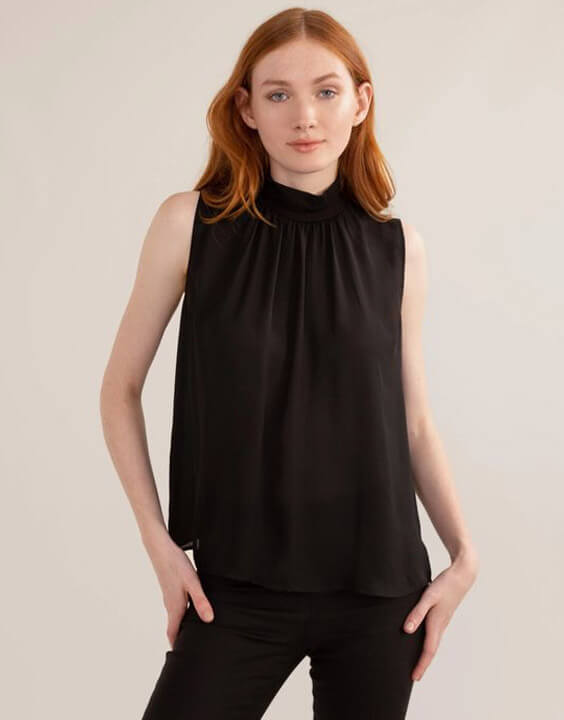 Style them:
With blazers

If you're video calling your squad in the middle of a busy workday, pair your at-home tee with a blazer so you can make a quick switch for impromptu meetings.

With white t shirts

When you don't want to make too much of an effort yet look cute, bring out the oversized hoops and slap on some lipstick.

With sweaters

Slip into a cute, neutral-toned sweater. Choose shades like white, grey, black, etc. so you don't seem overdressed for the screen.

With sleeveless t-shirts

If you've been working out, why not flaunt it a little with your friends? Let your perfectly toned arms be bare in a sleeveless tee and skinny jeans.
6) For Transitioning From Work To Weekend!
How many times have you said no to last-minute Friday night plans just because you weren't dressed for them, or didn't carry a change of clothes? We don't know about you, but we sure use this as an excuse to get out of plans, and most of the time it is genuine! Well, no more. With our style tips and your wardrobe makeover, you'll never have to deny after-office plans again. What's the secret to this, you ask? Black skinny jeans! To wear them perfectly for an AM to PM switch, read below.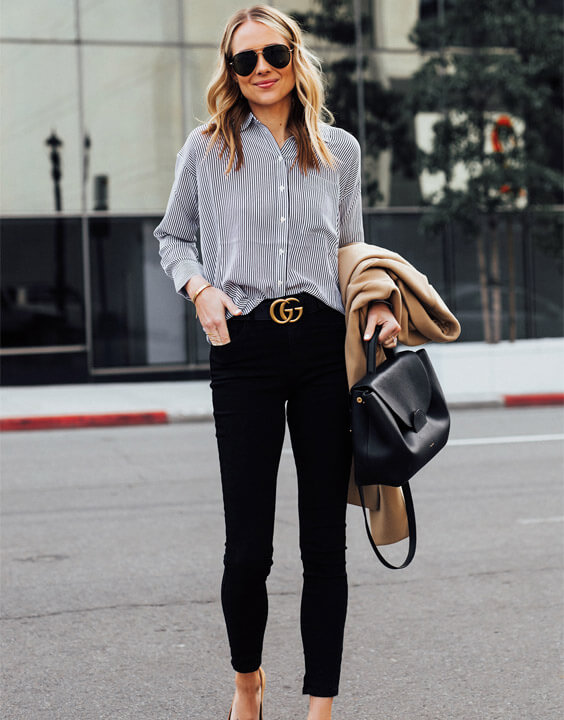 Style them:
With blazers

All black everything can be your new mantra! A plain black top, a black blazer, black jeans, and black pointed-toe heels – this is the recipe for the perfect work to weekend ensemble.

With white t shirts

The trick to acing this is simple. During the day, keep your hair tied up in a sleek bun and slip into a white t-shirt + skinny jeans combination. Add a pair of fancy-looking heels and a statement bag. For the night, all you have to do is let your hair down and put on your favorite shade of red!

With bomber jackets

We know that jackets are the easiest things to carry – unlike a whole different outfit. Go with a colored, possibly sequined bomber jacket that you can just wear when the clock suggests it's time to leave your desk.

With shirt

You can literally never be underdressed in a button-down shirt! So use that to your advantage, and accessorize as you please. Just don't forget to don the best heels you own!
7) For Grabbing Breakfast!
We've all been there – drinking too much the night before, crashing at a friend's place and having zero energy for fixing up a good breakfast. So we decide to head to the nearest coffee place to calm our rumbling tummies, and open our eyes wide enough for the day that lies ahead! How about you ace your style game even when you're possibly hungover? This could even come in handy when you don't have enough time for a meal prep and you need to head out stat! Pick those basic black skinny jeans for a breakfast run.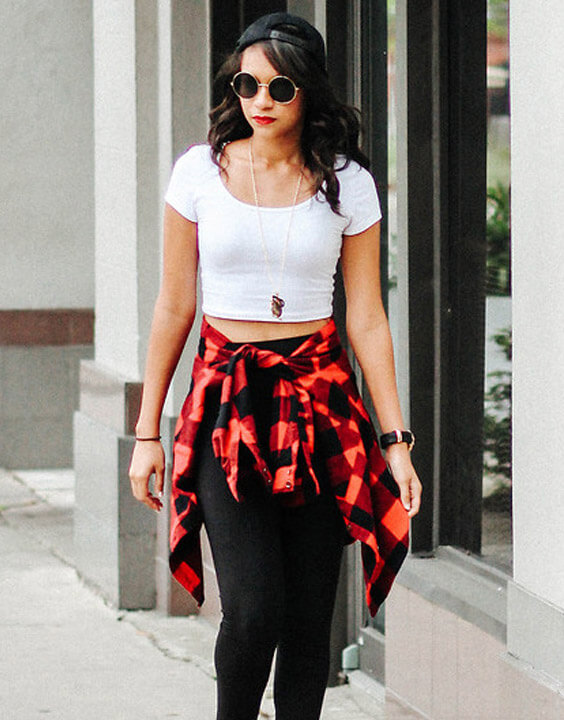 Style them:
With crop tops

The easiest #OOTD to master – crop tops and skinny jeans. Tie a shirt around your waist for a well-placed accessory idea, and complete the look with flats.

With bomber jackets

Super skinny black jeans look great with oversized bomber jackets for women. Go ahead, put that contrast together and get out the door to seize the day.

With sweaters

Running late for college? Let a sweater come to your rescue. Borrow your friend's maybe, and return it later. We're sure she wouldn't mind. It's also a really easy outfit hack and will make you look presentable no matter what.

With hoodies

If you're trying to deal with sleep-deprivation or are too tired from the day before, just blend into the crowd in womens hoodies. Save that Instagram-worthy look for another day. Sport a pair of sneakers and sunglasses along with black skinny jeans.
8) For Sunday Drunches Or Brunches!
For a lot of us, Sunday brunches with the gals aren't just weekend chill-pills, they're a norm. Do them right by looking and feeling your best! Set new style goals not just for yourself, but also for your entire squad with one basic wardrobe item. By now, you already know we're talking about black skinny jeans.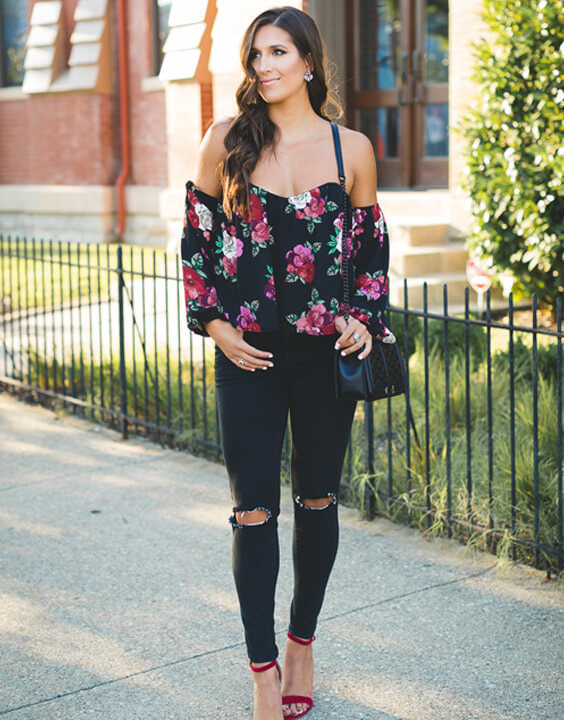 Style them:
With off-shoulder tops

Impress your friends in a floral off-shoulder masterpiece! Finish your look with strappy heels in a pop of color.

With crop tops

These tiny little stunners never go wrong. Don a dressy crop top and a pair of boots, while accessorizing with a chunky choker.

With sweaters

Wish you were born in the heart of France? While that ship has sailed, you can still dress like it. Wear a beret and a plain sweater over a printed shirt. If you're not a fan of skirts, choose black skinny jeans for the bottom.

With a blouse

Peplum tops are always in fashion. They're a playful mix of classy and sassy! Choose a printed piece for brunches or drunches and you'll end up looking all the more adorable.
That concludes our list, but picking the best styling ideas for black skinny jeans was no easy feat. If you ask us though, we'd definitely do it all over again just for you! Now that you have a plethora of #OOTD options just waiting to be explored, we can't wait to know all about the ones that you absolutely loved.
Image credits: The copyrights of the images used in this post belong to their respective owners. The credits where known are specified under the image - if you're the owner of an image and want it removed, please contact us.