While trends come and go, the foundation of clothing stays the same. We need a top to go with our bottoms, no matter the type. But then, without variations, clothing wouldn't be fun, right? That is why designers all over the globe introduce something new to the runways season after season or bring back something old by shedding new light on it!
Despite the several trends, there are some that are etched into our cultures and our wardrobes. Let's take a look at one of the most important and basic elements – tops! Yes, there are so many different types of tops that it's hard to keep count and include them all in our closet. But here are a few that you just have to have!
1) The Charming Crop Top
You'd be lying if you said that when crop tops for women were newly introduced to the fashion scene, you didn't rush to buy one for yourself too. With these settling just above your waist, styling them might seem tricky, but it really isn't. If you're confused, let your favorite Instagram style influencers influence you. If you're still lost, then let us guide you.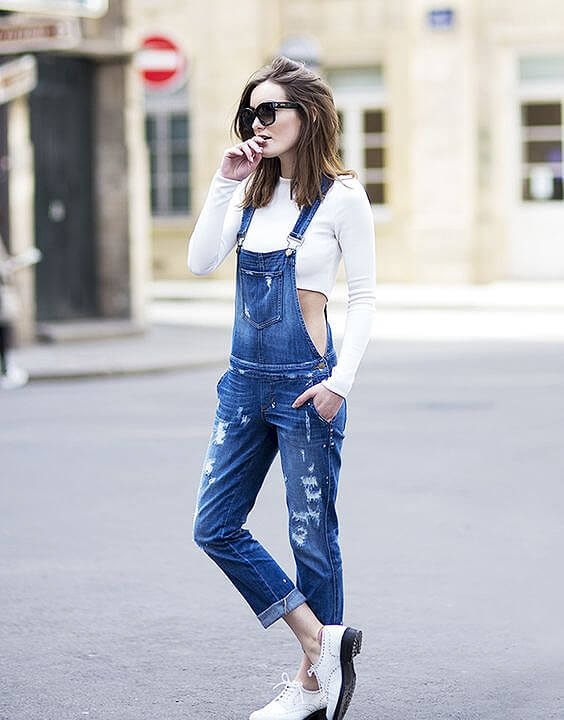 Here's how to wear crop tops:
Ditch the t-shirts with your dungarees every once in a while. Pair them with something as trendsetting and eye-catching as a crop top! Finish the look with classic white sneakers, and you'll be set.
The wedding season is already in full swing, and it only gets better from here. Give your crop tops for women an Indian makeover by pairing them with your lehenga. Then, add statement-making jewellery to top it off and all that'll be left to do is twirl!
For a grocery run or a casual stroll around the city, nothing better than leggings and crop top combination! If it's sunny outside, don't forget the shades so you can throw shade.
You can even look for a customized t-shirt with your favorite print on it, check out our customized T-shirt collection by clicking the below image.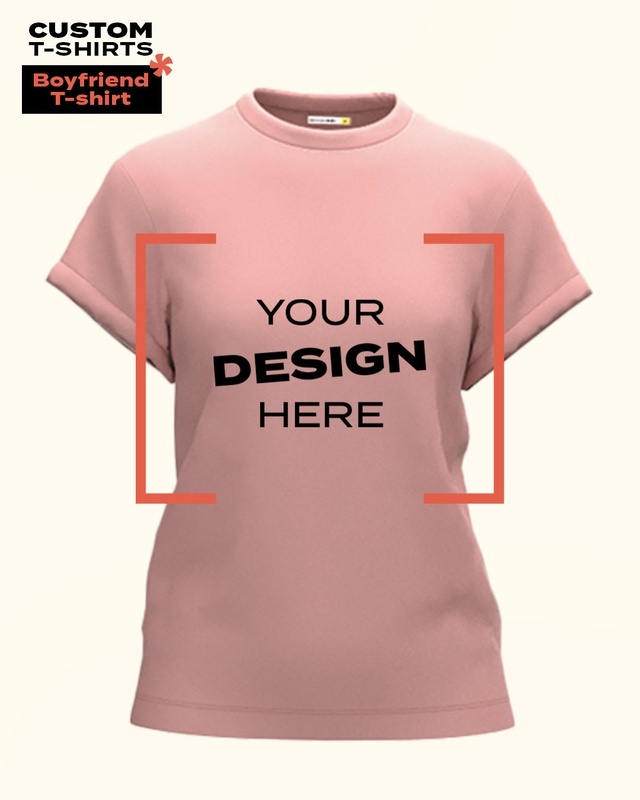 2) The Trendsetting Tube Top
Back in the 70s, tube tops were a popular fashion choice. It's safe to say that they were somewhat of a fashion hero then, especially among hippie subcultures. Then in the 90s, they made another comeback. Now, since most designers and stylists are taking a trip down memory lane and nostalgia is in Vogue, tube tops are in too! They're a wardrobe must-have, but only if you're ready to step out of your comfort zone.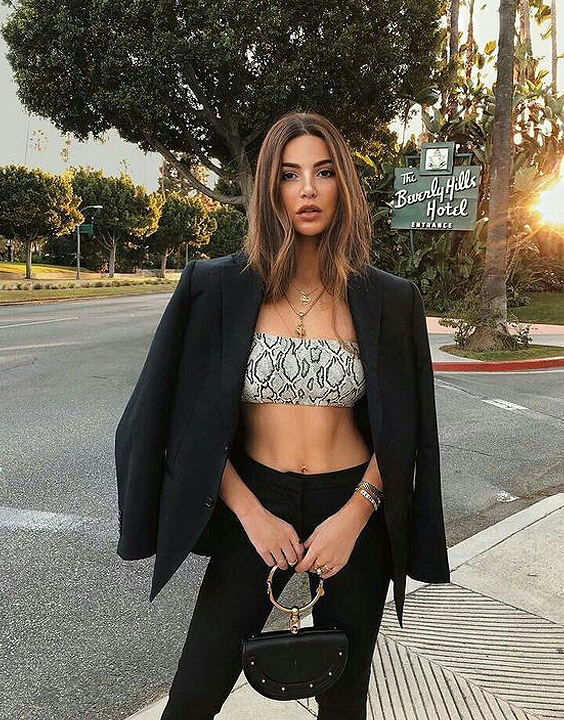 Here's how to wear tube tops:
If you haven't noticed yet, tie-dyed tube tops have been a total hit on social media recently with every influencer and every blogger matching them with their style. We think they are totally worth a shot!
Bring back the 90s with a velvet tube top and matching flare or track pants! Don't be shy; let this be your time to shine! Beauty tip: Wing that liner and let your hair down.
Mix it up a little with a sleek blazer, tube top and a pair of skinny trousers. Leave the buttons open or throw the jacket over your shoulder; whatever you do, you're sure to look like a boss babe.
3) The Tenacious Tank Top
If you're confused between tank tops and sleeveless tops, allow us to explain. Tank tops have a racerback, which prevents them from slipping off your shoulders, making them an ideal choice for active days. But your workout favourite can be worn in multiple ways! Tank tops may seem basic, but not when styled right. A really important part of the athleisure genre, tank tops are a great choice for airport looks, daily chores, and even for dressier events.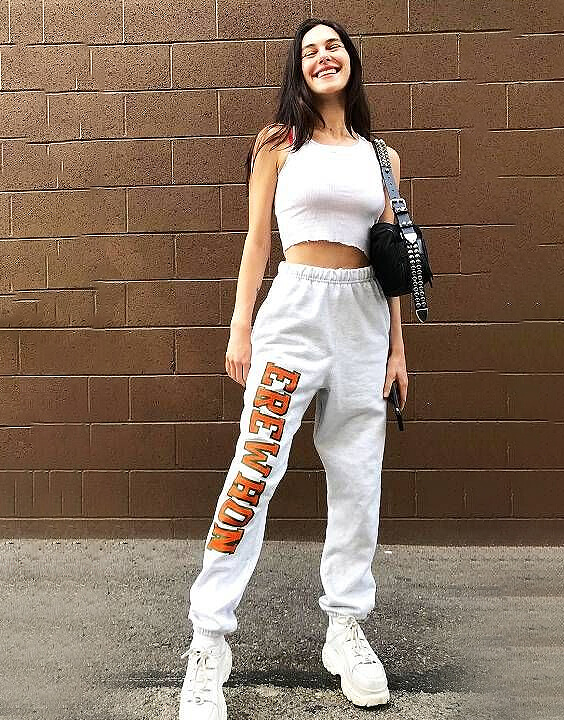 Here's how to wear tank tops:
Wanna give in to the classics? Rock your white tank top with a pair of blue jeans for women! If you're feeling bold, then finish off the look with a red lip. Wear it wherever; it's a surefire winner.
Tank tops and sneakers? A combination loved by many. But do you know what's missing from the mix? A pair of your best joggers! Take your athleisure game up a notch with this look. Carry a tote or a backpack with you when you head out, there are no rules to this.
If a vineyard tour is on your bucket list for the month, there's one thing that's a close first on the perfect outfit list, and that is a tank top tucked into straight-legged pants. Top it off with a hat, and don't forget to colour coordinate.
4) The Captivating Cami Top
Who doesn't love camis? We can't name a single woman with no cami in her wardrobe! From pyjamas to jeans for women, they make everything sexier and how! They gained popularity as an acceptable piece of clothing to wear outside the house when the innerwear-as-outerwear idea was introduced to the runways. Since all the cool girls are doing it, so should you.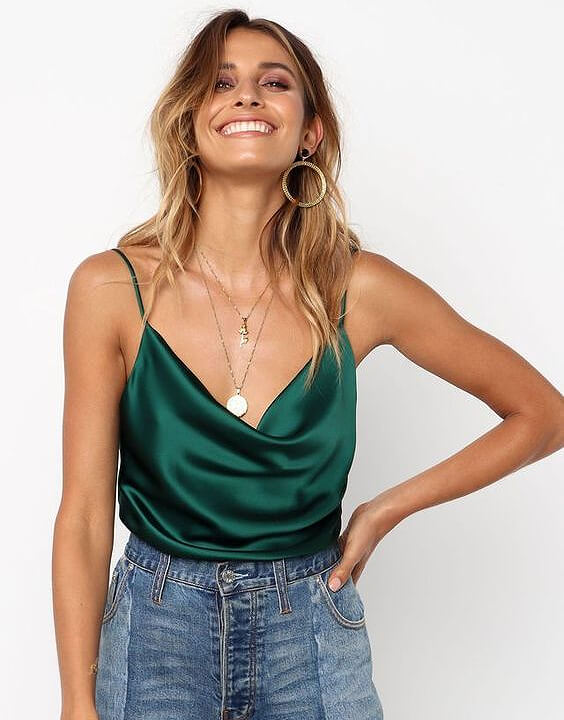 Here's how to wear cami tops:
If you have a date with the guy you've been crushing on since forever, we'd 10/10 recommend a satin cami top so that you look nothing less than 10/10! Slip into this sensual stunner and watch as the sparks fly. You can pair it with your favourite denim, and a good shade of lipstick is a must.
For a casual winter outfit, we love a turtleneck tee under a cami top to look put-together. Give it a try and see if it works just as well for you too!
For days when you're allowed to sport a smart casual attire to office, a cami top over a shirt is a total winner! If you don't trust us, then try it on and see how your colleagues throw a dozen compliments your way.
5) The Marvelous Maxi Top
The crossover we didn't ask for, but the one we needed – maxi tops! Establishing the perfect middle ground between tops and maxi dresses, these beauties are the whole package! You must have seen your favourite celebs sporting the longline top too, and you can't say you weren't impressed (unless there was a wardrobe malfunction involved.) Maxi tops are seasonless and can be worn in the summer heat as well as for the winter chill. Take our word for it.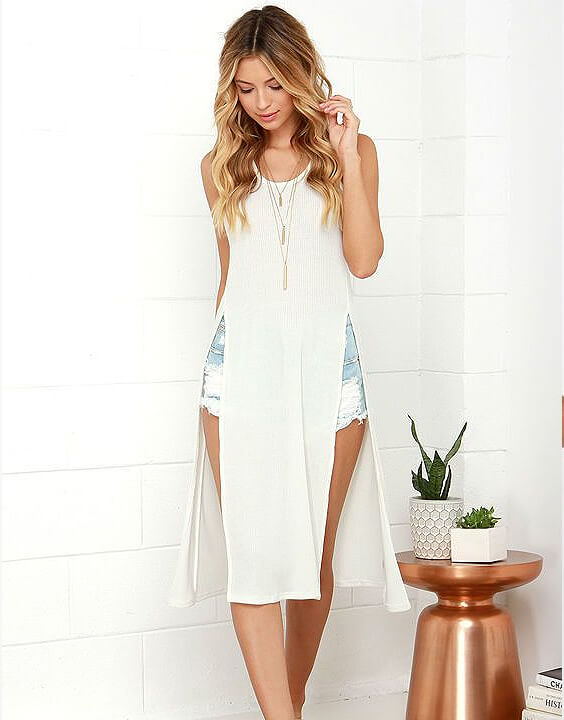 Here's how to wear maxi tops:
If you're required to dress up and show up for a social gathering or event, all you need for the perfect #OOTD is a maxi top – with a slit. Let your trouser be a carefully thought-out piece, and then let the slit flaunt it. Finish with a pair of heels!
Pick sheer maxi tops and a pair of jeans for women for the ideal brunch look! Your girls will love you for this, trust us on that.
Did you know that a maxi top, when paired with shorts, makes for the dream beach outfit? No? Then you ought to try this look to get what we're talking about.
6) The On-Point Off Shoulder Top
Showing some skin isn't just for your legs, but your shoulders too deserve to be bare sometimes. Enter off-shoulder tops, that have quickly become a part of every fashionista's wardrobe, refusing to leave. Even after its counterparts – the cold shoulder top and the one-shoulder top – have made their presence is known, off shoulder tops still remain relevant and ravishing! You're allowed to flaunt these over and over again, and then some more.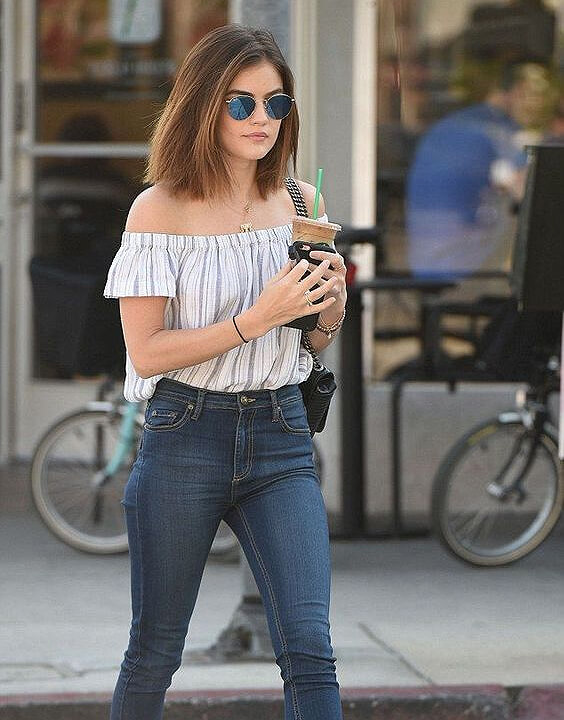 Here's how to wear off shoulder top:
Get that too-cute-for-you look right with an off shoulder top and a skirt with playful detailing. It could be anything from ruffles to adorable prints to a slit (or maybe even all?) Finish with a cheery smile for the cam!
For a more casual approach, the right answer to "how to wear off shoulder top" lies with your jeans, because they pretty much go with everything. If you start feeling like something is missing, maybe it's a pair of hoops.
Another alternative to denim pants is a denim skirt, which is an even better choice on days you've freshly shaved your legs and are all ready to flaunt the calf muscles!
7) The Playful Peplum Top
By construction, 'peplum' is a comparatively narrow fabric strip that is attached in a lightly frilled/gathered pattern to what would have otherwise been the hem of your top. The flare is usually what adds the 'oomph' factor to the top, resulting in an appeal that is cute yet classy! After peplum dresses, peplum tops took the front seat on the trend charts. Soon, they were everywhere! From new-season magazines to being among the 'bestsellers' on every website, peplum tops have seen several renditions since their inception, recreated by design buffs time & again.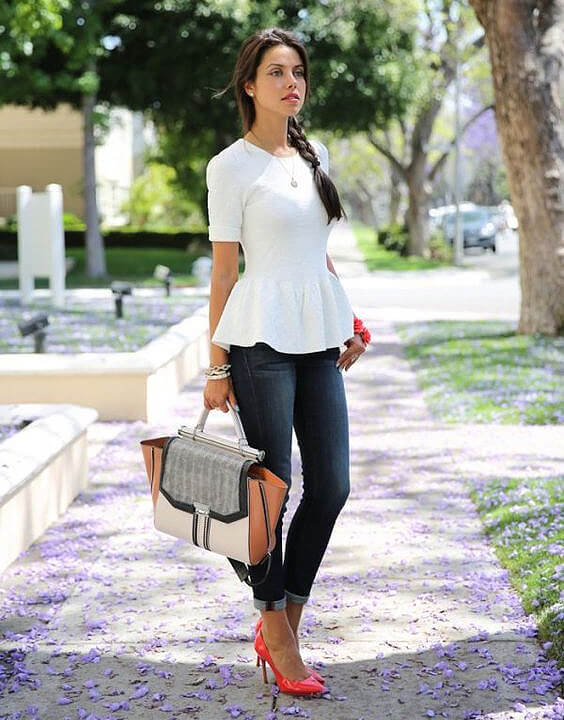 Here's how to wear peplum tops:
For a work-casual look, that is more 'casual' than 'work' and can be worn to your after-office plans, choose a plain peplum top that is crisp and clean. Wear it with equally clean jeans. A sleek hairstyle will do you good at & after work.
Bring some 'fun' to your wardrobe, then take it out with you. What we mean is, wear your peplum top with a contrasting shade on the color wheel, whether it is a pair of pants or a happy Lil skirt!
Let's settle on the skirt again for the 3rd look, because when have you ever seen it not go perfectly well with a peplum top? We know we haven't!
8) The Tasteful Tunic Top
Simply stunning – that's how we'd like to describe the humble yet head-turning tunic! It is every bit perfect without being overdone. The fit is super comfortable too and accentuates all the right places without constricting movement. By now, you must have already realized why tunics are so popular among women of all ethnicities and cultures! Another highlight of the tunic tops is that they are versatile and can be worn in many different ways, at many different places. You can't go wrong in a tunic, that much is guaranteed! So give this no-risk look a chance and watch it do wonders to your style quotient.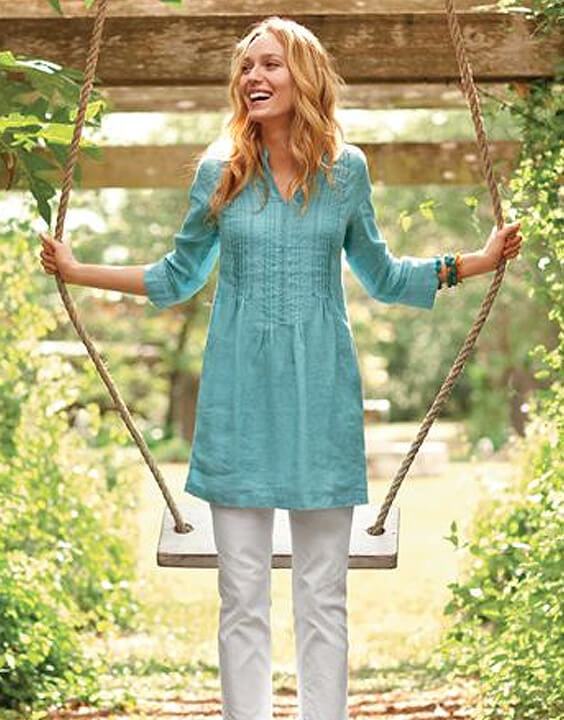 Here's how to wear tunics:
If you're on the guestlist for an intimate festive celebration, pair an ethnic tunic with palazzos. Wear your favorite jhumkas and don't forget the bindi. It's easy, elegant, and ever-stylish; what more could you ask for?
Layer your tunic with a jacket of similar length for the chilly days, or to add another element to your look. You can keep the accessories minimal or go all-out, depending on where you're headed.
Need another winter styling tip? How about knee-high boots with your tunic + jeans for women combination, and a colourful scarf to complete the look?
9) The Artsy Asymmetric Top
In the mood to try something new? Push your usual clothing picks to the back of your closet, and don an asymmetric top instead! Again, this one brings with it a revival of the early 2000s fashion, and we're not complaining. Asymmetric tops are at their stylish best when you know what to pair them with. They're non-conforming, unstructured, and are fantastic all year round.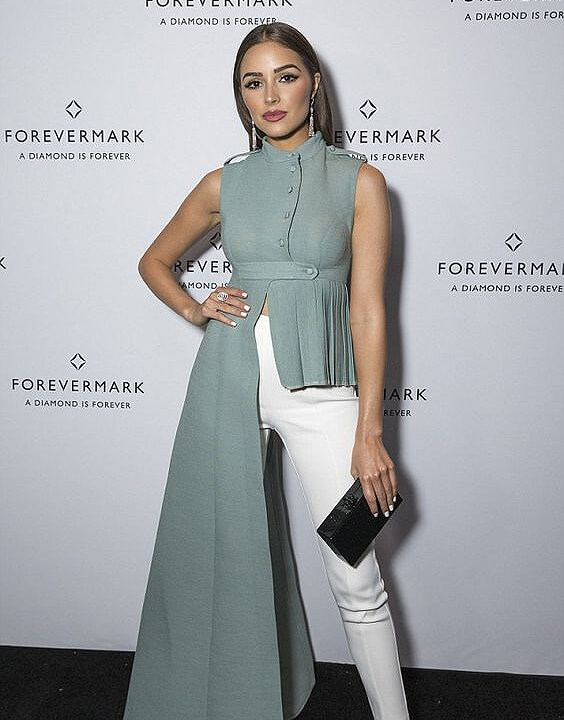 Here's how you can wear asymmetric tops:
The festive season calls for something that gives the best festive feels. But this year, the festivals won't be grand and will be celebrated only in intimate settings. So to ensure you still make a statement, wear an asymmetric kurta or ethnic top with dhoti or cowl pants. Pair it with striking jewellery that isn't too heavy.
Save a party look for later by getting yourself a glam asymmetric tunic and wearing it with the highest heels and your sharpest trousers.
Were you feeling lazy? Put those colourful leggings to use and don them with an asymmetric top. Match the colours for a casually cool outcome!Well, that brings us to the end of our list, but yours could be longer! Now that you know how to stay on the 'top' of your style game, there's no stopping you from bringing the house down with your #OOTDs!
Image credits: The copyrights of the images used in this post belong to their respective owners. The credits where known are specified under the image - if you're the owner of an image and want it removed, please contact us.