Cargo pants have transcended their origins to become a versatile fashion staple suitable for various occasions. Cargo pants for men can be tailored to fit a variety of situations, including overnight escapades, business meetings, and informal outings. Cargo pants are the perfect functional addition to your wardrobe with the appropriate matching and styling. So, if you were on the lookout for Cargo Pants Outfit Ideas, stress no more as we're here to save you!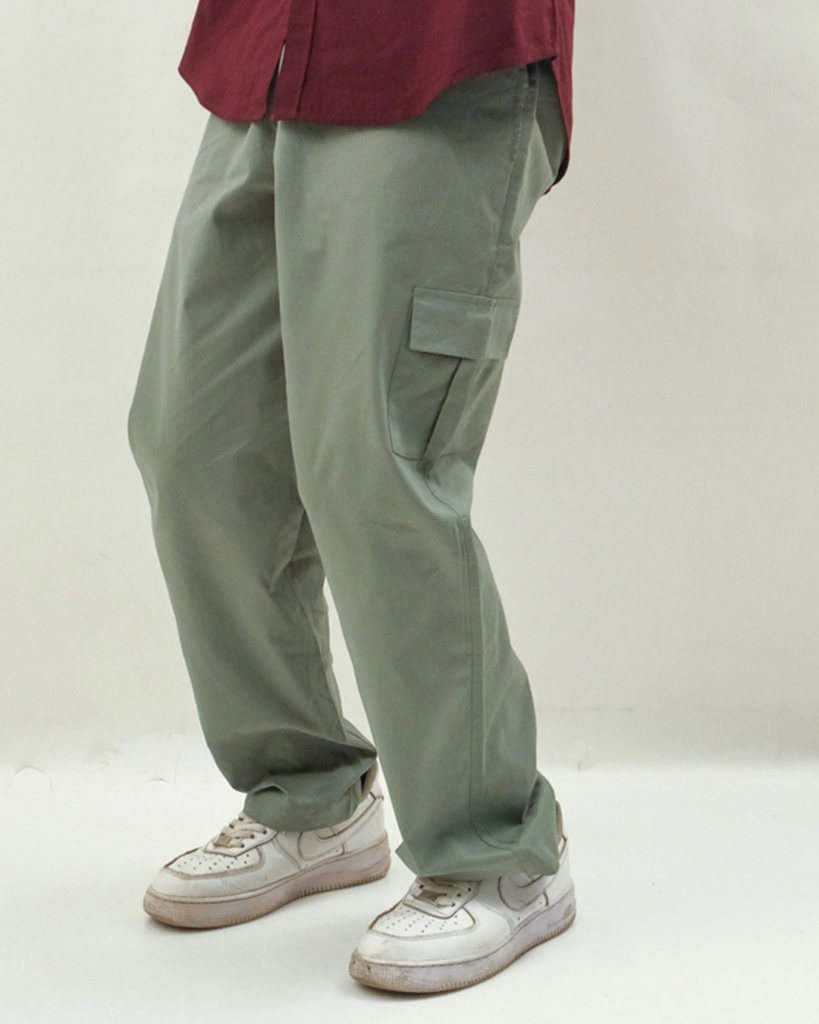 The Versatility of Cargo Pants
The incredible versatility of cargo pants, commonly referred to as cargo trousers, has made them a true fashion standard. These pants, which were initially intended for challenging outdoor activities, have moved beyond their utilitarian roots to become a key component in modern wardrobes. They are a go-to option for a variety of occasions thanks to the flexible design of these versatile pants, which are designed with generous pockets and robust fabric. Cargo pants easily adjust to your needs in terms of style, whether you're looking for casual comfort, businesslike professionalism in your workplace dress, or a dash of edge in your nocturnal costume. In this detailed read about cargo trousers, we explore the countless outfit suggestions and Cargo pants fashion tips that highlight its adaptability and evergreen appeal.
Casual and Everyday Looks with Cargo Pants
Pairing a casual everyday look using your cargo pants is a cakewalk. Style an unapologetically edgy, cozy, and chic outfit using cargo pants. Find below the number of styles you can try using cargo pants.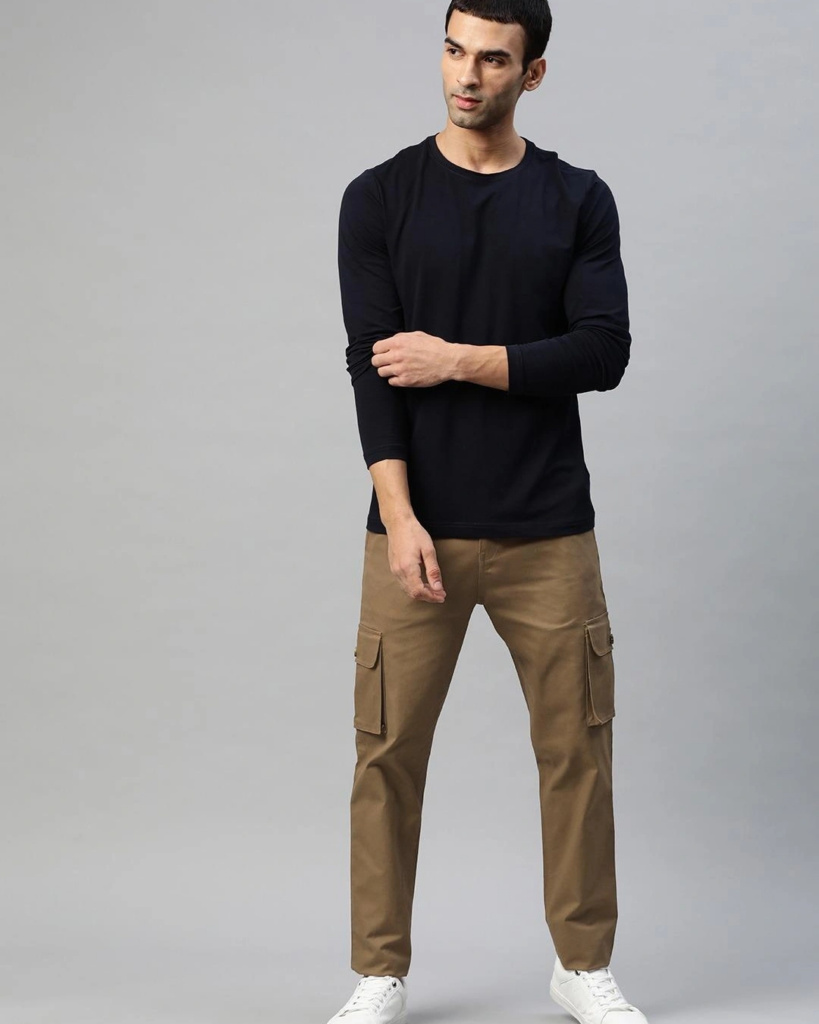 Outfit 1: Styling cargo pants with a simple t-shirt and sneakers for a relaxed streetwear look. 
Combine a cargo pants outfit with a plain t-shirt, sneakers, and an urban vibe. Your cargo pants' cuffs can be rolled up for an added touch of casual styling. This easygoing outfit is super fun and an important element in Mens fashion. Cargo pants exude an effortlessly stylish streetwear fashion and are ideal for doing errands, hanging out with friends, or simply enjoying a leisurely day.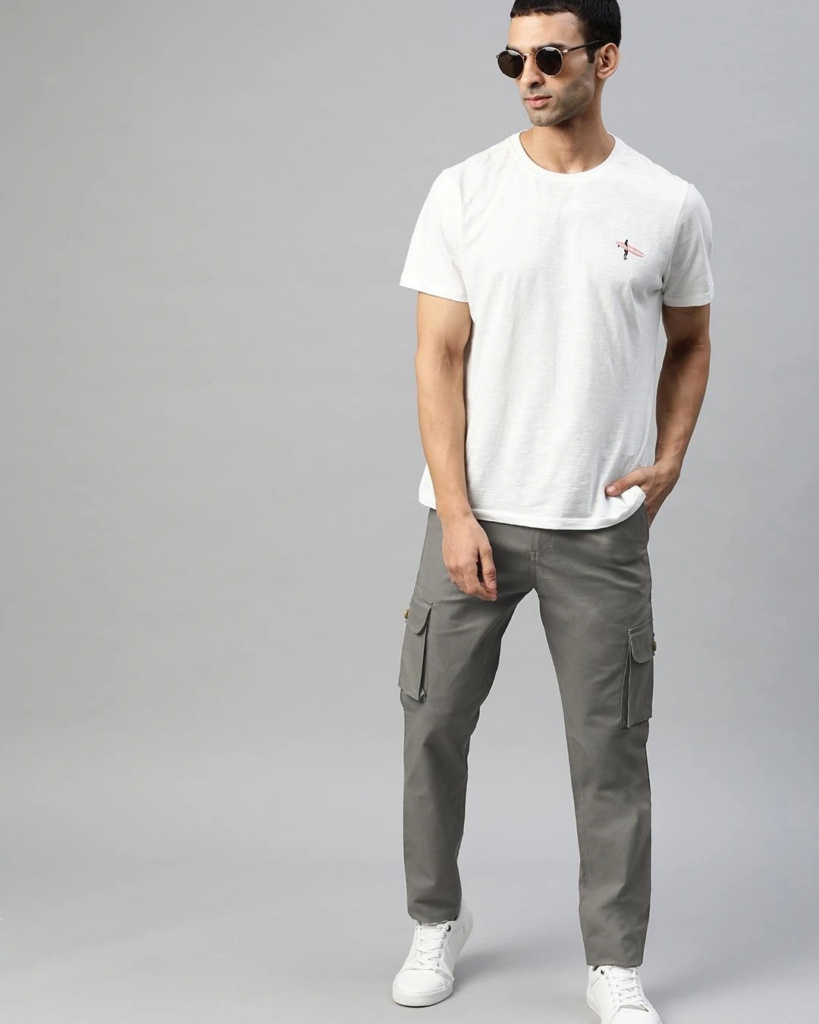 Read all about Cargo Pants Outfit Ideas for Men on our blog.
Outfit 2: Pairing cargo pants with a cozy sweater and ankle boots for a comfy yet stylish ensemble. 
When comfort and style come together, amazing things happen. Put on your cargo pants with a sweater and a pair of ankle boots with your cargo trousers. This mixture strikes the perfect harmony between design and comfort, making it an excellent choice for chilly fall days or cozy afternoons in front of the fireplace. If you were looking for cozy outfit ideas, while online shopping, then opting for this will make you feel comfortable and stylish.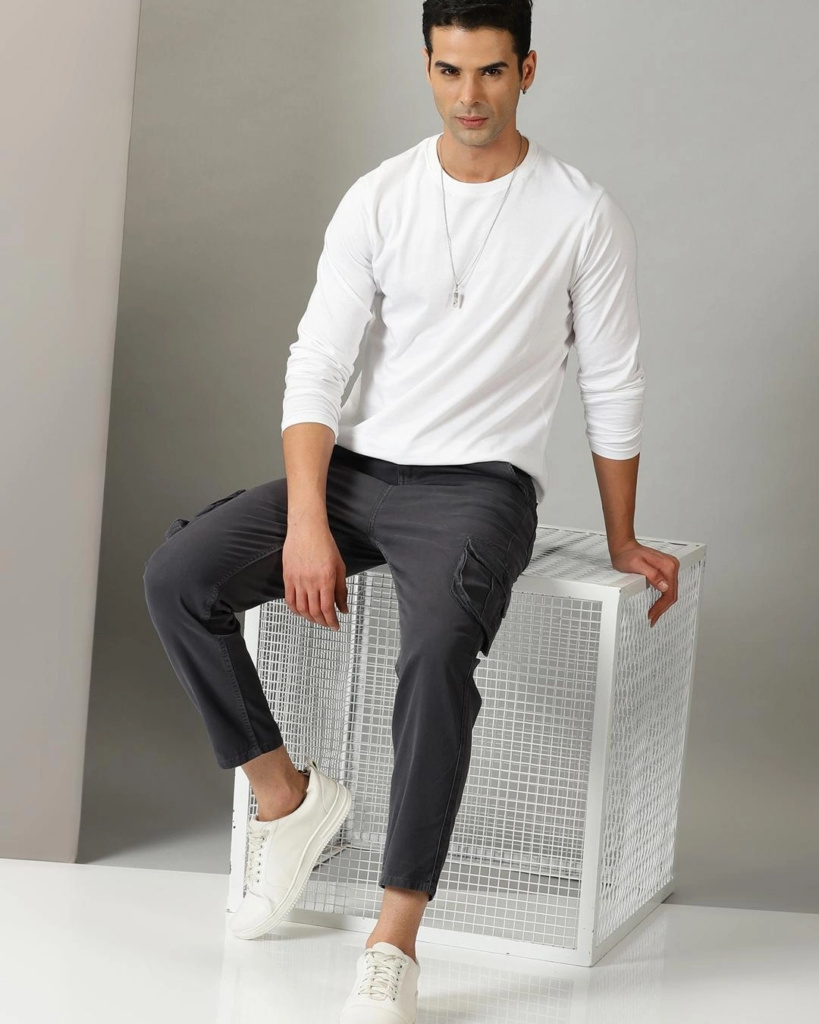 Outfit 3: Creating an effortlessly cool outfit by combining cargo pants with a graphic tee and denim jacket. 
Add an edgy spin to your cargo pants to up your game as it is now the go-to Men's bottomwear. Put on cargo pants with denim jacket or a graphic tee that expresses your personality. The outcome? A casually stylish and rebellious combo ideal for nights out, concerts, and meetups, for showcasing your individual flair. Styling cargo trousers combined with the audacity of the denim jacket always make a striking fashion statement and an edgy style inspiration.
Dressing Up Cargo Pants for Semi-Formal Events
Dressing up or down cargo pants is the perfect way to stay comfortable and yet look classy. Here are a few Cargo pants for women and men who are looking for outfit ideas to elevate semi-formal events. 
Know more about Must-have Cargo Pants For Girls on our blog! 
Outfit 4: Elevating cargo pants by pairing them with a button-down shirt and loafers for a smart-casual look.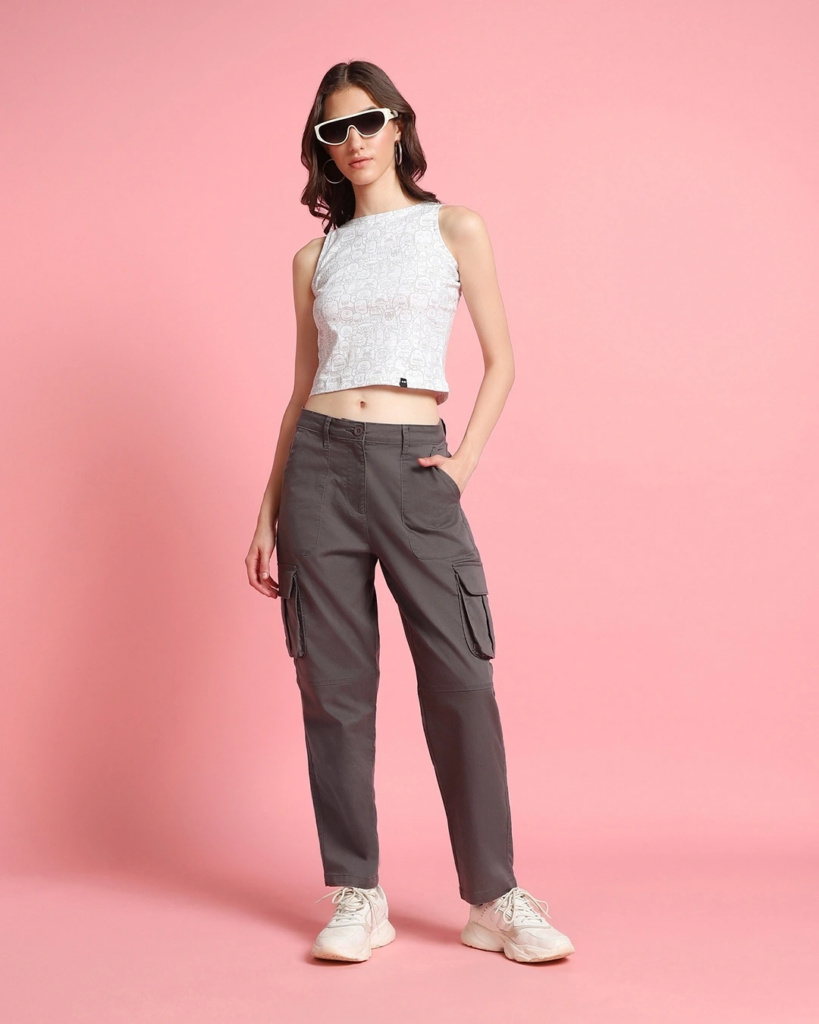 Combine cargo pants semi-formal outfits with a dapper pair of loafers and a sharp button-down shirt to elevate the look. For a polished appearance that falls somewhere between casual and semi-formal, tuck the shirt in. Business-casual styling tips are ideal to ace a smart casual look wearing cargo pants. 
Know more about Smart Casual Style for Women – An Essential Guide to Look Stylish on our blog!
Outfit 5: Adding sophistication to cargo pants by wearing them with a tailored blazer and heels or dressy flats. 
By wearing elegant cargo pant outfits with a well-tailored blazer, you can turn it into an emblem of refinement. Depending on your comfort level and preferred Mens clothing style, finish the ensemble with heels or formal flats. If you are looking for formal attire ideas, this outfit is appropriate for semi-formal events or even a stylish evening out where you want to stand out because it emanates confidence, and sophistication and definitely tops the Cargo Pants Outfit Ideas list.
Ouftit6: Combining cargos pants with a silk blouse and a statement necklace for an elevated yet comfortable look.
By pairing your cargo pants with silk blouse and a striking necklace, you can strike the ideal mix between style and comfort. The silky blouse lends a hint of opulence, while the cargo pants keep things casual. This outfit is perfect for semi-formal occasions where you want to have a chic and comfortable style without sacrificing comfort.
Formal Occasions and Cargo Pants: Yes, You Can!
Every time while thinking of formal outfits, people often have an idea of a fitting ensemble that is extremely tight and uncomfortable. If you want to wear a chic yet comfortable outfit, choosing cargo pants is the solution. Here are three Cargo Pants Outfit Ideas for you to ace in a formal setup: 
Outfit 7: Going for a bold statement by pairing cargo pants with a tailored suit jacket and pumps for a unique formal look. 
Working out a cargo pants formal attire with a tailored suit jacket, a pair of classic pumps, and cargo pants can help you make a statement. This unusual combo commands attention in formal settings with its self-assurance and individuality. These unconventional outfit ideas enable you to stand out with a dash of originality whether you're attending a chic banquet or an art exhibition.
Read all about Smart Casual for Men – Style & Comfort Combined on our blog! 
Outfit 8: Creating an edgy yet sophisticated ensemble by combining cargo pants with a structured blazer and pointy-toe flats.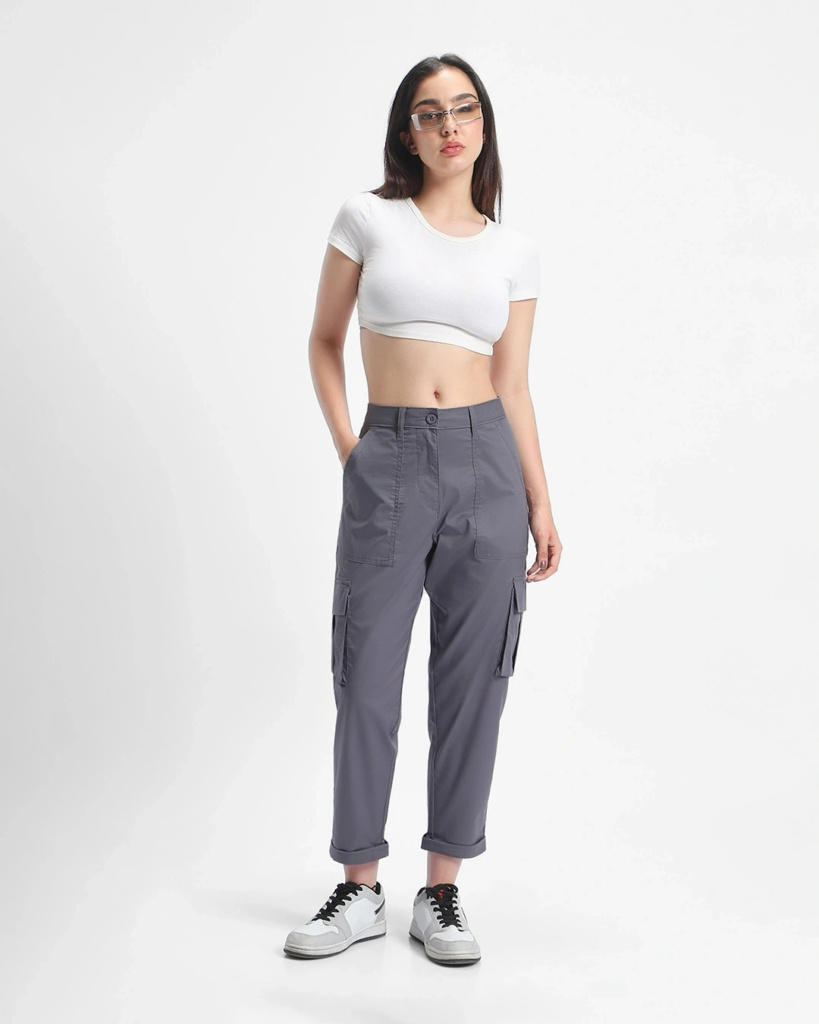 Wearing cargo pants with a structured blazer and pointy-toe flats will take them to new levels of edgy sophistication. For individuals who wish to stand out without sacrificing flair, this outfit is ideal. These edgy formal outfits are for formal occasions where you want to highlight your fashion sense.
Ouftit9:: Styling cargos pant switha lace top anda metallic clutch for a chic and stylish formal look.
By wearing cargo pants with lace top and accessorizing with a silver purse, you can create a chic and fashionable formal outfit. The effortless fashionable formal outfits add elegance and an urban edge making this outfit ideal for times when you want to flaunt your immaculate sense of style.
Conclusion: Embrace the Versatility of Cargo Pants in Your Wardrobe!
In conclusion, cargo pants have demonstrated their unmatched versatility and established themselves as a great complement to any wardrobe. These pants, which were before only functional, have developed into a wardrobe essential that can accommodate a wide range of circumstances and are the perfect example of fashion versatility. Cargo pants can blend into your outfit whether you're trying for a casual, smart-casual, or even formal appearance.
Cargo trousers are a wardrobe staple and leave an opportunity for creativity and to always create new looks. whether you wear them with a basic shirt and shoes for a laid-back streetwear vibe or a fitted jacket for a bold, unorthodox formal statement. You always find several cargo pant styling tips because of their roomy pockets and comfy shape, they are not only fashionable but also useful for regular usage. So, use our Cargo Pants Outfit Ideas and shine bright every time you wear these comfy pants. 
FAQ's
What do you wear with cargo pants to go out?
Depending on your particular style, there are several outfit combinations you could choose while wearing cargo pants to create a stylish and comfortable look.  Put on a simple graphic t-shirt, light sweater, or button-down shirt with your cargo pants. To complete a casual, everyday look, add sneakers or casual loafers which would keep you at ease. For a sporty touch, add a wristwatch, sunglasses, and a baseball cap as accessories.
Do cargo pants go with everything?
Cargo pants can be paired with a wide range of clothing items, as they are super versatile and can be paired with everything depending on the personal style, and occasion. A few factors that you must consider are the color of your pants, personal style, footwear, accessories, and more.
Can you wear cargo pants multiple times?
Cargo pants can be worn several times, just like any other piece of clothes in your closet. Because of their strength and adaptability, cargo pants are a popular choice for everyday use. Follow the care recommendations on the garment's label to keep your cargo pants looking nice. Purchasing durable cargo pants which will increase their lifespan and always look for well-crafted pants that are composed of sturdy materials.
Image credits: The copyrights of the images used in this post belong to their respective owners. The credits where known are specified under the image - if you're the owner of an image and want it removed, please contact us.