Are you the one who bought a brand new blue suit for a family wedding, it fits you flawlessly, but you never got it into day's light after that wedding occasion? Have you explored any other blue suit combinations that might work for your overall style statement? Let's ask a more interesting question. Have you ever imagined of pulling off that seldom blue suit for more occasions than a formal one? If not, then probably your life has been missing the sartorial panache quotient lately. In the contemporary lifestyle, 'Blue' is the new black. It is synonymous with versatility.
A color that can be dressed up or down, whether it is summer or winter, it impeccably covers you for every occasion. Since we aren't talking solely about the blue suit and we are looking at suit combination ideas, your playground for exploring newer and better styles becomes way more creative and expansive! There are several shirts for blue suits that are available for picking! Explore your options, right here!
The Timeless Appeal of a Blue Suit Combinations Outfit-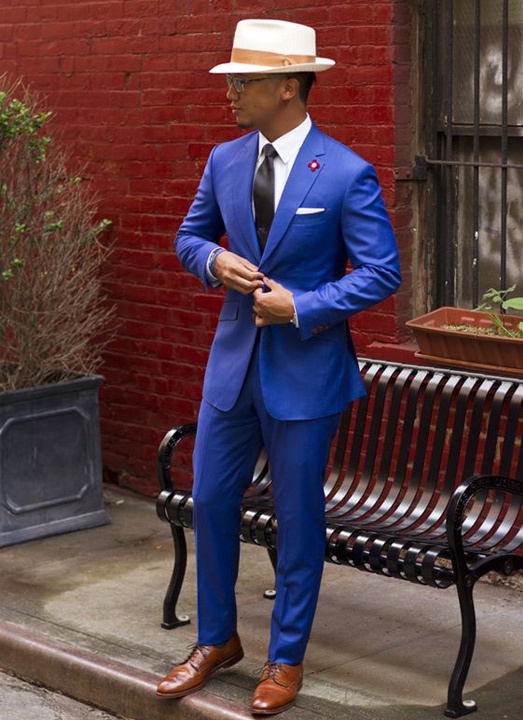 A blue suit can't easily be mistaken for a basic black number anymore. It stands out! Menswear apparel today is obsessed with the contemporarily bold, well-tailored suit – in Blue. We need not mention, the color conveniently goes with most of the pairs, plus it's slimming. This season, a plethora of men are working around blue suit combinations – from the office to weddings, to an important first date, blue certainly is worth a try when deciding to go for an elemental & sophisticated look. It becomes a surefire way to look sophisticatedly chic. Especially, when paired with perfect elements. Thus, this suit combination becomes an impactful one. Dark blue suit combinations have been around for quite some time now!
Building a sharp wardrobe is one of the impactful investments that one makes. Like any other significant investment, your major wardrobe purchases involve good research & planning. So in this post, we have put together a game plan & pulled out a detailed guide of styling tips for blue suit combinations that will accentuate your overall look. So in this post, we have some ideas for you to style up blue suit combination for any occasion. There are stylish shirts for blue suits which you need to know about. To accessorize and pull off a dapper look, read up on our tie with blue suit ideas. What's going to be your favorite combo, then?
Blue suit combinations styling tips – Details that matter.
Yes, details matter a lot! Learning about blue suit combinations entails catching up with styling elements that you can make your appearance stand out in the crowd. An outfit is incomplete without well selected components all along with the board. There is a whole range to try out accessories, shirts, colors, ties, and anything that would give your blue suit the necessary fillip. We have pulled out a few simple rules for styling a blue suit. Here you go-
1. Trendy Shirts for Blue Suits You'll Love- What's your pick!
By now, you may have gathered that the blue suit acts as the perfect add-on. The larger issue that remains is what to wear underneath this powerful staple. The options are plenty actually! If you're thinking of pairing a shirt with a blue suit, you're on the right track. Every shirt has distinctive features- colors, style elements, and silhouettes will always differ. What we mean is that when you're browsing through shirts for blue suits, look at various aspects of the shirt apart from color. Here are some shirts you could definitely try out, and we're sure these will embolden your blue suit.
When in doubt, stick to a crisp white shirt, or to the lighter shades of pinks and blues. These colors serve as a great contrast and let your blue suit pop!
(A) Blue Suit Combinations With White Shirt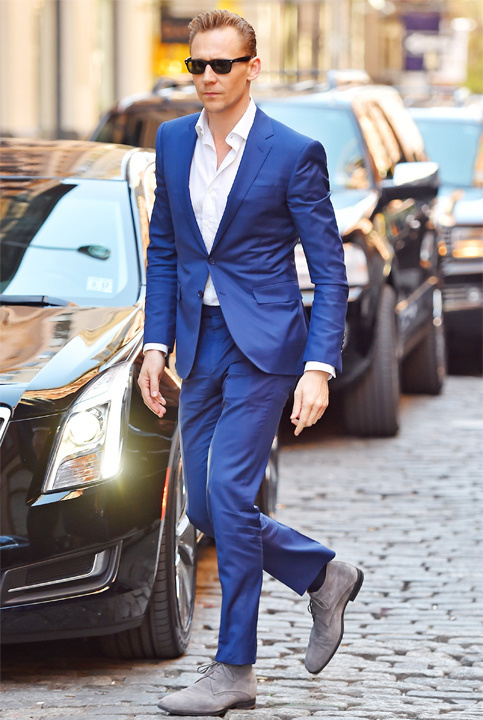 For dark blue suit combinations, a white shirt would be a great accompaniment. The blue suit with a white shirt goes supremely well when it is teamed with the right style elements. Pullover an impeccable blue suit over a white shirt and trousers of the same color. Button up and for a classic touch, opt for spotless white sneakers for a clean appearance. This blue suit combination is pretty amazing because of the possibilities attached to it. A navy blue shirt with a white shirt would be a great pick for a bright sunny day at the workplace. After you've ascertained which blue suit white shirt look would work in your favor, your last step would be to reach out for the perfect tie for a blue suit with a white shirt. Try red, burgundy, blues, blacks and more. Later on, in this piece, we'll tell you exactly how to pick the perfect tie for your blue suit combination. Pair your blue suit with a white shirt, with a bow tie or a long tie in woven silk.
For a smart casual look, swap the button-up casual shirts for t-shirts in summer or a polo neck sweater in winter. Remember to keep the inner layer piece's tones subtle. For example, white, beige, lighter shades of blue. For a twist, keep the patterns tasteful – think contemporary geometric mosaic or a breton stripe.
Not a fan of the formal look? Mix it up a little – swap your white shirt with a cool solid white T-shirt. Check out Bewakoof's Online store for the best of solid T-shirts.
(B) Blue Suit With Pink Shirt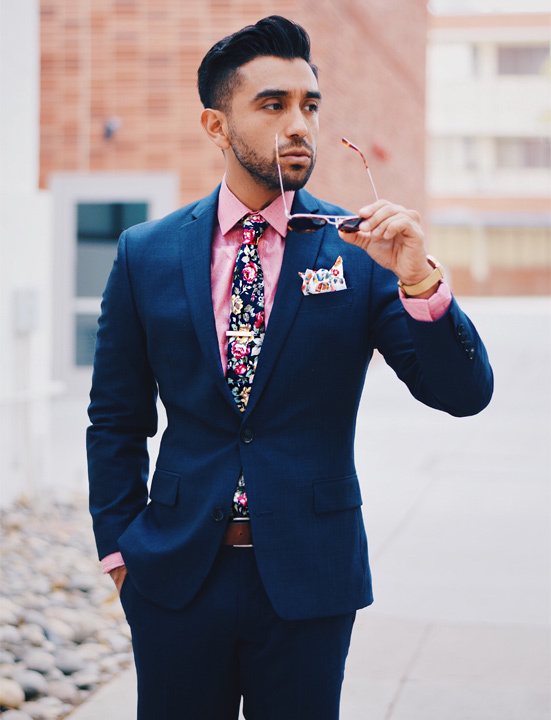 Think of a blue suit with a pink shirt for an element of playfulness to your attire.
2. What Color Tie To Wear With a Blue Suit?
What's the best tie for a blue suit? Men can try out so much with a tie. Ties are essential to menswear because a single tie can reinvent your blue suit look's appeal. Here are some blue suit and tie combinations that might work for you. These are some colors in ties that you could get incorporated in casual and formal looks. Check this out-
(A) Blue Suit Pink Tie Combination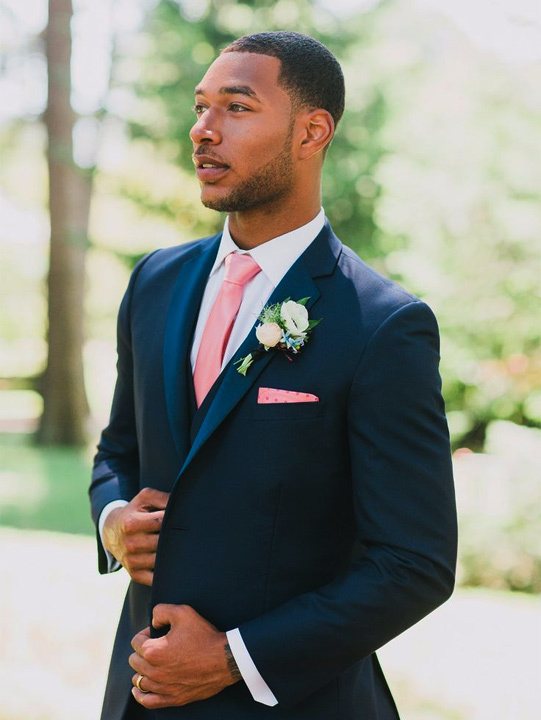 Trying a tie for a blue suit? A pop of pink can do wonders for your overall appearance. The blue suit pink tie look is impeccable when done right. Pull-on a blue suit over your favored white or black shirt, and add a pink tie to make this otherwise sedate combination a little bright.
(B) Blue Suit Red Tie Combination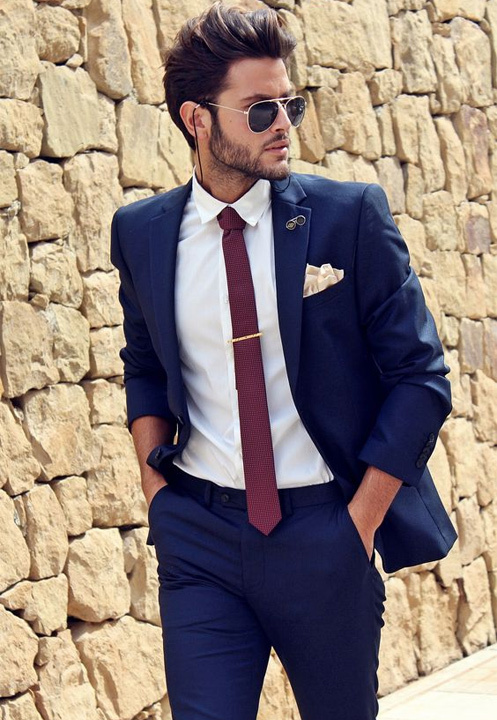 The search is still on for the best tie for a blue suit? You won't have to look very far. Tried the blue suit red tie combo? Team your dark blue suit with a pair of smart trousers. Probably add a waistcoat to this look and add an amazing red tie to make this look a success. A blue suit with a red tie is a combination that can prove to be a very sophisticated pick.
( C) Blue Suit Black Tie Combination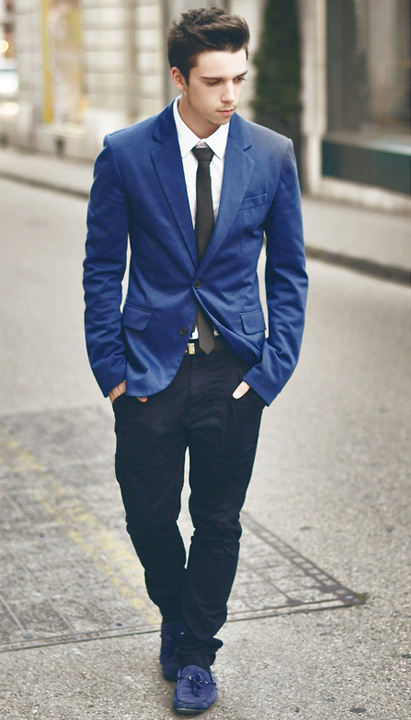 While closing in on the perfect tie with blue suit combinations, you can try black on black! Black on black works beautifully and comes off as a great selection for your formals. Your blue suit black tie look will shine if you are able to ace this style. Try this tie for a blue suit, because a black suit enhanced by the boldness of a black tie is a rare sight.
(D) Blue Suit Blue Tie Combination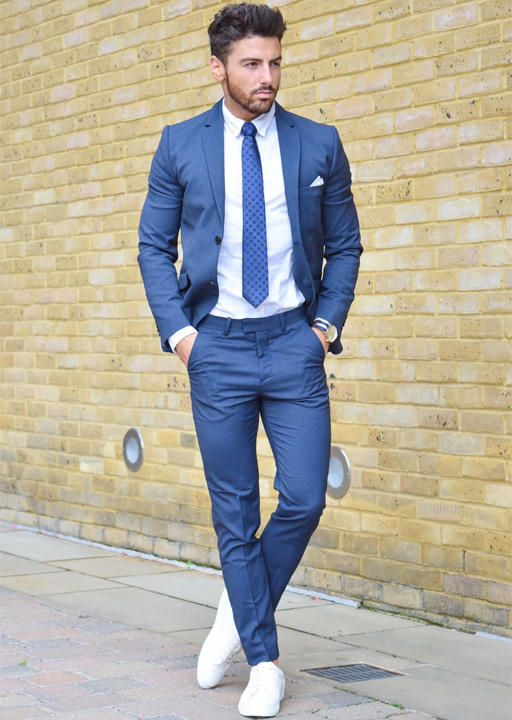 What's the best combination with blue suit, when choosing a tie? Faced with this question, already? We don't blame you. Your options are quite a few. If an all-blue look is what you really want, a navy blue suit shirt and tie combination is a winner among all blues. Among blue suit and tie combinations, this one is a must try! Your blue suit against a white shirt punched up by the awesome blue suit, is such a beauty!
3. The Two Evergreen Shoes to Wear With a Blue Suit –
You can't go wrong with these two color combinations! Here is how you can style your blue suit look with brown and black shoes-
(A) Blue Suit Brown shoe Combination –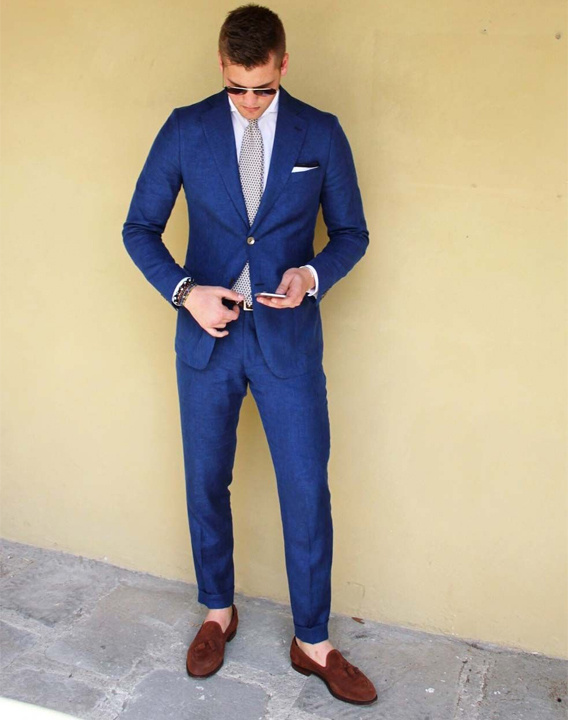 Blue suit and brown shoes certainly go together. Pick a smart checkered shirt to wear underneath the blue suit and team it up with a smart pair of brown oxfords. While this may work for a formal occasion, if you're looking out for a more casual appeal, try jeans or other trousers for lowers. The perfect shoes to go with a blue suit with jeans look would be a pair of sneakers or casual loafers.
(B) Blue Suit Black shoe Combination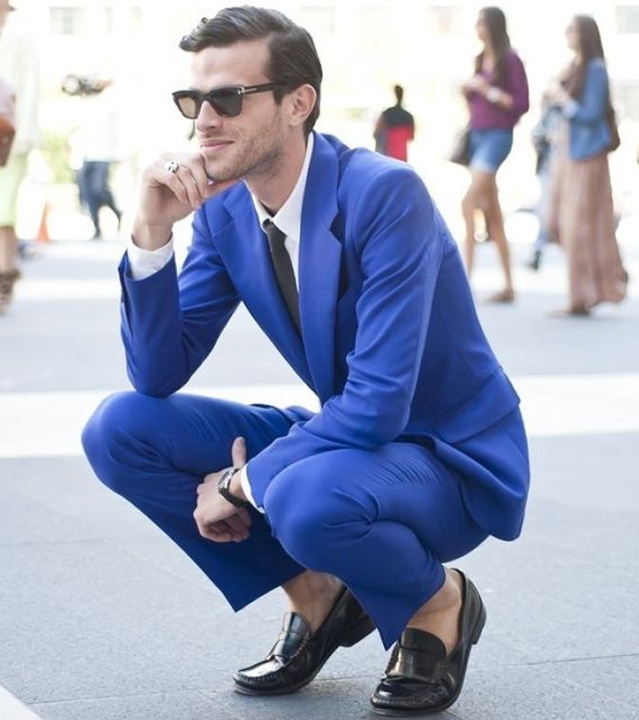 The blue suit can look supremely stunning when paired with a black formal shirt and dapper black shoes. These shoes could be gleaming black dress shoes. You could try blue suit black shoes with a black crew neck t-shirt underneath.
4. Blue suit combinations for different occasions
There is a perfect time for everything! You can take your dapper suit to places you wouldn't thought of before reading this post! Look like your best in your favorite blue suit on these occasions-
(A) Blue suit combinations for formal occasions:
In the 21st century, blue is the most sought after shade in the corporate & business world. The style arena has given the regular black number a break, giving navy blue suit combinations a wide acceptance.
i. Navy Blue suit and Crisp White Shirt – Look Sharp!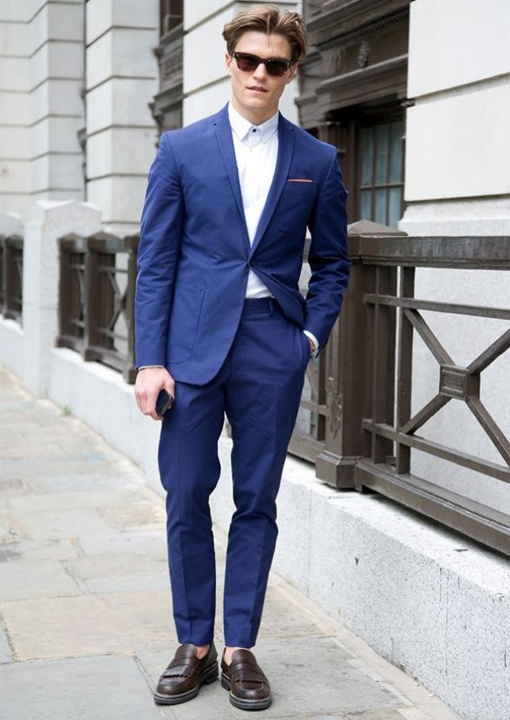 We've touched upon navy blue suit combinations, but there is still plenty to work around with. A navy blue suit with white shirt looks groovy when you're not feeling up to wearing dark, intense colors for a formal dinner or to work. Try to ace the blue suit white shirt combination, by choosing a cool, white shirt underneath a sleek, navy blue suit.
ii. Blue Suit with black shirt Combination – Blue Can Be Bold!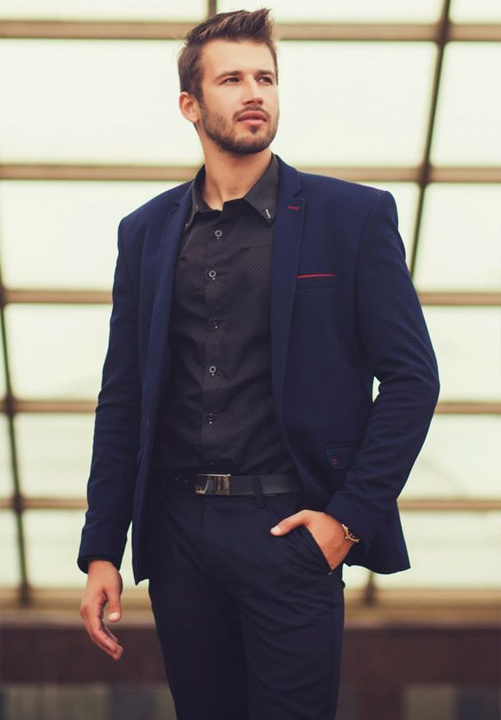 This combination is not very common but has great potential. Try your blue suit with black shirt of your choice, and you'll see that this look can wonder on you. This can actually come off as the best combination with blue.
Coin a crisp statement by looking your best in a well-tailored blue suit teamed with a bold black shirt underneath. This could be topped off with a black tie as well. Since we're looking at options with ties, you could also see if a blue suit with red tie could work with the black shirt. As a pop-up style accessory, the red tie might really be eye-catching!
STYLE NOTES-
Crisp white shirt – Go for a 100% cotton, crisp white shirt with blue suit, or go with light patterns like a pinpoint weave shirt or a herringbone weave shirt.
Silk necktie – Go for a silk tie with a blue suit, preferably in the shades of indigo blue, deeper red or a sophisticated grey. Because a navy blue suit shirt and a tie combination speak volumes. In case you are opting for patterned pieces, make sure the designs are not too sharp or overpowering.
Footwear – Switch between the options of brown whole cut shoes or oxford cap toe shoes with minimal details for a classic feel. Opt for a blue or black pair of socks depending on the shoe that is worn. A blue suit, brown shoes speak for themselves!
Wanna know how you could amp up your outfit with the correct shoes?
We can help you with that too, There's a correct pair of formal shoes for every suit.
Wearing your navy suit in this way is best suited for formal environments.
(B) Blue suit combinations for a business occasion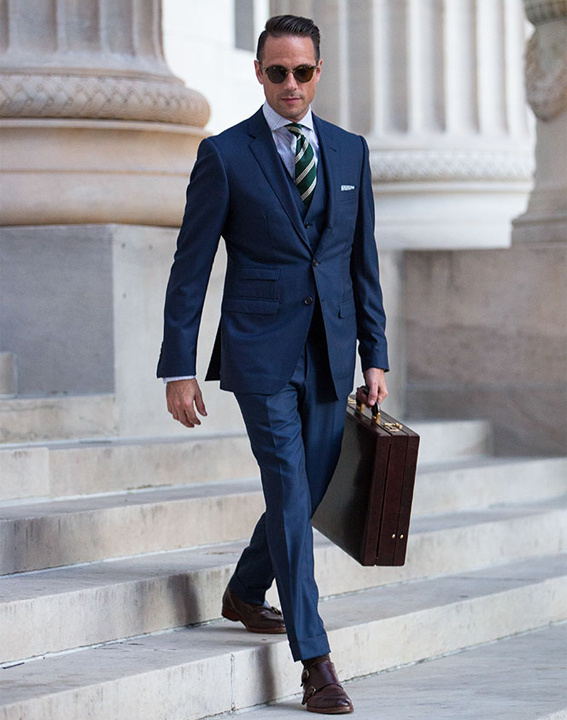 As mentioned earlier, the blue color is widely accepted in the business & corporate world. It has the ability to communicate a contemporary tone with a classic flair. Blue is a great color generally to be worn at corporate meetings and other formal events. Blue suit combinations for the workplace
Style Notes:
Pair it with a patterned shirt e.g., herringbone, gingham prints, etc. A textured/ patterned shirt accentuates the look
Skip the tie
Footwear – Brown shoes or semi brogue oxford shoes paired with navy blue or patterned socks
(C) Blue Suit Wedding Combinations – Look Like Royalty
Style tips for the groom: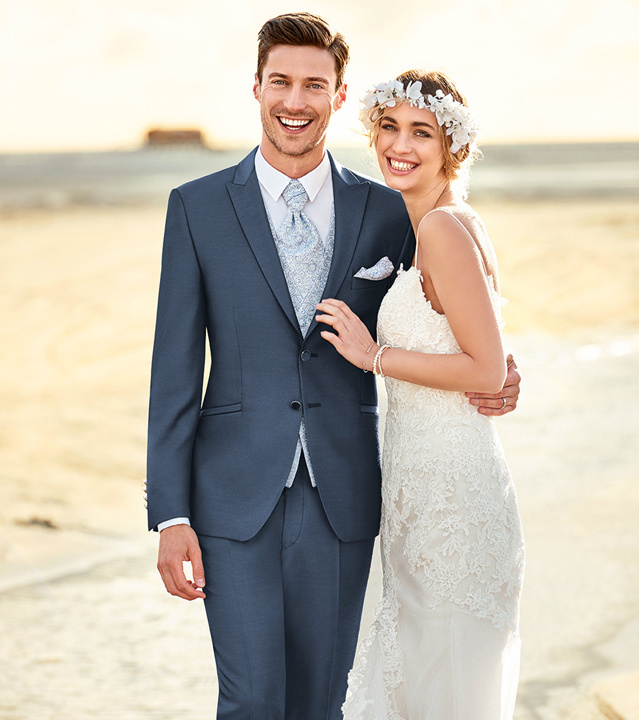 Ever considered blue suit combinations for weddings over a classic black tuxedo? You should, because the blue suit ensemble really makes things hot at the altar! Well, that's if the ensemble is donned by the groom himself. Btw do you know how the two are different, we can put this tuxedo vs suit question to rest for you once and for all.
If you're the groom, you should consider royal blue combinations for your big day. Looking like royalty would not be an overstatement on D-Day for sure!
Your blue suit wedding look can comprise of a royal blue suit and trousers of the same color. To make your look appropriate for the occasion, try wearing a waistcoat underneath the blue suit. The last stellar touch would obviously be the tie. This tie could be black or if you want to wish to be a bit bold on that day, a red tie might not be a bad idea.
Add some magic to your overall appearance by placing a pocket square. Let the celebrations begin!
Style Tips for the best man or the wedding guests:
On the other side of the altar? Don't sweat just yet. We have style tips for you too. If you're the best man or the wedding guest, you'll obviously play it down a notch.
Here is what you can do:
From wedding suit color combinations, navy blue for someone other than the groom could be effective. Add the perfect accessories to your blue suit look and wear smart derby shoes.
You could lose the waistcoat and add a sartorial punch to your outfit by opting for a light blue tie or black tie, so that I would compliment your attire. You don't have to be entirely sober. Your accessories can do the talking.
(5) Blue suit combination as a separate: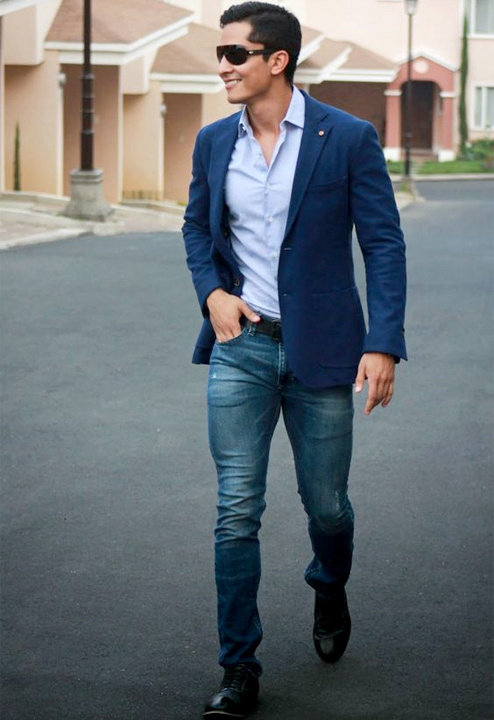 One must not overlook the benefits of a blue suit as a separate. Play around with the following looks depending on the occasion. The best combination with a blue suit could be worked with maroon trousers if you wish to be experimental.
Apart from this, wearing a blue suit with t-shirts might be an effective add-on. Here are some style notes that might help-
Style Notes-
Wear it as a separate with denim or trousers.
Blue pants as separates to be paired with another jacket
Shoes: Cap toe oxfords, semi brogues, etc. with navy blue or black socks
Some Rules To Follow Before You Style Up The Blue Suit –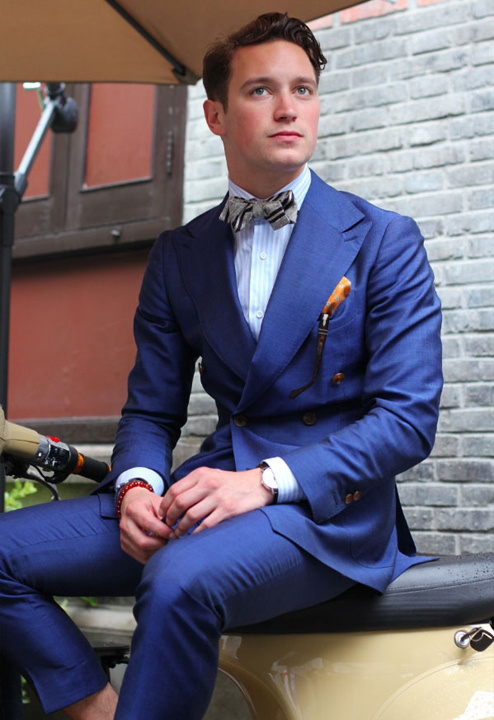 Pair your blue suit with a white shirt, with a bow tie or a long tie in woven silk or think of a blue suit with a pink shirt for a touch of the element.
A dark blue suit combination can look slick and sharp, especially for your sartorial evenings. Start by contrasting the textures between individual pieces, spiking definition & creating depth. For example, a textured tie & a lighter colored shirt combination.
For the corporate guy, pair with a thin striped light blue shirt or a plain blue shirt with dark chestnut oxford shoes.
Learn how to wear cufflinks for men with your beloved blue suit. For a wedding guest look, play around with accessories – silver tie pins, a lapel pin in rose gold or a pearl cufflink to speak sophistication and vintage charm. These elements will be the game changing fixtures adding warmth to the monochrome palette.
For a smart casual look, swap the button-up casual shirt for a t-shirt in summer or a polo neck sweater in winter. Remember to keep the inner layer piece's tones subtle. For example, white, beige, lighter shades of blue. For a twist, keep the patterns tasteful – think contemporary geometric mosaic or a breton stripe.
For the perfect summer spring vibe, pair your blue suit with polo necks and sneakers or lace ups, loafers work well.
Finish your formal blue suit combination with a smart pair of brown shoes or a more rocking outfit with chelsea boots. Look forward to a black suede cap-toe for a tonal match, which will add some texture to your outfit too!
If in doubt, stick to a crisp white shirt, or to the lighter shades of pinks and blues. These colors brew a little contrast letting your blue suit pop.
Grab your formal edge off a two-piece by splitting the suit into separates and pairing the jacket with a pair of denims or slim grey trousers.
Blue tends to show up the spilled red wine. So be sure to do the once-over with a damp cloth to rid the gear of stains, if any. Dry clean, not before every two to three months, or only when necessary.
The blue spectrum, ranging from lighter hues to midnight blues can effortlessly bring back the charm to your regular outfit.
Blue suit combinations ideas are versatile. It is perfect for a corporate meeting, evening business party, a wedding occasion, or a social soiree. The countless styling options that a blue suit brings to you, makes it a staple wardrobe piece to own.
A blue suit can be your happy place. Your seasonal special. Your coolest tailored piece, literally.
Blue, is a shade of confidence, so wear it like you mean it.
P.S. Don't forget to follow our guide on blue suit combinations for a triple win!