The Kurta pajama combination is irresistible! When kurta pajama styles are modeled by our favorite celebs, these can look totally awe-inspiring! Read more about these right here-
The wedding season is fast approaching, and before you know it, the invites are going to be pouring in. With Diwali around the corner as well, the mood will be celebratory, and it's up to you to match up to your spirits with outfits that make you look and feel your best.
When it comes to men's traditional clothing, the humble kurta pajama has been around for eons. It's simple, versatile and comfortable and can help you swiftly move around even for those hot outdoor gatherings. Kurta pajama styles have been steadily growing, with more and more men gradually beginning to try out new looks.
As festivities begin to pepper the air, it's time you took a good long look at your wardrobe and began putting together some creative ensembles of the latest kurta pajama style.
Many kurta pajama styles come and go every season, but you have the freedom to choose the contemporary, timeless ones that are here to stay. And who better to learn from than some of India's leading male personalities?
To help you with this, we've put together a style guide that will give you some serious inspiration for kurta pajama styles from these debonair male celebrities.
Kurta pajama styles were worn by your favorite celebs!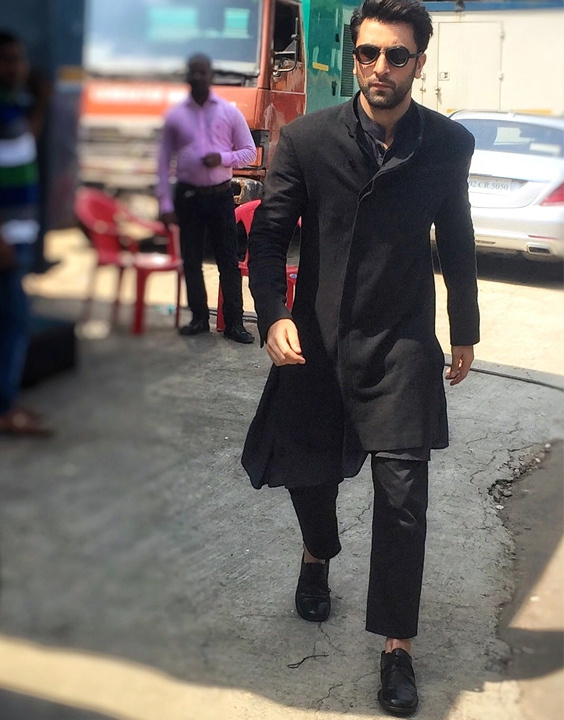 Since the roots of the kurta can be traced back to traditional India, the styles also vary between states and even cities. You can pick from a range of kurta styles like Hyderabadi, lucknowi, sherwani or pathani and change up your look every time you wear one of these.
Whether formal or informal, it's the fit that makes a kurta pajama. A relaxed fit is the most preferred; one that's neither too tight nor too loose. It's always a good idea to keep the kurta a tad loose for free movement. For some firsthand inspiration, take a look at these popular male celebrities and the flair with which they pull of some dapper looks.
Also read: What to Wear With Men's Kurtas: Kurta Wearing Tips
1. Saif Ali Khan Kurta pajama look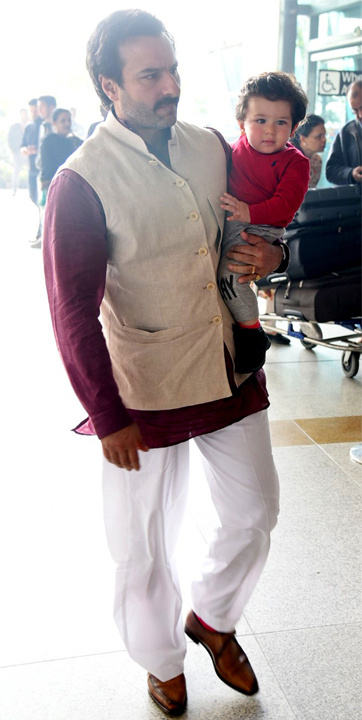 The original Indian royal, Saif Ali Khan kurta pajama style inspires men around the country. He's someone who pulls off denim or a suit with equal élan, but his virile Indian looks are hard to beat. Saif Ali Khan in kurta pajama keeps bright colours at bay and sticks to earthy, neutral colours that suit his stately personality.
Saif Ali Khan kurta pajama with waistcoat is one of his statement looks, and you're most likely to find him in polished leather shoes and a pocket square to match. His hand stitched kurtas and waistcoats are fuss-free and in solid colours. To emulate the Saif Ali Khan kurta pajama look, all you have to do is find the colours that bring out your best and complement each other. To make a strong impact, opt for a kurta pajama in plain white, and pick a waistcoat in a colour from the contrasting spectrum.
Also read: Learning How To Make Stylish Outfits With Different Waistcoat Styles
2. Jassi Gill in kurta pajama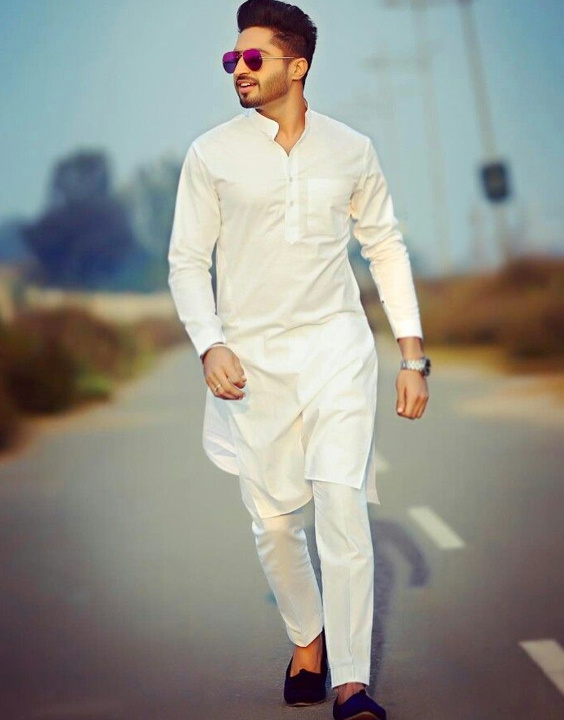 A singer and actor, Jassi Gill essays multiple roles as a personality and boasts an equally varied sense of style. He usually dons extremely well-fitted kurtas that speak volumes about his physique and boldly plays with colors like maroon, orange and pink. Jassi gill in kurta pajama is brazen and unapologetic but refined all the same.
To essay the Jassi Gill kurta pajama look, break the monotony and go for bright colors. Streamlined fits are also ideal so that you don't have to put in a lot of effort to look your part.
Also read: The Ultimate Guide to Men's Kurta Designs – Styles, Trends & Tips
3. Ranbir Kapoor in a kurta pajama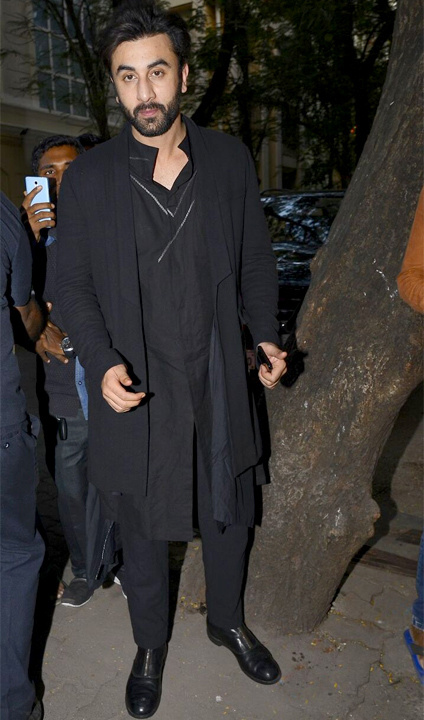 Whether off-screen or on, it's hard to miss Ranbir Kapoor's easy manner of carrying off even the simplest of outfits. He supplements his lean frame with printed as well as plain kurta pajamas, but the crisp Ranbir Kapoor kurta pajama white-on-white look is the one that turns heads.
A white kurta pajama is more of a daytime look and can help you look and keep cool on sunny days. Ranbir Kapoor in kurta pajama leads this bandwagon, by sometimes including simple coloured collars or leather chappals than tone down the formality of the look.
You can build on the Ranbir Kapoor in white kurta pajama look by wearing a vivid Nehru jacket over it. If all white doesn't work for you, this is a great way to not only add some pop but also layer your look and create something fun and interesting.
4. Diljit Dosanjh in kurta pajama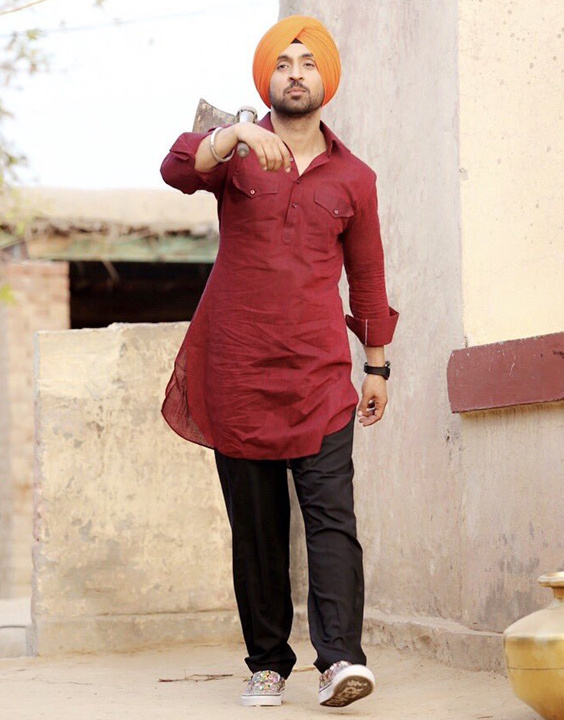 One of the most recognized faces in Indian music and cinema, Diljit Dosanjh made his way to Bollywood from the Punjabi industry and brought with him his unique style. Diljit Dosanjh in kurta pajama is quite a frequent sight at parties, film promotions and music launches, and he's always well turned out in a crisp long kurta. Short, long and rolled up sleeves form part of his kurta style, and he's possibly one of the few personalities to get away with a black-on-black look.
Channel your inner Indian swagger with some style inspiration from Diljit Dosanjh in black kurta pajama and the more dramatic, Diljit Dosanjh in kurta pajama on bullet. With both these defining looks, Diljit Dosanjh has put himself at the top of our style edit.
With all of his kurta pajama punjabi style Diljit wears either a contrasting or a similarly hued turban that automatically makes him stand out. For weddings and formal gatherings, you can try your hand at different turban styles, and make daring colour choices like yellow, orange and red. After all, 'tis the festive season!
5. Garry Sandhu in a kurta pajama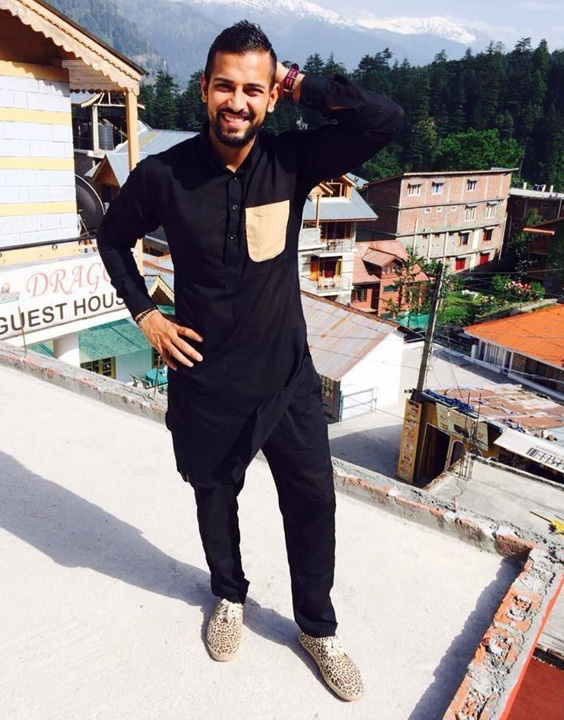 Garry Sandhu takes his kurta pajama style as seriously as he does his music. The epitome of kurta pajama Punjabi style Garry Sandhu is no stranger to Indian style trends. The Garry Sandhu kurta pajama style is about balance and timelessness while picking pieces that suit your body type. There's nothing like keeping it straightforward with the popular colors for traditional attire – creams, browns, reds, and blues.
So if you're bored of those plain dark suits and want to give your outfit a more colourful twist, a kurta pajama style can come in handy. Experiment with colours, patterns, fabrics and styles, and you can also spruce your look up with some accessories. Give your style an upgrade by creating a strong ethnic look that won't let you down, no matter what the occasion!
Image credits: The copyrights of the images used in this post belong to their respective owners. The credits where known are specified under the image - if you're the owner of an image and want it removed, please contact us.