Different types of jeans have always been a staple part of the men's wardrobe for a long long time. Here we give you the complete guide for various jeans fit types and what men's body types it best suits. If you have ever found yourself wondering, "Which jeans should I buy?" Remember that you're not the only one. Most men out there are tired of trying on different types of jeans. Trying on jeans is quite a tedious task, especially given the variety available for different men's body types. In today's times, jeans meaning stands for the coolest item of clothing. There are different types of jeans styles. Once you find your ideal fit, your jeans shopping becomes really easy. If you are not sure which category of men's body types you fall into and which is your favorite type of fit in jeans, read on. We're sure you will be able to choose the best from different types of jeans once you're done reading till the end. There are different types of jeans you can go for. You can wear jeans almost anywhere, as long as it compliments your body. A fit refers to how the jeans sit from your waist to your thighs. It is essential to look for an ideal fit, as comfort should be your primary concern. Different types of jeans come with their own style, but that doesn't mean that you need to leave your comfort zone to look trendy. There are ripped jeans, faded jeans, repaired ripped jeans with colorful patches attached to them, and many more. There are various brands in the fashion industry offering varieties of jeans, High Star is one of them.
Different Types of Jeans
LOOSE FIT JEANS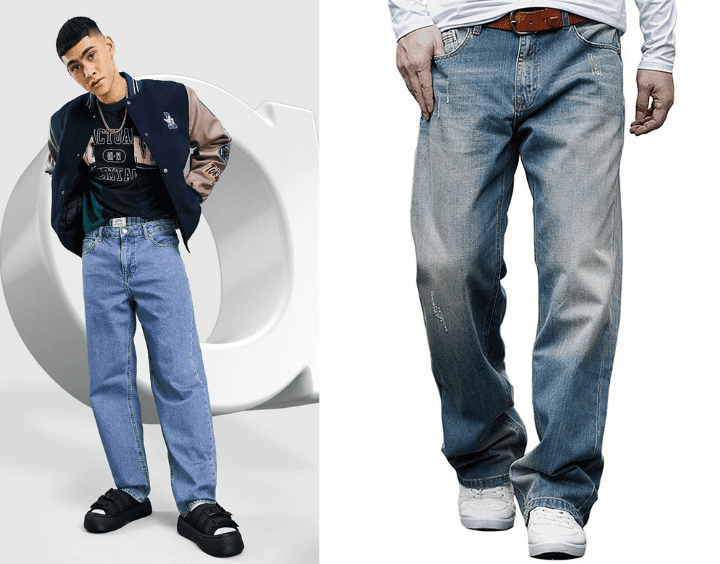 These jeans have a baggy fit which gives you breathing space. Loose jeans provide plenty of space around the thighs and butt so that it doesn't stick to your thighs too tight. If you have a big waist or are big boned, these will definitely be quite comfortable. You can wear this denim for a more extended period of time as they won't make you sweat a lot around the thighs. Out of different men's body types, loose jeans are ideal for big-boned men.
SLIM FIT JEANS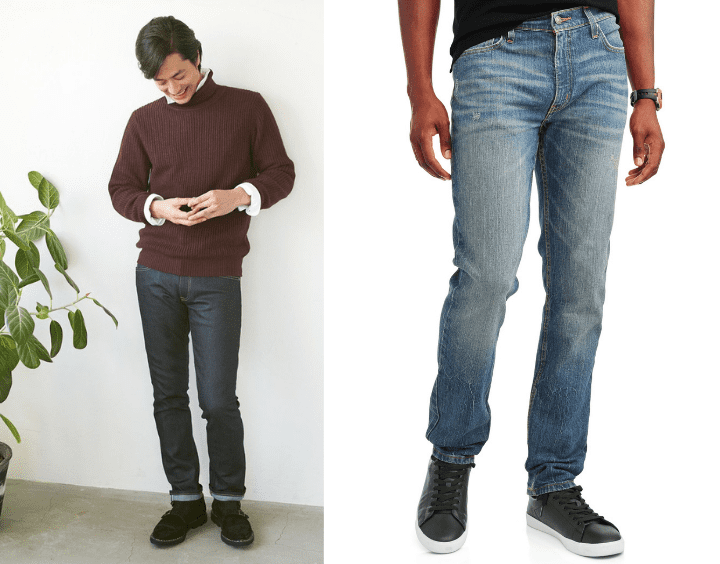 Most of us are confused about the slim fit meaning. Skinny guys generally prefer slim fit jeans as it helps give shape to their legs. It has a tight fit with a tapered leg opening. These are generally preferred by skinny people who look for comfort yet style. As compared to skin fit jeans, these give you more space around the thighs and are an ideal mix of both comfort and style. These often look good with slim-fit shirts and tees. Hope the question "what are slim fit jeans" wouldn't confuse you anymore.
REGULAR FIT JEANS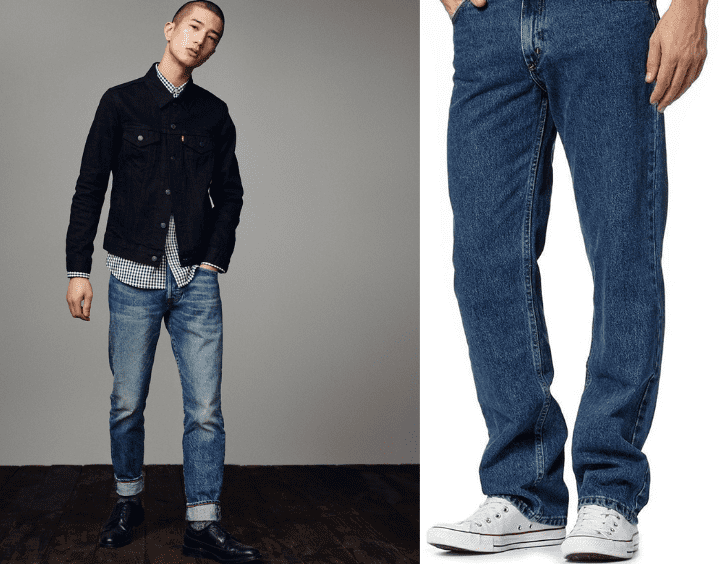 Regular fit jeans are one of the jeans fit types that fit straight from hip to thigh. Regular fit jeans mean having a mid-rise and has a large leg opening. Regular fit jeans are usually worn by guys who are not too big boned or thin. Out of different men's body types, people who are neither too skinny nor too thick generally prefer regular jeans.
Difference between slim fit and regular fit jeans for men
Regular fit vs slim fit often confuses people, but the difference between slim fit and the regular fit is simple. Regular fit jeans sit straight on the hips and thighs whereas a slim fit fits tightly in comparison. You know what regular fit means. Now hopefully you're clear on the difference between slim fit and regular fit too. Regular fit jeans or slim is your personal choice, but you can only choose one when the difference between regular fit and slim fit jeans is clear to you.
SKINNY FIT JEANS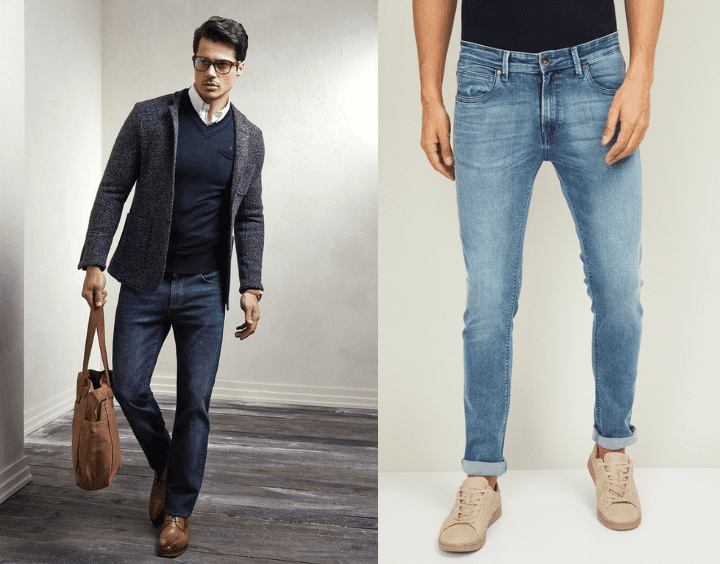 People aren't aware of the meaning of skinny. Skinny jeans mean skinny from the waist till the ankle. These don't offer a lot of mobility and are generally worn as a style statement. These aren't suitable for thicker guys, as it can be too tight. Even though many people suggest skinny guys wear oversized clothes to balance out their frame, jeans should always be chosen according to the body. These will definitely make you look classy. Hope this helps with your understanding of skinny fit jeans meaning and what is skinny fit.
Difference between slim fit and skinny fit
Even though both slim fit and skinny fit are quite similar in design, the main difference lies with the fit on the leg. Skinny jeans have a narrower opening as compared to skinny fit which has a wider leg opening.
TAPERED FIT JEANS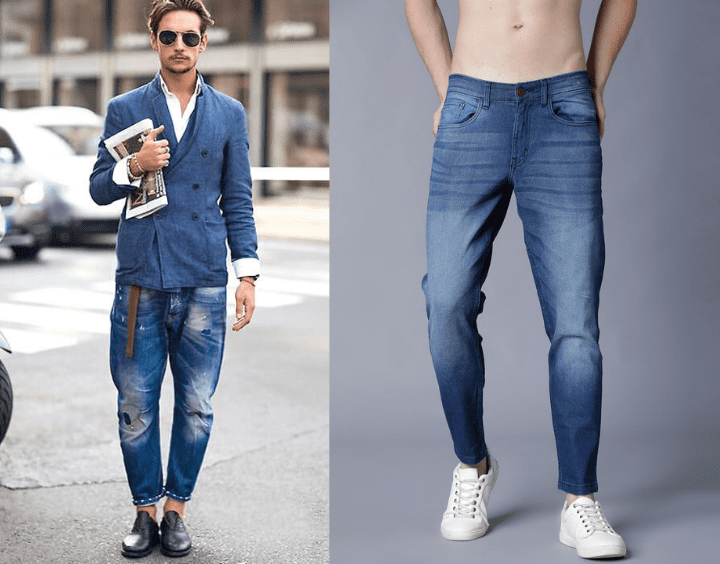 Tapered jeans are quite comfortable at the thigh but are tapered towards the ankle. What is the tapered fit meaning? Tapered-fit jeans are highly popular today. Tapered fit means wider at the top but narrower at the bottom. Guys who have bigger waists and thighs and like a more comfortable fit prefer these. Hopefully, you're clear with what tapered fit means. Tapered jeans for men are a popular choice.
NARROW FIT JEANS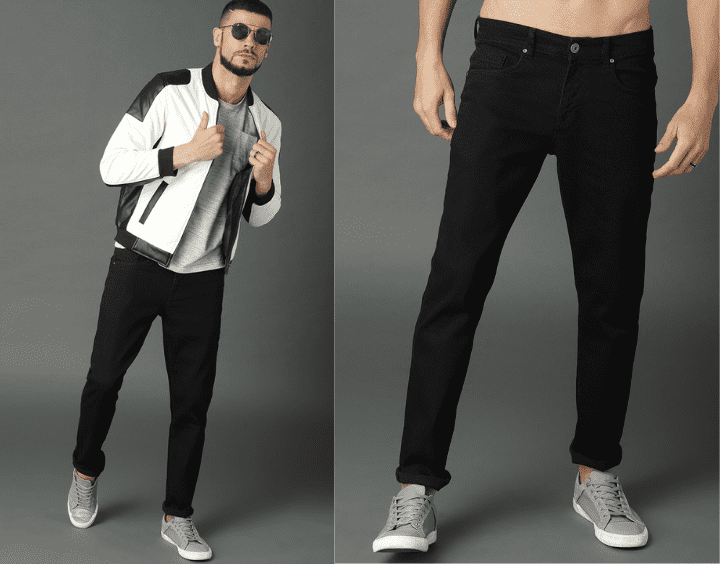 Narrow fit pants or narrow fit jeans means that the narrow leg has no impact whatsoever on the portion of the jeans that are above the knee. However, it has a tighter fit from the knee down.
RELAXED FIT JEANS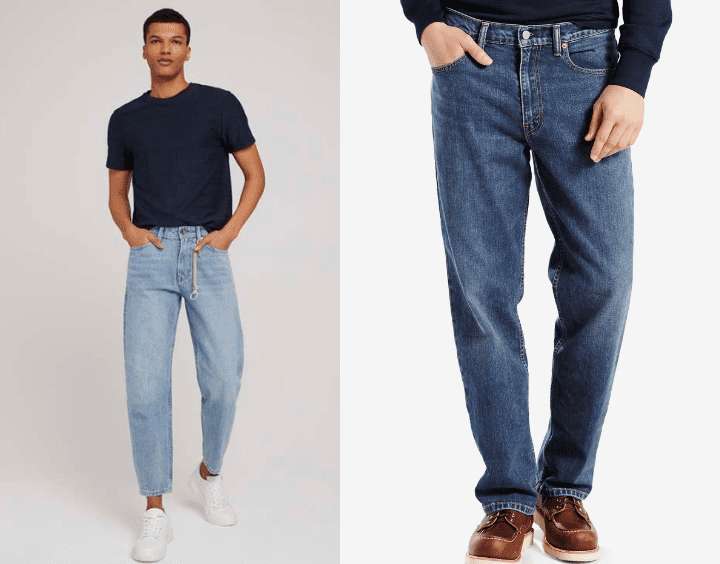 Relaxed fit jeans are ideal for people who have thick thighs as it gives them a comfortable fit. It provides you with extra room around the waist. Relaxed fit jeans meaning that it prevents them from sweating a lot, which can lead to uncomfortable rashes if worn for too long.
LOW RISE JEANS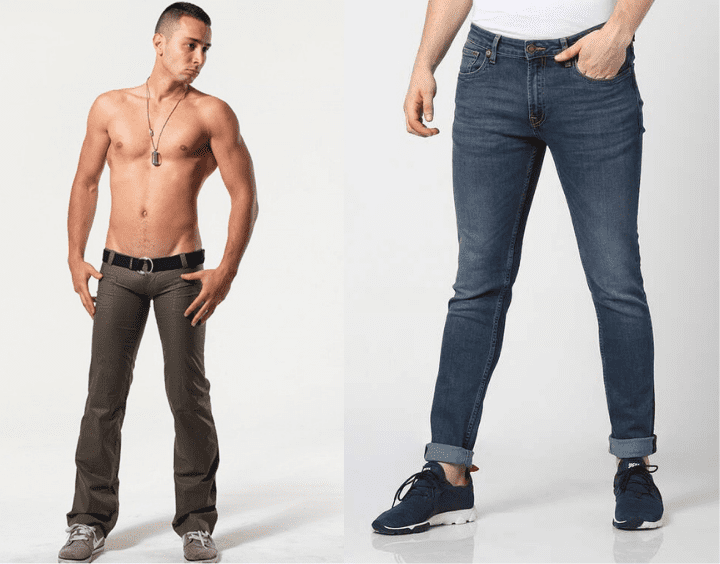 What is low rise jeans? The "rise" on any jeans is measured by the distance between the crotch and the waist. Low-rise means jeans that generally sit below the waist and are usually worn by skinny people. Low rise jeans are meaning one of the coolest clothes today.
MID RISE JEANS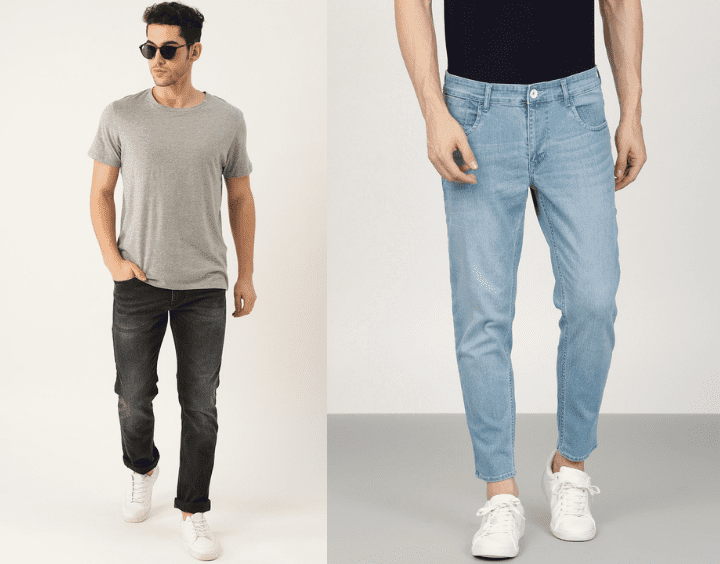 What are mid-rise jeans? Mid-rise jeans are jeans that lie at your waist. Mid-rise jeans are considered to be the ideal rise as it is neither too high nor too low. Bigger boned people prefer to go for a high rise as it sits comfortably above their navel and prevents any slip-ups.
Difference between mid-rise and low rise jeans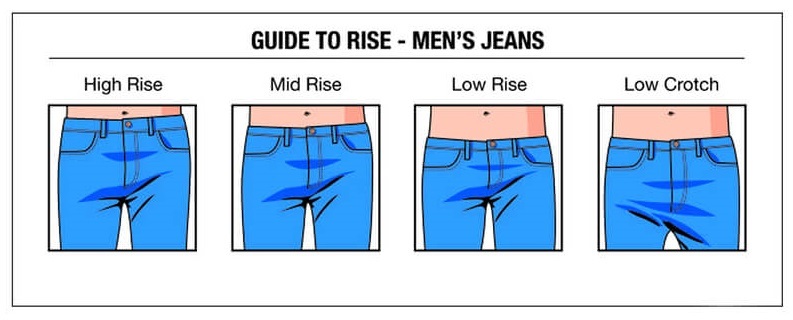 The difference between mid-rise and low-rise jeans is that low jeans sit around three inches below the navel whereas mid-rise jeans have a difference of around twelve inches. Skinny people prefer low rise. Be sure that you're clear about the difference between low rise and mid rise. Knowing the difference between mid-rise and low-rise jeans could get you the perfect fit. Hopefully, you are going to be more comfortable and less stressed the next time you decide to go jeans shopping. Make sure you are confident regarding your body type so that you can decide on the perfect fit for yourself. Class up your different types of jeans with some good shoes/sneakers, a good watch, and some really cool shades.
Popular Articles-
Image credits: The copyrights of the images used in this post belong to their respective owners. The credits where known are specified under the image - if you're the owner of an image and want it removed, please contact us.