Ever wondered how a bollywood actress in jeans and shirt could look so glamorous effortlessly? Your bible to don jeans and shirt  outfits like Bollywood actresses is here. Read up to emulate celebrity looks.
You can be any type of a fashion persona; a pair of jeans and shirt is an exceptional wardrobe must-have for you. There is a certain type of nothingness in this combination, which gives you space to showcase your unique style depending on your personality. This is the reason why we see so many Bollywood actress in jeans and shirt outfits and yet the look always differs from the other complementing the wearer. We have seen this combination evolve from being a classic duo having a pair of blue jeans and white shirt to the dramatic ones having distressed jeans and a crop top. The main style ingredients will always remain to be the same although, the essence keeps changing as per the changing times.
Bollywood actress in jeans and shirt- Your favorites dressed in denims!
Skinny jeans, distressed jeans, boyfriend's jeans, boot-leg jeans. Oh! So many options what to wear, how to wear, what color shirt goes with dark blue jeans, how to style white shirt with jeans and so many other questions. Well, the easiest way to get your styling cue is to follow the latest celebrity style. Bollywood stars have always been a major influencing factor behind commanding styles, trends and fads. Thanks to the paparazzi that the Bollywood celeb style has broken the boundaries of stating styles just in movies.
Be it a house party or airport style, we now have access to the A-Z of celeb's fashion diary. And we are going to decode the formula to rock the glam like Bollywood actress in jeans and shirt. Here are the top seven look of Bollywood actress in jeans and shirt that will guide you to create a flawless ensemble.
Deepika Padukone in white shirt and blue jeans staying classy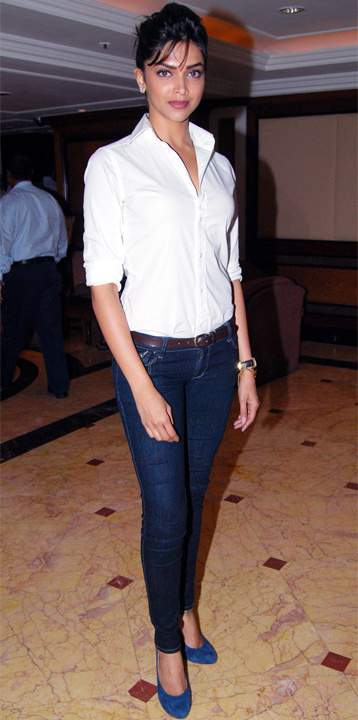 The reigning queen of Bollywood is undoubtedly a major fashion influencer nowadays. Since her debut, Deepika has always been in the headlines of fashion news. Hailing from a modeling clan, she flaunts her chic and comfortable style that too with a dash of poise. Like any other model in the world, a jeans and shirt combination is her favorite too. Keeping in mind her love for classic fashion, it is obvious that a lot of blue jeans white shirt combination comes across in her style choices. Her quench to explore oversized shirts and sartorial collars are also prominent from her ensembles. She finishes her trendy ensembles with a chic pair of boots. If you too want to don the white shirt and jeans you know you've got to look up for Deepika Padukone in jeans and shirt.
Anushka Sharma in jeans and white shirt keeping it casual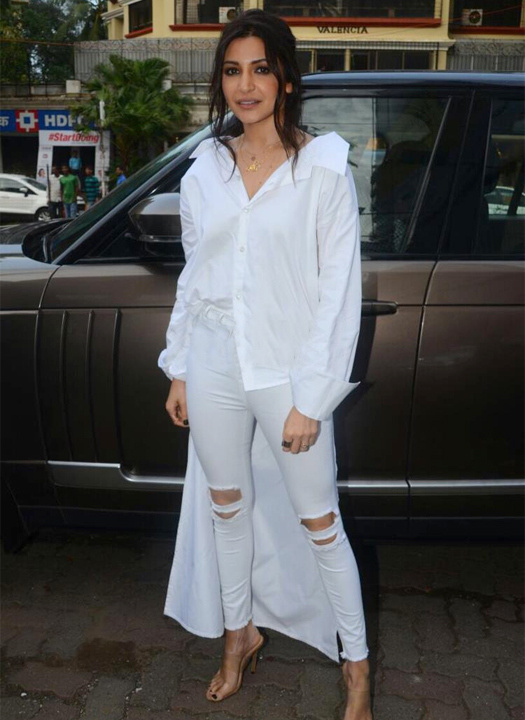 Again, a model turned actress, Anushka is an epitome of style. Be it an airport look or her much talked about wedding looks, she is known to flaunt her unique style sense that too with much ease. Just like her unconventional choice of movies she shows her one of a kind taste in fashion and gives us some major fashion goals.
Guess she is the one and only to dare to pair a distressed pair of blue jeans and high-low white shirt. There is no doubt that Anushka Sharma in jeans and white shirt took the formal shirt and jeans combination look from casual to a glam statement.
Anushka Shetty in jeans and shirt- Cute and casual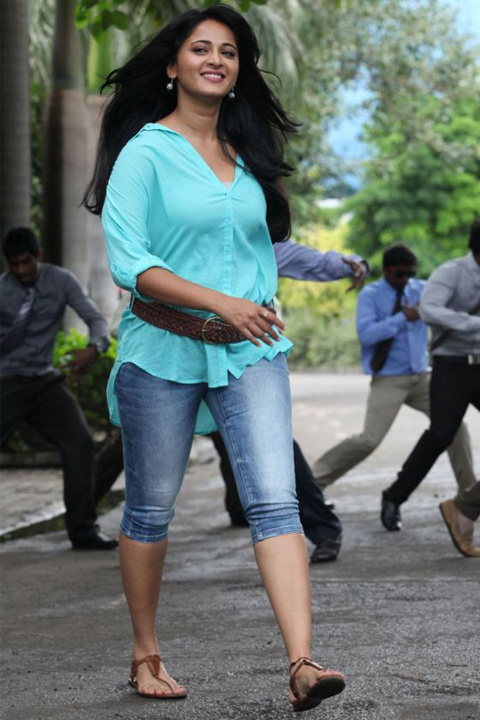 The female superstar of south who stunned us all with her beauty and acting skills in Bahubali, Anushka Shetty is known for her distinct taste in fashion. She is usually spotted in boot-leg jeans and shirt combinations. Often she is seen accessorizing the jeans and shirt combo with chunky jewelry and oversized belts. Also, at times she sports layered ensembles by adding a jacket to the jeans shirt combination. She is often seen in solid jeans and shirt color combination rather than prints. Like the black shirt blue jeans or light blue jeans matching shirt combinations.
Priyanka Chopra in jeans and shirt- Classy as always!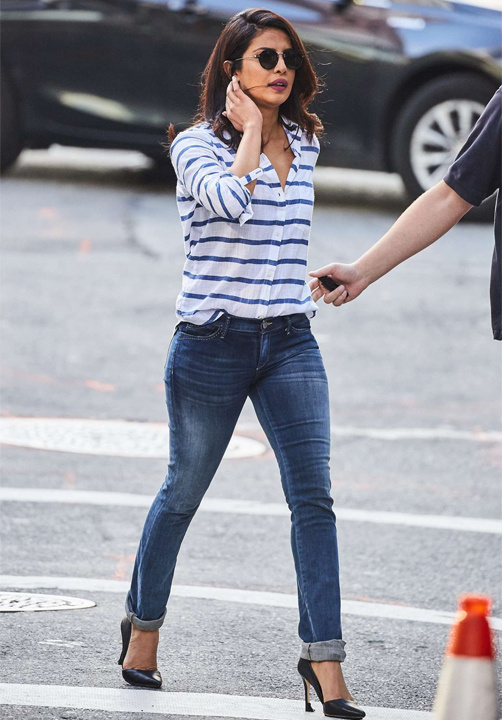 If there is any actress who is committed to the shirt and jeans combination, it's undoubtedly our global style icon Priyanka Chopra. Her off-duty looks are full of different ways to sport various silhouettes of shirts with trendy jeans. A crisp white shirt blue jeans combination come across as one of her go-to style.
On summer days she is spotted flaunting her love for striped breezy shirts. Apart from her off-duty style, her on-screen looks in various Bollywood films and global series Quantico has changed the way of styling jeans and shirt combination for women giving the fashion followers a major FOMO.
Aishwarya in jeans and shirt- Timeless style  and appeal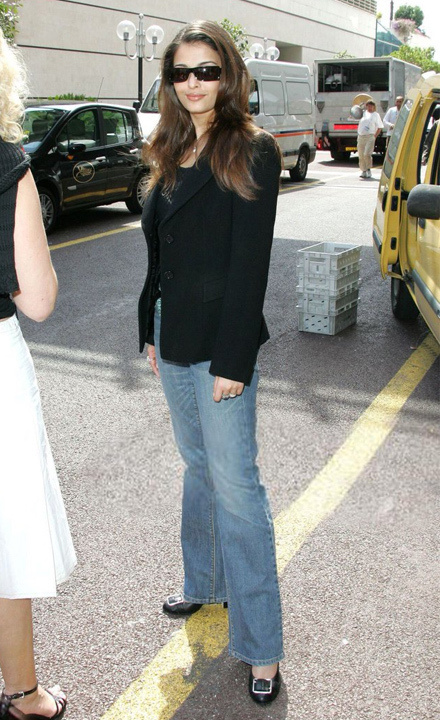 Bollywood queen Aishwarya has never left a chance to make a fashion statement in jeans and shirt.
Be it her choice of classic shirts or a pair of bootleg jeans, she has always showed up her classic taste in fashion. She can totally make a black shirt and blue jeans combination look fancy! An epitome of elegance, Aishwarya Rai Bachchan flaunts her endearment for formal shirts over the fashion fads. It is no secret that the timeless beauty prefers adorning blazers for most of the events. She elegantly flaunts her love for sartorial blazers by pairing up with jeans and shirt combination.
Katrina Kaif in jeans and shirt rocking the daily wear look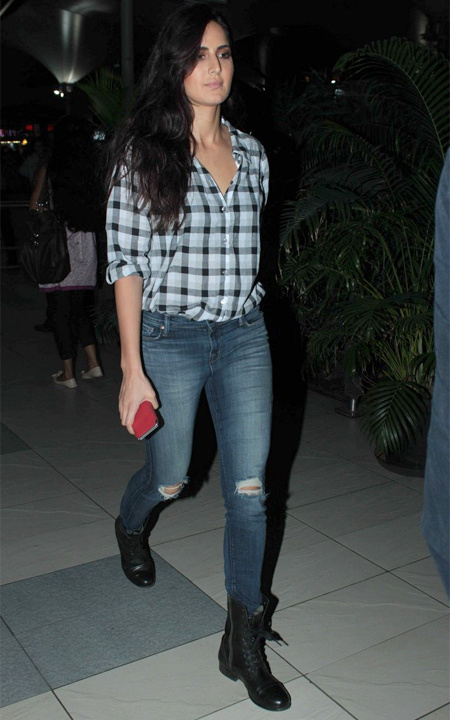 Katrina Kaif is one actress who is never shy to don laid-back styles. Her off-duty looks are a compliance of jeans, t shirt layered with various shirts. Also, her blue jeans matching shirt combination shows us how to sport the denim on denim look effortlessly. From army green shirts to the checkered ones, Katarina carries the daily-wear apparels with utmost glam.
Sonam Kapoor in jeans and shirt still being a fashionista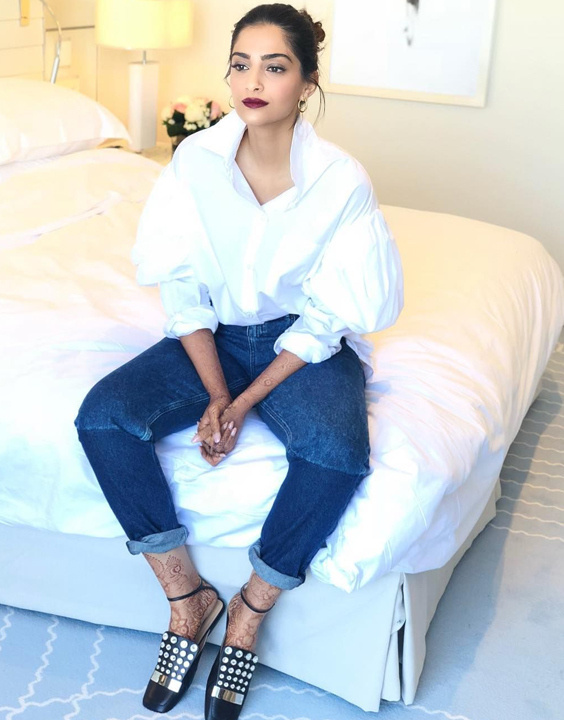 Ruffles, bishop sleeves, balloon sleeves name a style and Sonam Kapoor has brought it to the jeans shirt combo. The fashion diva is well known for her high taste when it comes to her personal style. On her recent visit to Cannes film festival, Sonam donned a crisp white shirt blue jeans combination and elevated the bar of this classic style a notch higher. Nowadays she is often spotted flaunting oversized shirts by her husband's apparel brand Bhane. If you are planning to create a high-fashion look with jeans shirt combination, we would suggest you take a cue from this style queen and complement the look with statement accessories.
Alia Bhatt in jeans shirt combinations that look effortless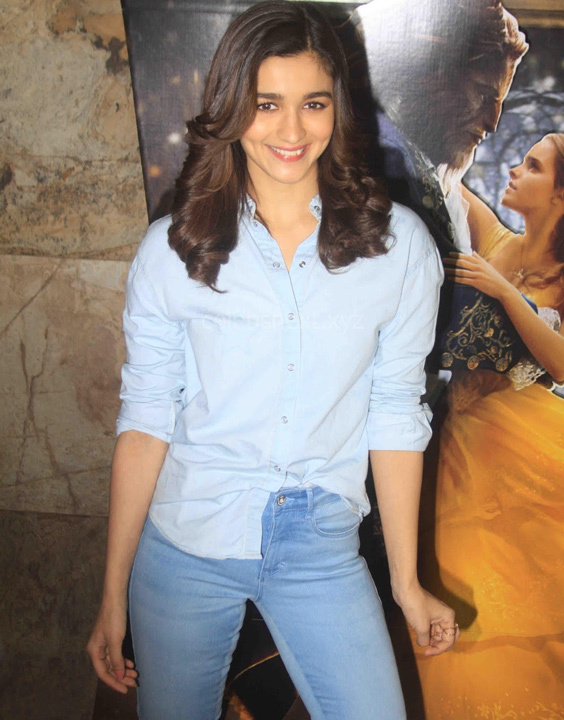 The Raazi star Alia Bhatt is known for her youthful and chic choice in fashion. The bubbly actor has been spotted sporting long shirts and jeans combination to create laid-back looks. Although, she usually gives volume to the ensemble by adding a layer of shirt on a t-shirt.
T shirt and jeans combination
There is no other outfit as safe as t shirt and jeans combination. Be it a party night or a work day, jeans t shirt style can never go wrong. Although, this go-to combination can make u stumped-up on thinking ways to wear it. There are endless ways to style the combination of t shirt and jeans. And it is obvious that one can always be stressed about facing the challenge of styling it.
Well, here is your cue to create a flawless ensemble with t shirt and jeans. We are going to break-down some of the best t shirt and jeans ensembles donned by our Bollywood fashion divas. Get influenced by these style icons and make your jeans t shirt style look #OOTD.
Aishwarya Rai in jeans and t shirt – a classic look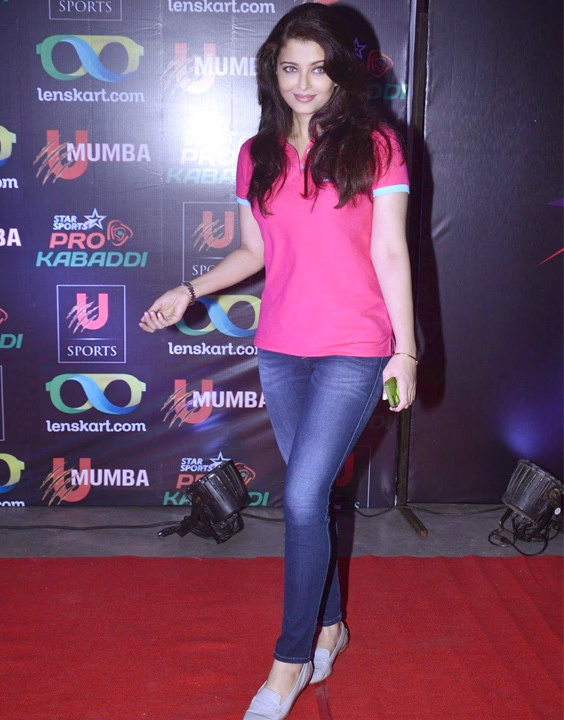 Aishwarya has been known for her classic taste in fashion and shows the same when it comes to teaming up jeans with t shirt. From plain white t shirt and blue jeans combination to red t shirt, Aishwarya knows how to style like a diva. She completes the look with a chic blazer, which you can note under elegant work appropriates. Also, recently she has been spotted flaunting her better half's kabaddi team jersey which is pink polo t shirt with dark blue jeans.
Katrina Kaif in jeans t shirt outfits that are nerdy and cool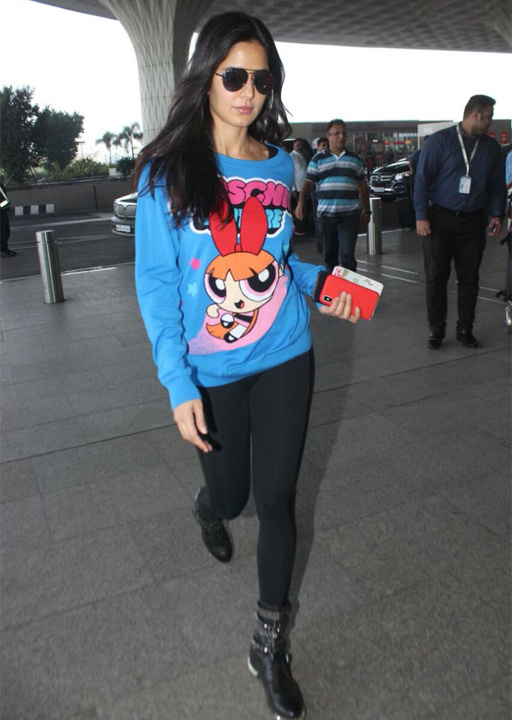 Katrina and her love for graphic tees is pretty much obvious from her airport outfits.
Katrina Kaif jeans t shirt look is much talked about! What sets her apart from the other Bollywood actresses is that she doesn't shy away from turning the otherwise regular t shirt and jeans combination into a glamorous ensemble by flaunting them at movie promotions. If you too love your graphic tees take a cue from Katrina's style diary and give it a chic makeover.
Alia Bhatt in jeans t shirt nails the tomboy look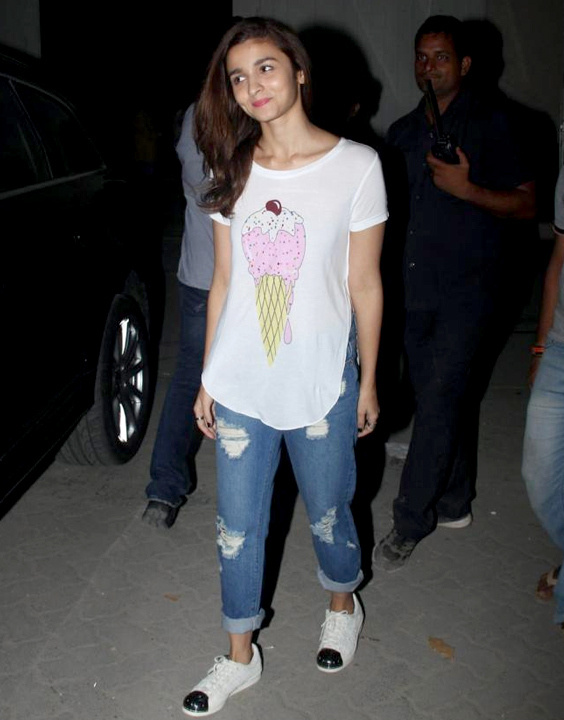 Let's admit we all love tees with graphics but don't want to end up having a dull moment. Alia Bhatt shows us rightly, how to spruce up the jeans with t shirt look. Be it a chic Coca-Cola printed t shirt paired up with blue jeans or a tomboy look in Being Human t shirt, blue jeans and cap she nails it every time with utmost glam. Her effortless style statement in jeans with t shirt layered with shirt is a must-have.
Shraddha Kapoor in jeans t shirt-  Breezy and Summery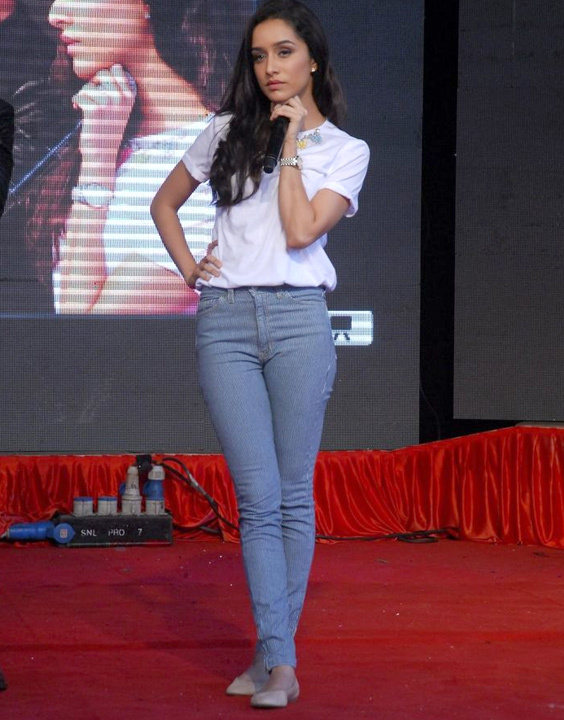 Shraddha Kapoor is known for her chic girl-next-door look. Shraddha's style diary shows you how to work the light blue jeans matching shirt look . Her ensembles set an example for ways to pair soft pastel colored t shirts with jeans. From pretty knitted t shirts apt for a casual day outing to shimmery t shirt in pastel blue giving out Friday night feels, it is no harm to say she is style goals for romanticized fashion persona.
Deepika Padukone in jeans t shirt- Trendsetter!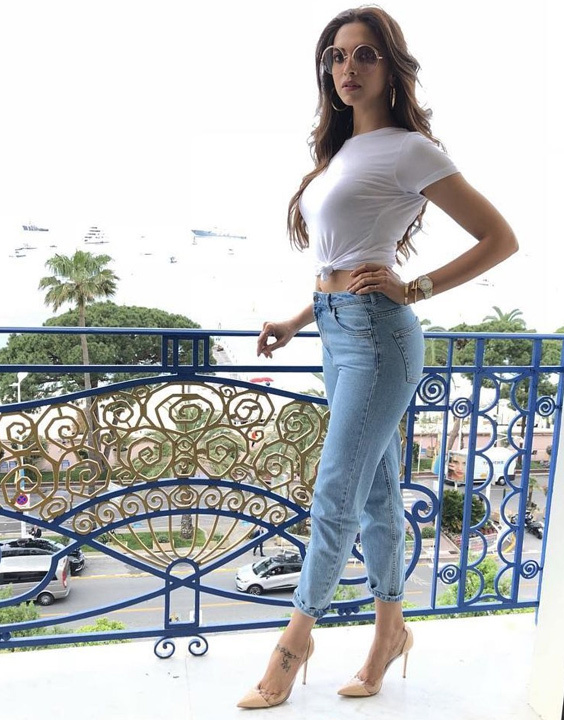 The queen of Bollywood, Deepika dons every style with utmost perfection. Her recent look at Cannes film festival with white crop t shirt and blue jeans has been largely appreciated by fashion critics.
Her airport styles are major fashion influence and have commanded trends like oversized t shirts and steep V-neck t shirts with baggy jeans. If you too are planning to recreate Deepika's airport look then complement your t shirt and jeans combination with a trench coat or leather jacket.
Shruti Hassan in jeans t shirt – Rocking it!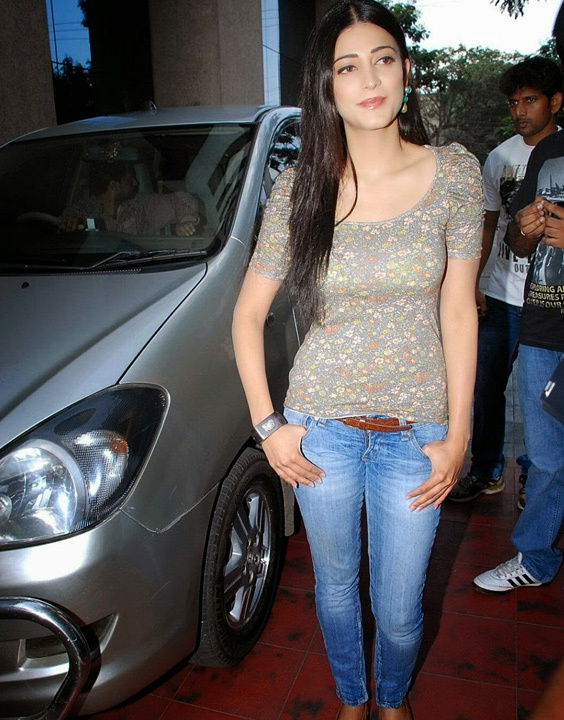 The south actress has been looked up for her gorgeous looks and offbeat style since the time she made her debut in Bollywood. Her love for music and its different genres is reflected through her choice of apparels. A lot of times Shruti Hassan has been spotted sporting graphic t shirts with Metallic band prints paired with jeans. If you too are a punk fan, pick up your favorite band's t shirt and pair it up with jeans taking an inspiration from Shruti's closet.
Hopefully, this should help you spruce up your jeans and shirt as well as jeans with t shirt combinations. A lot of times we tend to only experiment with top-wear and stick to the same type of bottom-wears. To give your look a makeover it is necessary to try out different types of jeans along with the different styles of top-wear. Also, it helps to strike balance in an ensemble as each top-wear carries a different appearance.
For more such fashion updates stay tuned to our blog posts. We stay committed to offering you the latest trends, inspiration and some shopping pick of course. This season create your own style statement with.
Image credits: The copyrights of the images used in this post belong to their respective owners. The credits where known are specified under the image - if you're the owner of an image and want it removed, please contact us.